Local governments in coastal North Carolina paid hundreds of thousands of dollars in 2011 to lobby Congress for federal funds for their shore protection projects. Financial disclosures indicate that payments to lobby Congress by these same local governments have been made for years. However, a recent ban on "earmarks" means that more often than not shore protection project budgets are now set by the President's administration and not by lawmakers. In recent years, funds for these projects dwindled as competition for shrinking federal funds becomes more intense even among beach communities.
According to 2011 Congressional lobbying disclosure,Howard Marlowe & Co. received more than $200,000 from local taxpayers to lobby for federal appropriations and earmarks for the upcoming fiscal year. His North Carolina coastal clients included: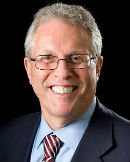 Howard Marlowe
Carteret County, $73,600; Brunswick Beach Consortium, $37,500; Beach, Inlet and Waterways Association, Inc., $35,000; North Topsail Beach, $20,000; Surf City, $20,000; and Topsail Beach, $20,000. Wrightsville Beach, Carolina Beach and New Hanover County paid Marlowe less than $5,000 each quarter.
Many of these local governments and associations have retained Marlowe for many years. Marlowe's firm received more than $1.4 million from clients in 2011. However, since 2008, Marlowe's overall income has declined each year from a high of over $2.2 million. Bucking a national trend, many of his clients in North Carolina continue to pay consistently for lobbying services, with the exception of New Hanover County, which curtailed its annual payments of $40,000 after 2009. Client payments by year can be seen here.
Rules Change
Lobbying Congress for money is an age-old pastime, but the rules of the game have changed dramatically in recent years. Now funding priorities for shore protection projects are mostly decided by the President and the Army Corps of Engineers, and not Congress.
That's not the way it used to be. The President would release his budget in February, and Congress would approve a final budget by the beginning of the fiscal year that begins on October. The process has changed significantly.  Congress typically passes a defense bill quickly, and then stalls on everything else.
Instead, "continuing resolutions" are passed that temporarily provide base funding to keep government agencies and programs operating. Some of these resolutions allow agencies to spend what's in the President's proposed budget, or to spend at the previous year's levels, or for projects that might have been included in any version of the Senate or House Energy and Water Development Appropriation bills. These instructions change from year to year, but the President's budget rule seems to be the most consistent.
For shore protection projects that are eventually funded, Congress appropriates money either through the Energy & Water Development Appropriations bill, or wraps all the unfinished appropriation bills into an omnibus package (affectionately termed a "mega bill").
In year's past, the normal function of Congress was to consider each appropriation bill so as to add or cut what was in the President's budget. For beach projects, the Corps' entire budget was a series of earmarks. Each named project got a certain amount of dollars.  But when the Republican leadership in the House pledged in 2010 that there would be "no earmarks," it made it almost impossible for any member of Congress to add anything into the budget and direct any particular agency what to do. The "no earmark" pledge by default allows the President to outline his spending priorities and Congress has in essence forfeited its ability to change them.
For fiscal year 2012, no stand-alone budget bill ever passed Congress. It eventually gave the Corps approximately $44.7 million for shore protection projects, and told it to develop a "work plan" for how that lump sum was to be spent. So instead of earmarking, Congress gave Corps the authority to set its own spending. The work plan is available here.
Little Flows Back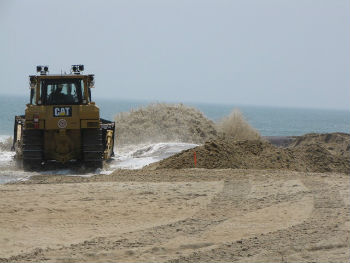 A bulldozer pushes sand at Nags Head during a recent beach re-nourishment project.
Small amounts of federal money for shore protection projects flowed back into North Carolina in fiscal year 2012. The Wilmington District of the Corps received $287,000 to investigate how to reduce storm damages in Surf City. More N.C. beach communities are proposed for funds in the President's recommended $44.8 million shore protection budget for fiscal year 2013, but the total appropriations are meager compared to the communities' wish list. Requests for N.C. projects in the President's budget are listed below.
It is difficult to tell just how effective Marlowe & Co. actually is in helping its clients obtain federal funds for shore protection projects. The total amount of money available for shore protection projects from the federal budget has been stagnant in recent years under both Republican and Democratic Presidents, and those communities with long established Congressionally authorized projects tend to be first in line to receive these shrinking funds.  In fiscal year 2012, 93 percent of the federal funds for shore protection projects went to communities and organizations that Marlowe did not represent. Marlowe had 31 clients in 2011 that are all competing among themselves and with every other beach community for these limited project funds.
Marlowe has his own political action committee as part of his efforts to influence Congress. Most of his political donations go to Democrats. To see his giving history, go here.
Beach communities remain pretty inventive when it comes to getting federal dollars. Federally declared disasters have become a pipeline to "repair" shore protection projects that would otherwise not be eligible for federal dollars. That will be the subject of another blog in the future.
Corps Projects
Here's the authorized shoreline protection protects at the Corps' Wilmington District. This does not include appropriations for dredging projects.
Fiscal Year 2012
Investigations
Surf City         $287,000
Shoreline protection projects nationwide received $44,700,000. The actual appropriations for N.C. projects represented 0.6% of total appropriation.
Fiscal Year 2013
Investigations, President's budget
Bogue Banks                                       $445.000
Surf City and North Topsail Beach         $225,000
Investigations Subtotal                      $675,000
Construction, President's budget
West Onslow Beach (Topsail Island)     $200,000
Construction Subtotal                       $200,000
The president in his proposed budget recommends appropriating $44,800,000 for shoreline protection projects nationwide. The proposed $875,000 expenditure in North Carolina represents 1.9% of total appropriations.