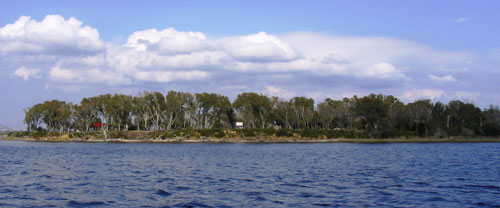 From a distance, Jones Island seems remote and wild, like a set from one of those reality TV shows.
SWANSBORO — As you approach Jones Island in a skiff, it's easy to imagine you're in the South Pacific, speeding toward a grand adventure much like the ones that unfolded for six seasons on "Lost." The island seems very much like a remote, partially abandoned patch of land far removed from civilization where nature is, or should, be queen.
It is not, however, anywhere near the South Pacific nor is it very far removed from civilization. In fact, Jones Island is located in the mouth of the White Oak River with a clear view of Swansboro and parts of Cedar Point. But it is under threat from predators just as menacing as any smoke monster or a settlement of mysterious "Others."
The biggest threat to Jones Island is erosion caused by the ripple effects of human development, recreational boating and the rising tides of climate change. To protect the island, the N.C. Coastal Federation, working in conjunction with Hammock Beach State Park, has an educational program in place aimed at replenishing two key island defenses – marsh grasses and oyster beds.
Since the inception of the Jones Island Environmental Education and Restoration Center five years ago, the federation has planted more than 60,000 marsh plants along the island's shoreline; it's erected more than 1,200 feet of low-lying oyster walls, or sills; and it's created five stand-alone patches of oyster shell habitat, all with the help of more than 2,500 volunteers.
The students are members of the school's environmental club, and once a year they take a field trip to Jones Island to see first-hand what they've learned from Sarah Phillips, a federation education coordinator who visits the school three to four times a year to talk to students about water quality and habitat restoration.Many of the volunteers are students much like the group of 22 students from Beaufort Middle School who showed up in mid-April to plant marsh grass and learn about the sea creatures that thrive in and around the oyster beds.
As the kids disembarked from the state park ferry and walked ashore, each one was promptly handed a dibbler, a shovel-like tool that's used to part the sand deep enough and long enough to insert a marsh plant and its small bundle of tangled roots.
Within an hour, they had added roughly 1,500 plants to the Jones Island shoreline. By summer's end, Phillips said she hoped the total number of new plants would exceed 10,000, all of them planted in similar bit-sized chunks by small groups of volunteers – both young and old.
"I like knowing that I'm making a difference," said eighth-grader Spencer Valentine. "I didn't know how much planting grass like this would help."
Several of the students had planted marsh grass the previous spring, and they could see just how much it had thrived in a year's time. This was particularly true of the grass that was planted close together, a lesson learned inadvertently from a former student volunteer. To keep him focused, Phillips said she challenged him to plant as much grass as possible in a small space. A year later, that patch was the one that had done the best.
Marsh grass plantings are one of several activities planned for the island from now until the end of August. Others include the restoration of oyster reefs, scientific monitoring of restored areas, trash clean-ups, summer camps for kids, kayaking and yoga retreats for adults, and marsh cruises that wind their way through Bogue Sound and the mouth of the White Oak River.  Check the federation's Events Calendar for specific dates and times.
The education program began in 2007, two years after part of the island was rezoned for commercial development, a move that prompted the federation to fight for its preservation. With a grant from the N.C. Clean Water Management Trust Fund, the federation bought seven acres. At the time, the Audubon Society owned another 10.
The two groups donated their parcels to Hammock Beach State Park, and the federation has been working in tandem with the park ever since. Roughly a third of the island is still in private hands, and, to date, all of it is still undeveloped.
As seventh-grader Jonathon Deaton wisely noted, "Just getting to come out here is a privilege."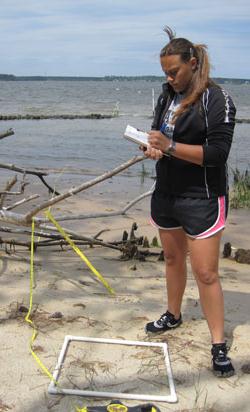 A volunteer measures the growth of newly planted marsh grasses.
"Look at it," he said, gesturing toward the pristine nature of the island's evergreen forest, its live oaks, and its yaupon and wax myrtle shrubs. Just beyond the tree line and the shrubs, lies the shoreline, where, later in the day, the students waded into the water, cast their nets along oyster sills and scooped up a menagerie of small sea creatures, including crabs, clams, scallops, fish and a lot of baby shrimp.
The bounty of shrimp was particularly pleasing to Wayne Guthrie, owner of Beaufort-based Outerbanks Seafood Co. and the father of twin seventh-graders at Beaufort Middle School. "Hello full moon in June," he said, referring to the time when shrimp leave their protective estuarine hiding places and head for deep water.
In addition to Guthrie, three other adult volunteers were also part of the mid-April excursion. Two were a husband and wife team that owns property on Clubfoot Creek, a tributary of the Neuse River.
Worried about erosion, Ida and Clarence Arrington were all set to install a seawall until they learned about the dibbler and the power of marsh grasses. "We didn't know you could plant it like this," Ida Arrington said.
"We just called the contractor," she said, adding that they'd decided to put the seawall on hold.
The fourth adult was Bree Kerwin, an environmental scientist, who summed up the oysters in our midst this way: "They look really ugly, but they're such an interesting organism."
A single oyster can filter up to 50 gallons of water a day, a feat that rivals the best of what Brita has to offer. In addition, oyster beds serve as a natural habitat for roughly 300 underwater species that find both nutrients and refuge among the shells' ragged edges; and the beds, or reefs, protect landmasses, like Jones Island, from erosion by slowing down wave energy as it approaches the shore.
Historically one of the biggest threats to the oyster population has been human consumption. Whether they're raw, steamed, served up with butter and salt or lime juice and hot sauce, they are beloved worldwide. Americans eat roughly 28 million pounds of oysters each year, according to estimates done at Louisiana State University.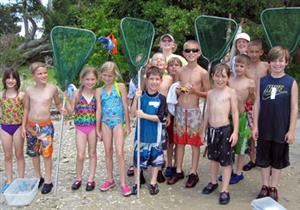 Day camps on Jones Island offer children a chance to experience the natural wonders of our coastal rivers.
Baby oysters, however, prefer shells of other oysters to attach to. A single oyster discharges millions of fertilized eggs into the water. The larvae float about for a two to three weeks, but then they need a place to settle, and the place that works best is another oyster shell.
Until it became illegal a few years ago, odds were that discarded oyster shells ended up in a landfill, where the reproductive cycle came to a screeching halt. Since the late 1800s, overfishing, depleted habitats and pollutants from stormwater runoff have reduced North Carolina's oyster population by an estimated 50 percent, and the yearly harvests are 10 percent of what they were a hundred years ago.
As one leaves Jones Island with these thoughts in mind, one realizes that as "Lost"-like as the island may seem, there are, indeed, much greater threats than smoke monsters and mysterious "Others."