EMERALD ISLE – You won't have to wander far at the N.C. Coastal Federation's Native Plant Festival this weekend to bump into a Parrot Head. They will be everywhere – waiting on customers, hauling plants to cars, directing traffic in the parking lots.
The Emerald Isle Parrot Heads, year in and year out, supply the most volunteers to the annual plant festival. There will be 18 of them roaming around the festival grounds in Ocean today and Saturday.
We'll let you in on a little secret as long as you promise not to tell Jimmy Buffett: Some may not like his music. Heck, one or two may not even know who he is.
The Parrot Head clubs – and there are more than 200 of them spread across the country – were inspired by Buffett's music and the tropical lifestyle he personifies. But you apparently don't have to be much of a fan to be a Parrot Head.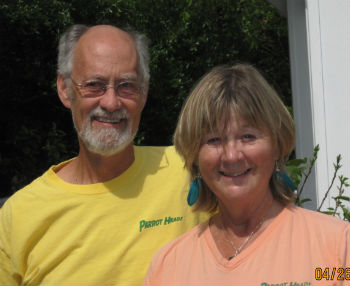 Ken and Sue Stone
"There are some in the club who never heard of Jimmy Buffett," Ken Stone says.
Stone is a Parrot Head and, for the record, likes Buffett's music. His wife, Sue, is the club's secretary. Together, they organize the club's plant festival volunteers.
"A lot of people think the club is made up of a bunch of old Jimmy Buffett fans," Sue explained. "It's only very loosely a Jimmy Buffett club. It's more of a social club that has a lot in common with Jimmy Buffett."
Yes, club members like their margaritas and, yes, they like to party. "But we party with a purpose," Ken said.
Some of that partying last year raised more than $3,000 for wounded veterans. Other monthly parties and events benefitted Habitat for Humanity, the Humane Society, Toys for Tots, battered women, cancer patients and stray cats. When they're not partying, club members may be out along N.C. 58, picking up roadside trash near the Emerald Isle bridge.
"People see us as a bunch of partying drunks," Sue said. "But we have a lot of members who don't drink. Everything we do we do for a good cause."
The club added the Plant Festival to the list several years ago. "We just started asking people if they wanted to help," said Sue, who along with Ken, is a federation member. "Now, it's become a tradition."
Mike Haut, the owner of the Emerald Club, started the local Parrot Head chapter 10 years ago with about 15 members, Ken said. Membership now fluctuates between 240 and 300, depending on whether tourists are on the island. Haut is still the president. "Because he owns a bar," Ken added.
Ken and Sue joined soon after moving to Emerald Isle seven years ago. They came from Albany, N.Y., where both retired from state government. It was their first home in the South.
"The club really helped us get acclimated," Sue said. "That's where we met people."
While the club's activities have benefitted many local charities, club members get something in return. "We both have pensions, so you could say they're paying us to volunteer," Ken explained. "But the truth is that we all feel good what we do because we're giving back to our community."