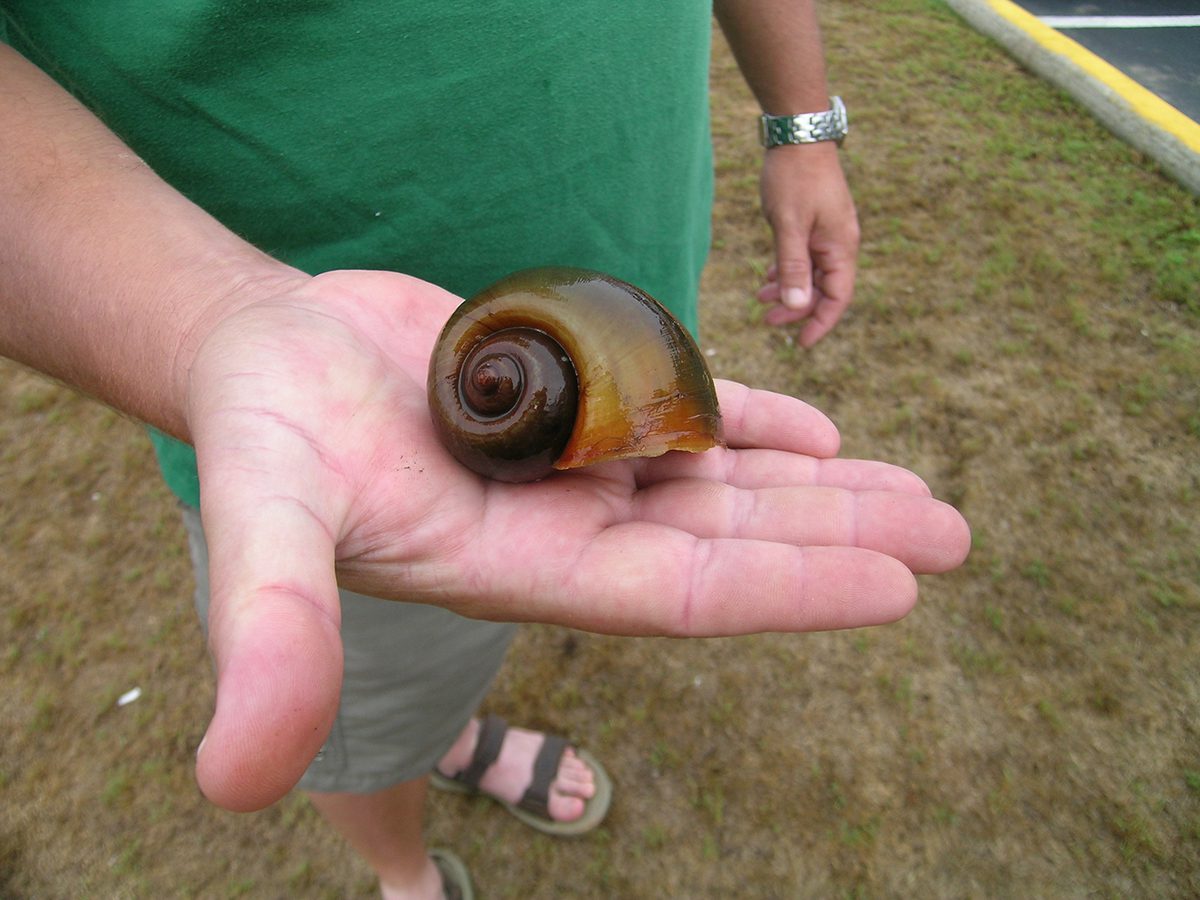 A species of snail harmful to native habitat, can make people sick and is outlawed in North Carolina has taken up residence in a south-central river in the state's Coastal Plain.
North Carolina Wildlife Resources Commission officials earlier this week announced that the first-known population of apple snails, the females of which can lay eggs weekly, are in the Lumber River.
This is the second time in less than a month that wildlife officials have confirmed reports of aquatic invasive species in the state.
It is too soon for state wildlife officials to determine whether the snails and their egg masses, found by the dozens along the river in downtown Lumberton, can be wiped out entirely.
"We don't know if eradication is possible," said Brena Jones, aquatic biologist and the commission's central region aquatic wildlife adversity coordinator. "They're already well established in that tributary and they're spreading in the river. That's a really large area to try and treat."
Wildlife biologists would also have to consider the potential treatment impacts to native snails and mussels in the river.
"Our first triage measure is to prevent further spread," Jones said.
Officials believe they have identified the tributary where the snails were initially released, but they do not know who or how the snails were put in that tributary.
Apple snails are native to South America, but popular among aquarium enthusiasts throughout the world because of their pretty gold and chestnut-striped shells.
Adults grow anywhere from 2 to 6 inches, making them some of the largest freshwater snails in the world.
Their eggs contain a toxin that, when touched with bare skin, can cause skin and eye rashes. Apple snails may also carry rat lungworm, a parasitic worm that, if ingested, can lead to a rare and sometimes deadly disease known as eosinophilic meningitis.
As to how the species found its way into the U.S., fingers point to the aquarium industry. The invasive species has been confirmed in several states, Europe and Asia.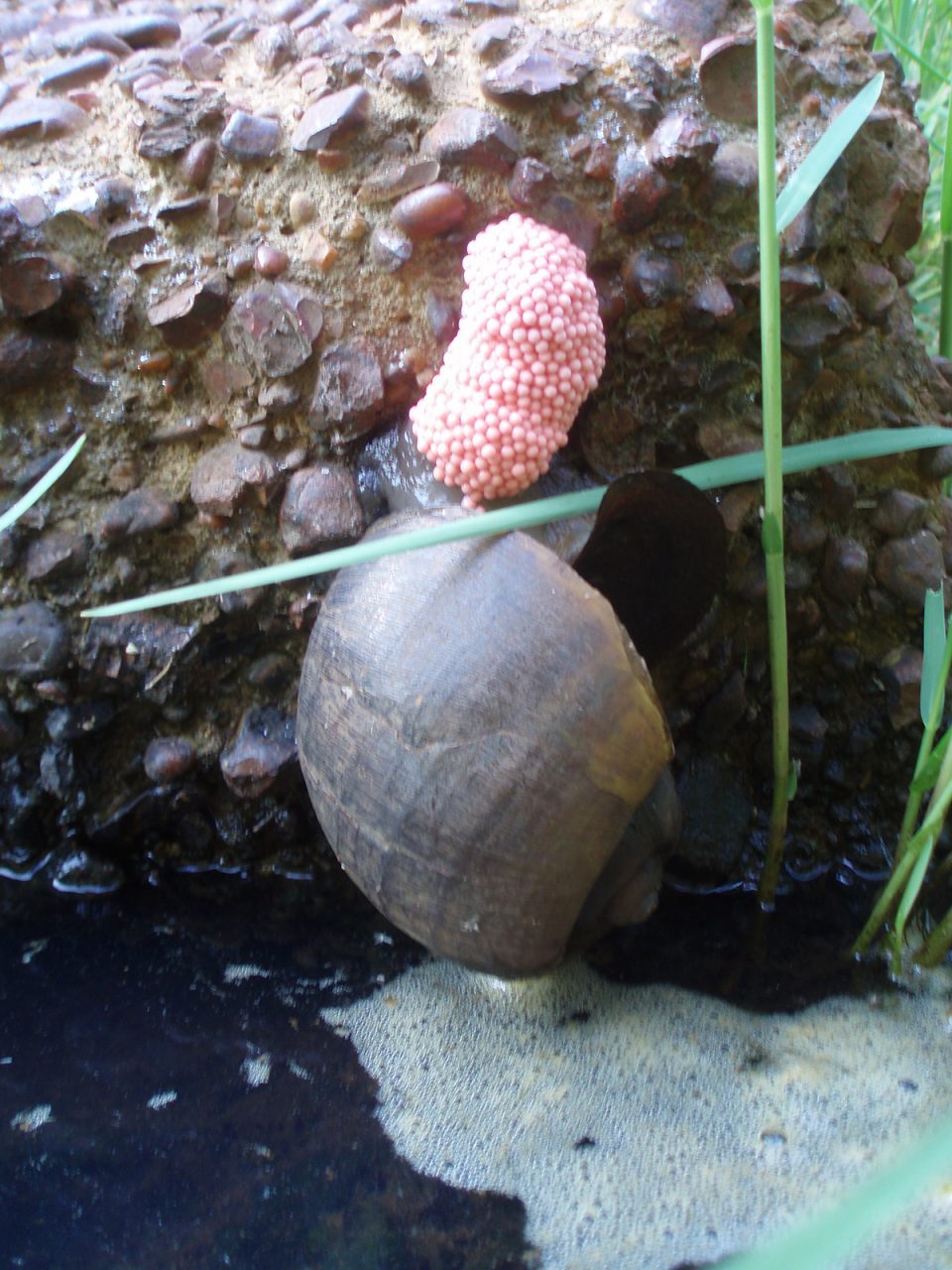 Jones said a man who has paddled the Lumber River for years notified wildlife officials about the snails, which lay large clusters of bright pink eggs outside of water on everything from tree trunks and other vegetation to concrete.
Snails and eggs have been identified near the Interstate 95 bridge crossing of the river, the commission's High Hill boat access, and in a tributary of the river known as Fivemile Branch.
Eggs can easily be destroyed by crushing them and scraping them off hard surfaces into water. Snails may be crushed or frozen.
Jones cautions anyone who attempts to kill either the eggs or snails to avoid touching them with their bare skin.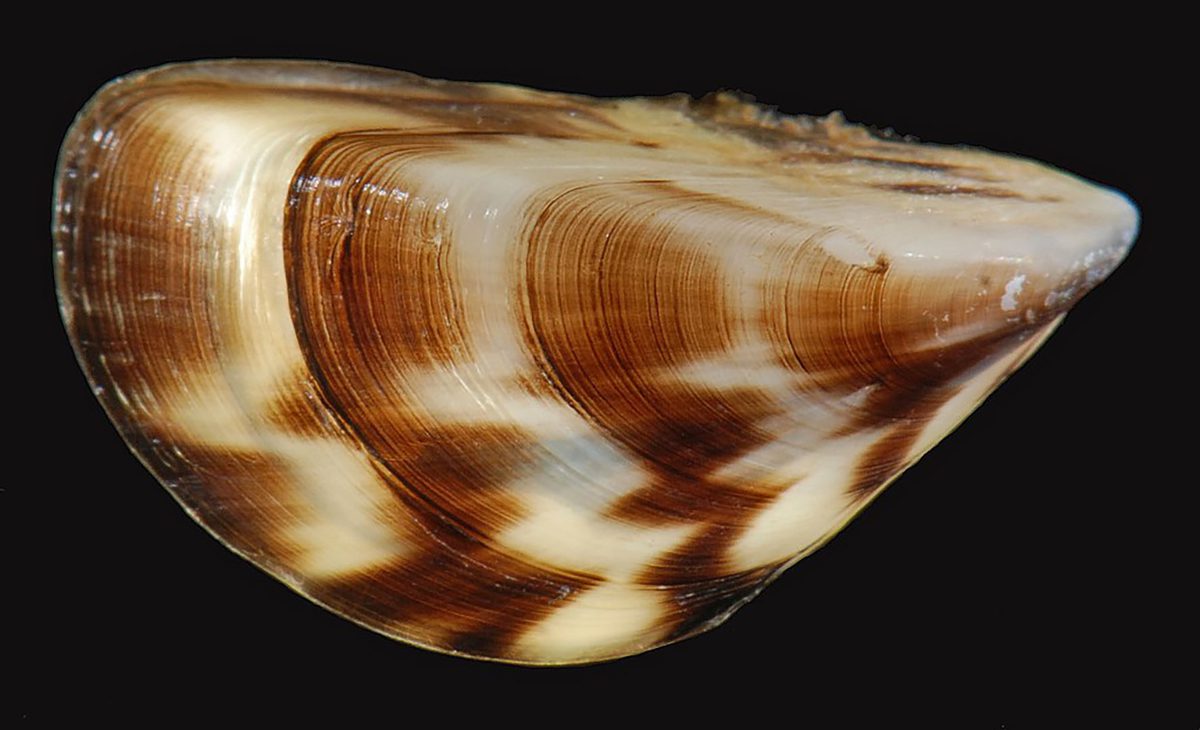 Not just snails
The discovery of apple snails in the Lumber River comes at the heels of another discovery of an aquatic invasive species identified for the first time in the wild in North Carolina.
Zebra mussels, another fast-reproducing species that can deplete the food chain of other aquatic life and change a water's chemistry, have been found in a private quarry in Iredell County in the Piedmont.
These mussels are also illegal in the state. They can clog public drinking water and wastewater systems and damage recreational equipment.
"Both zebra mussels and apple snails are really harmful to native systems and human health," Jones said.
Wildlife officials believe the mussels are contained to the quarry and they are working on treatment options, according to a release.
The discovery of these species in the state has prompted the commission to launch a new online Aquatic Nuisance Species Reporting Tool, which allows users to download photographs of a suspicious species and provide a location to be shared with wildlife officials.
Reports from the public help the commission, which does not have adequate manpower to cover all areas of the state, Jones said.
Commission officials ask everyone to follow a few simple steps to help prevent the spread of these invasive species, including the following:
Clean equipment of aquatic plants, animals and mud.
Drain water from boats, live wells, bait buckets and all equipment.
Dry all equipment thoroughly.
Refrain from moving plants, fish or other organisms from one body of water to another.
Jones said the commission will release additional information about ways to keep apple snails from populating in the state.
"We've still got more to learn about them," she said.