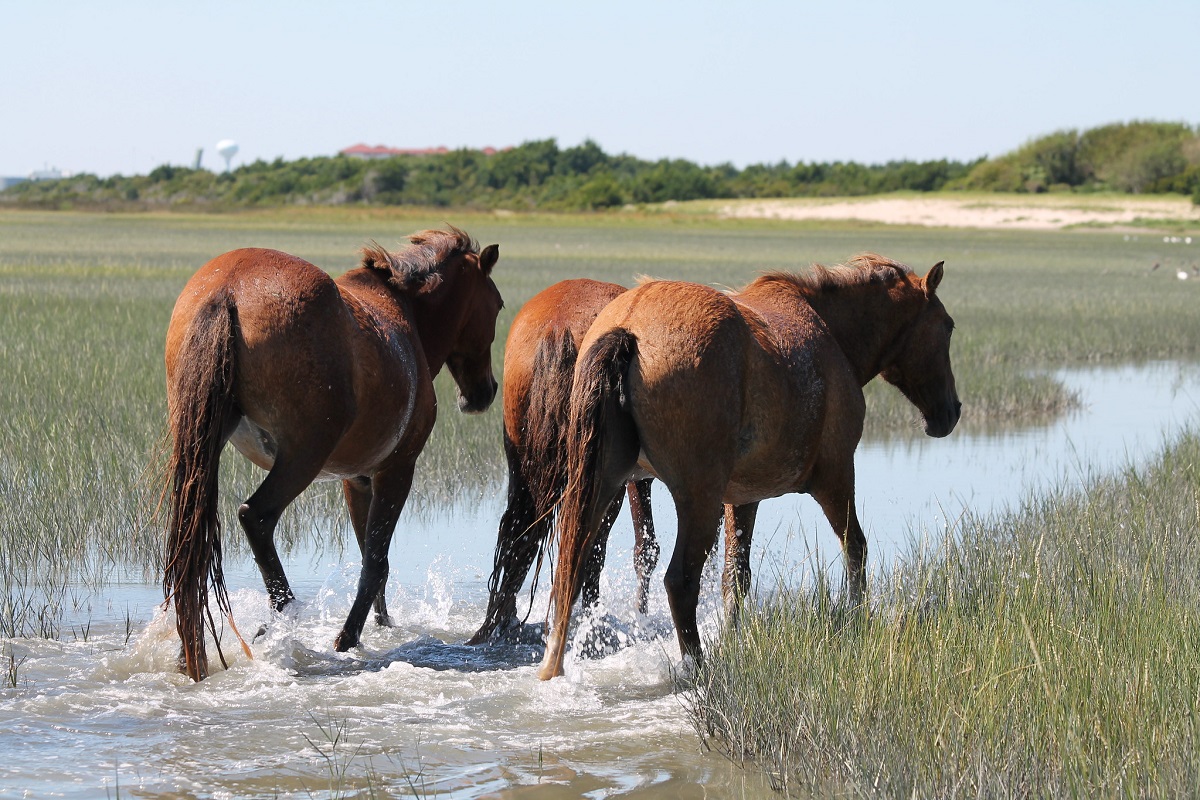 Sept. 28 update:
Rachel Carson Reserve officials were notified Thursday of the death of the wild foal transported to Raleigh from the protected site in Beaufort earlier this week for emergency veterinary care.
The foal had been exhibiting signs of extreme distress and was transported to the College of Veterinary Medicine at N.C. State University in Raleigh where it was deemed to be in critical condition.
The foal's death was likely due to complications of septicemia and pneumonia.
A necropsy will be performed to determine other possible contributing factors.
"Division staff extend their utmost gratitude to those who reported the sick foal, those who responded, and to the local and N.C. State College of Veterinary Medicine veterinarians who worked very hard to save the young horse's life," according to an update Thursday on the reserve's Facebook page.
The Rachel Carson Reserve is one of 10 sites managed by the North Carolina Department of Environmental Quality's Division of Coastal Management.
Original post:
A newborn male foal that was showing signs of extreme distress Monday on the Rachel Carson Reserve in Beaufort has been transported off-site to receive emergency veterinary care.
The Rachel Carson Reserve is across Taylor's Creek from the historic Beaufort waterfront in Carteret County and one of 10 reserve sites under the North Carolina's Division of Coastal Management.
The wild horse herd is continually monitored by reserve staff and volunteers with minimal management to maintain the wildness of the herd. The division intervened in this case because of the extreme signs of distress and the very young age of the foal.
Paula Gillikin, Coastal Reserve site manager for the Rachel Carson Reserve, examined the male foal at the reserve. After consulting with the reserve's local equine veterinarian and College of Veterinary Medicine at North Carolina State University, staff moved the horse from the reserve for further examination and treatment.
The foal was transported to the equine veterinarian's office for stabilization and then to N.C. State's College of Veterinary Medicine where testing and analysis to determine the causes of distress are ongoing, emergency care is being administered, and further treatment options are being considered.
Horses were brought to the site by a resident in the 1940s and eventually became wild, according to the division. The horses subsist primarily on saltmarsh cordgrass and dig for fresh water.
The public is asked to help protect the horses and their safety by maintaining a distance of at least 50 feet away, about the the size of a large bus, though a much larger distance is recommended for viewing the horses' natural behaviors and protecting them from disturbance.