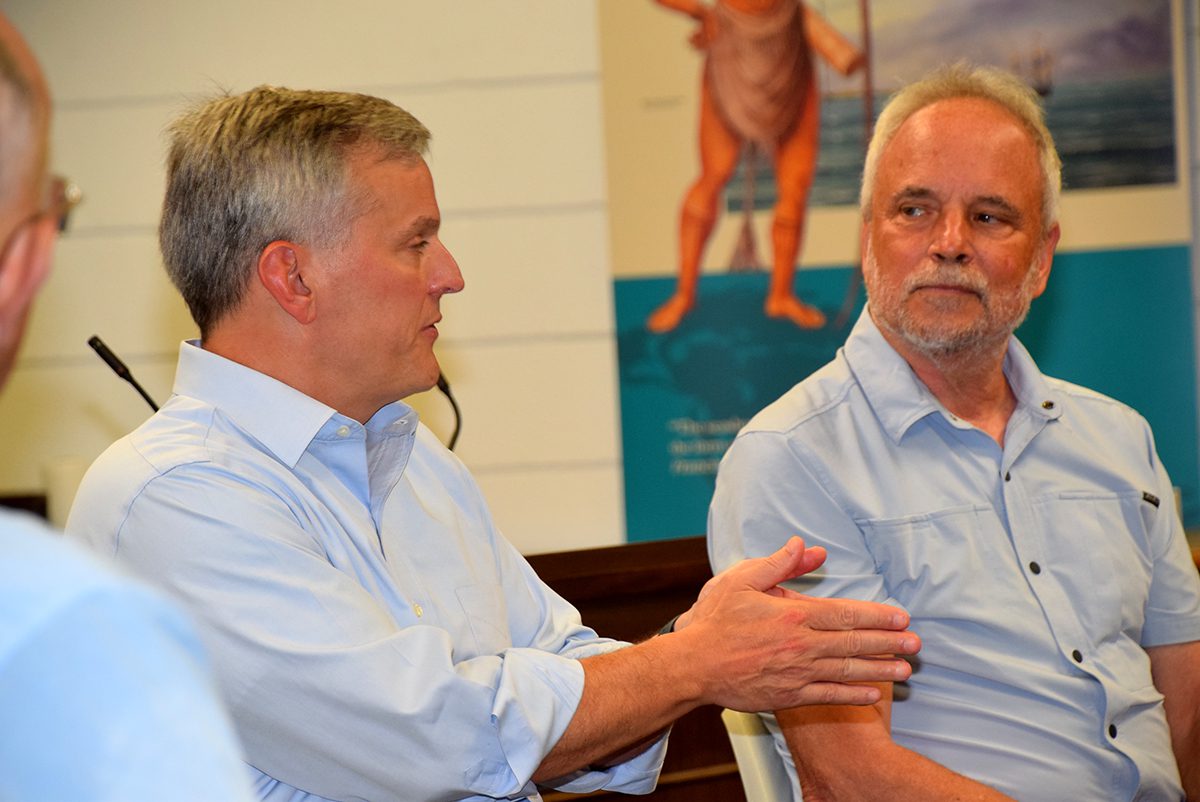 Reprinted from Carteret County News-Times
PINE KNOLL SHORES — Current state Attorney General and gubernatorial candidate Josh Stein sat with staff from the North Carolina Coastal Federation and town officials Monday at Pine Knoll Shores Town Hall to learn more about the work being done to maintain a living shoreline and manage stormwater runoff in the community.
Since 2005, the Coastal Federation has received more than $2.5 million in Environmental Enhancement Grants, or EEGs, from the attorney general's office to protect the environment.
During the discussion, Stein said his office has given more than 200 grants totaling $40 million over the years for conservation efforts.
Part of the money comes from an agreement with Smithfield Foods in which they pay the state $2 million annually to be regranted for environmental purposes.
"The funds go towards things like stormwater runoff mitigation or riparian buffers," Stein said. "These water quality enhancements make sure our drinking water is safe and clean. We are trying to train the next generation of scientists, with one element of the program that identifies important agricultural technologies to try and mitigate the potential impact of particularly large-scale animal agriculture."
Environmental enhancements are not limited in the state to only the coastal regions, Stein continued. Western North Carolina also has seen significant strides to address water concerns.
"Water quality is a real concern for all across North Carolina," Stein said. "It's been a really important program that we've been very proud to operate."
Town Commissioner Clark Edwards explained at the meeting that the situation of sea level rise and recurrent flooding wasn't something that was always really accepted, but that the public's perception was finally catching up to the science.
"We live on the coast and people used to say if it floods, it floods, but we had no provisions for water," Edwards said. "We'll never say we're there, but we're almost to where people feel much more confident, and we have to recognize that mother nature is really in charge. That doesn't mean we're guaranteed no floods, but we're much better off than we were 15 years ago."
Also speaking on the subject at Monday's meeting was Coastal Federation Executive Director Todd Miller, who addressed the progress that has been made over the past decade.
"Since 2018 and 2017, these types of living shoreline projects have caught fire around the nation," Miller said. "It's become easier to happen for the residential side."
Part of these demonstration projects already installed in the area have made people comfortable with the technology and how it's done, Miller explained.
"The consumers are more comfortable, and we're seeing more demand," Miller said. "Moderate and smaller scale projects happen more quickly, larger ones are still in the early adopter phase of getting people working through the policy questions. The big projects are still tough. Particularly at the federal and state level, they are doing a pretty good job keeping up with it, but there is a bottleneck in permitting. They just don't have the staff to manage these big projects."
Miller said his organization has several larger projects in the works right now that are sitting in limbo until regulations and permits are figured out, including a shoreline project soundside at Fort Macon State Park.
Following the discussion, Stein and company took a tour of nearby Memorial Park to view its living shoreline. They also visited Acorn Court to check out the subsurface water systems.
This story is provided courtesy of the Carteret County News-Times, published in Morehead City. Coastal Review partners with the News-Times to provide our readers with news of the North Carolina coast.