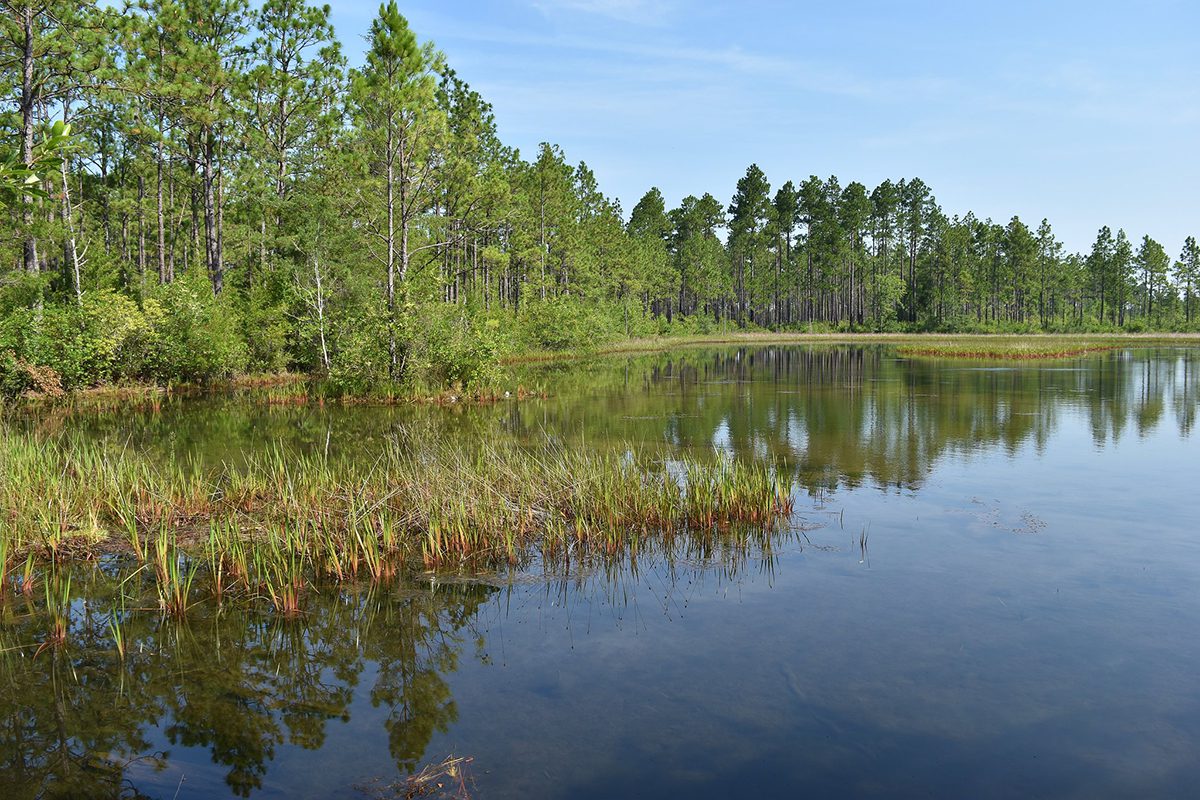 First in a series.
Nearly a month has passed since the North Carolina legislature overrode Gov. Roy Cooper's veto of the annual Farm Bill that includes a provision boxing in how the state can define and, ultimately, protect wetlands.
Though Senate Bill 582, otherwise known as the North Carolina Farm Act of 2023, covers more than 30 topics hitting on everything from padding buffers by trout streams and upping the penalty for animal waste spilled along state roads, to mandating muscadine grape juice in all public K-12 schools.
But the provision that prompted the governor's veto and that raised the loudest alarm bells among environmentalists strips state-enacted safeguards and compensatory mitigation for wetlands that have been in place for years by aligning the law with a recent U.S. Supreme Court decision.
In May, the nation's highest court ruled that the definition of waters of the United States, or WOTUS — the Environmental Protection Agency's Clean Water Act jurisdiction — applies only to wetlands that have "continuous surface connection."
"What qualifies as surface conveyance?" asked Norton Webster, treasurer and consultant with the Carolina Wetlands Association and chief strategy officer at Eco Terra, an Atlanta-based environmental services company that specializes in mitigation and alternative energy. "This is what the (Army Corps of Engineers) and the EPA are wrestling now."
Webster, who works out of Eco Terra's Cary office, explained that North Carolina has unique wetlands features like Carolina bays and pocosins, which have no inlet or outlet, can be wet for part of the year, and in some cases take up a large part of the landscape in the state's coastal plain.
"They are wetlands, but some of them may not have federal protection now because they don't have that surface conveyance," he said.
The degree to which the wetlands provision's effect will have on future protection of wetlands in North Carolina will not likely be fully understood until the Environmental Agency and Corps issue a final rule on revisions to the definition of "waters of the United States," or WOTUS. That ruling is expected to be issued by Sept. 1.
"It's really difficult at least at this moment to be able to quantify what the exact impacts are because we, unfortunately, really can't predict the future," Webster said.
The overwhelming consensus among environmental groups: It's not going to be good.
Proponents of the Farm Act argue environmentalists are overstating the impact of the wetlands provision.
Mike Carpenter, general counsel for the North Carolina Home Builders Association, told the Associated Press that the provision pertains to isolated wetlands and was "not as gloom and doom and disastrous as our friends in the environmental community would like to believe it is."
Carolina Wetlands Association Executive Director Rick Savage disagrees.
"Realize it's more than isolated wetlands," he said. "It's a lot more with the (Supreme Court) case. It really is."
How a new definition may cut mitigation
The North Carolina Department of Environmental Quality estimates that more than half of the state's wetlands – as much as 2.5 million acres – could lose protection.
Opponents of the wetland provision point out that the state is allocating millions of dollars to create nature-based solutions, including wetlands, to mitigate flooding of riverside communities, yet state lawmakers have enacted a bill that diminishes protecting those wetlands and curbing water pollution.
In his written objection and veto of the bill, Cooper stated that severely weakened wetlands protections will equate to more flooding and dirtier water, especially in eastern North Carolina. According to Savage, 90% or more of the state's wetlands are east of Interstate 95.
"This bill reverses our progress and leaves the state vulnerable without vital flood mitigation and water purification tools," the governor wrote.
Nonjurisdictional wetlands, or those not defined under WOTUS, have under state statute been included in the state's Stream and Wetland Mitigation Program, but that may no longer be the case with the passage of the Farm Bill.
"Mitigation was created to allow for landscape changes, but to try to make sure that the overall quality in those respective areas were not diminished," said Amanda Mueller, program director of North Carolina State University's Kenan Institute, Engineering, and Technology Science Climate Leaders Program and a former environmental specialist with DEQ. "That's come up, especially now with the increased frequency of flooding in a lot of areas. I started to say coastal, but it's not just coastal any more. So, the services and values of those wetlands, even though they are not continuous with the waters of the U.S. as they're termed, those services have the potential of being removed by those wetlands not being protected."
Webster said the answer as to how the state wetland provision will affect the future of wetlands mitigation is simple.
"If a wetland's not jurisdictional it's not going to be protected under the Clean Water Act," he said. "If (wetlands) aren't jurisdictional and because the state's protections are gone there will be no mitigation required for those. It's that simple, unfortunately. The reason it's going to hurt the mitigation industry is because there's going to be less mitigation required because there's going to be less jurisdictional wetlands."
The state's compensatory mitigation program is designed to offset what are deemed unavoidable impacts to wetlands by a proposed development.
There are three options for compensatory mitigation: mitigation banks where an applicant can buy credits from an approved bank; in-lieu fees where credits may be purchased through the North Carolina Division of Mitigation Services; and project-specific mitigation, which allows an applicant to mitigate at the project at or off the site.
A mitigation plan must be implemented or constructed before the developer can build.
Mitigation bank sites are the physical acreage in which wetlands can be established, restored, enhanced or preserved.
Sites are vetted through requirements established by a handful of federal agencies, including the Corps and EPA, that look at features including the size of the area, hydrologic sources and watershed management plans.
The system works like a commercial bank, but instead of having a cash asset to loan, mitigation banks loan mitigation credits to sell to anyone who has to offset mitigation debits.
In North Carolina, more than 400 mitigation banks have been approved and "many more" are in the review process, according to Joseph Pitchford, division public information officer.
Nearly 300 of those banks are Division of Mitigation Services sites and 123 are private.
Mitigation must occur within the same geographical service area, or watersheds, as the area in which wetlands are being impacted.
In areas of the state where it is difficult to establish a mitigation bank, particularly small watershed, developers have the option of paying in-lieu fees, when the permittee of a development project pays an in-lieu fee sponsor, such as a public agency or nonprofit organization.
North Carolina has one of the largest and oldest in-lieu fee programs in the country, according to DEQ.
The agency credits the success of the program to Division of Mitigation Services' partnership with the North Carolina Department of Transportation, which accounts for about 80-90% of mitigation in the state. DOT forecasts an estimate of the department's mitigation needs and provides that information to the division.
"For mitigation banking we have to have regulation because that's what defines our market," Webster said. "And, right now I don't believe from a political perspective people really see what the value of clean water is because if you look at how dire the environment was back in 1972 when we had the National Environment Policy Act, the Clean Air Act, the Clean Water Act, all these environmental regulations came to be because we were having all these issues and now it's like, oh well everything's good, we're on the status quo, we don't need to protect these resources anymore. Generally, if you look at the amount of land that has been protected through mitigation and you look at some of the pretty significant wetland banks – there's some pretty large areas in the coastal region that have been protected and they've been protect in perpetuity because there are conservation easements."