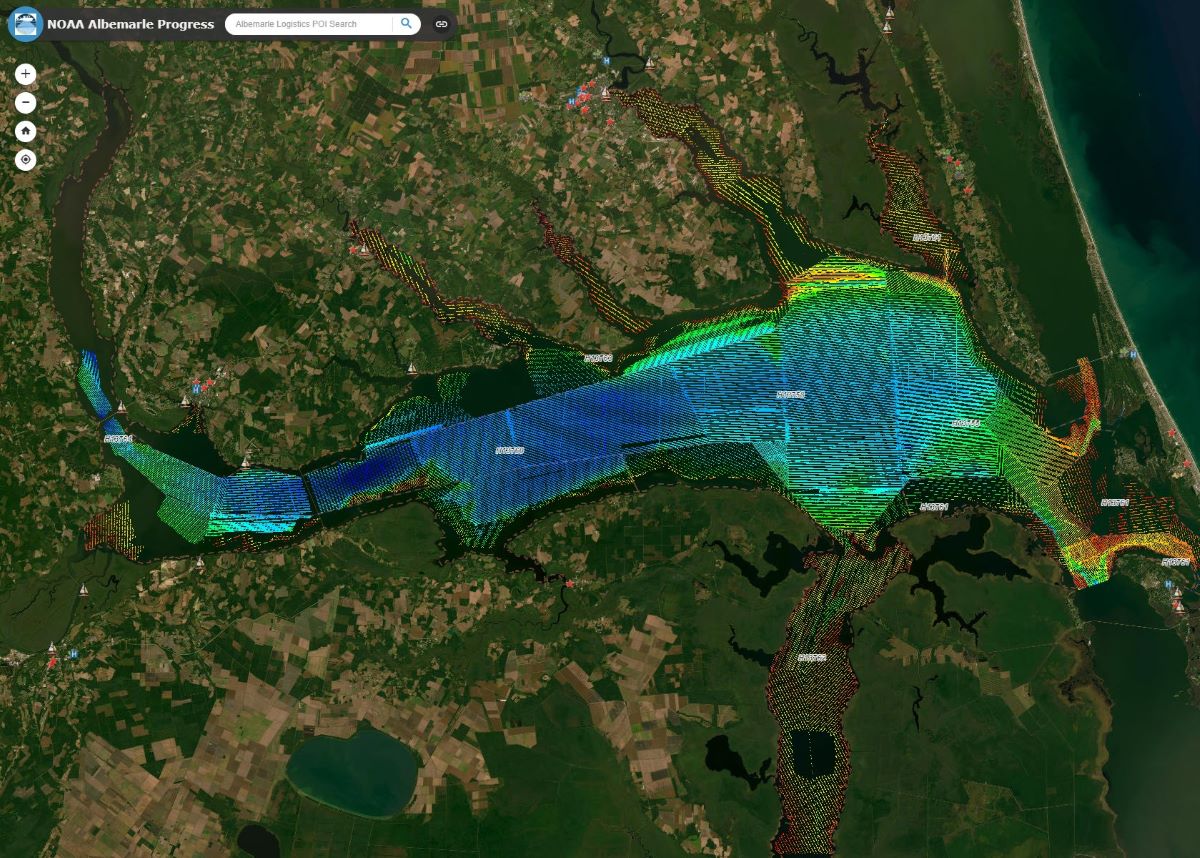 Scientists with the Morehead City-based Geodynamics have undertaken a large-scale survey of the Albemarle Sound's 522 square nautical miles.
The National Oceanic and Atmospheric Administration's Office of Coast Survey, the nation's nautical chart-maker, tasked the company, which focuses on collecting and processing high-resolution lidar and orthoimagery for coastal and marine resource programs, with the hydrographic survey of the sound's shallow, complex environments.
"The project, which is now underway and expected to be complete this summer, is the first modern charting survey of the Albemarle Sound in more than 100 years," Geodynamics representatives said Tuesday.
Data from the hydrographic survey will be used to update NOAA National Ocean Service charts and products, and characterize the estuarine environment to help manage a healthy and sustainable seafood industry and help monitor future changes to the estuary ecology, according to the company.
The data also will provide forecasters at NOAA's National Water Center with bathymetric data to create a multi-dimensional hydrodynamic model that incorporates water level changes from riverine, storm-induced and sea level impacts to better understand nutrient movement and inundation.
"We are honored that NOAA Coast Survey recognizes our vast expertise in hydrographic surveying and geospatial solutions, and experience in shallow complex environments, to entrust us with a project of this magnitude," Geodynamics Program Manager Dave Bernstein said in a statement.
"Our purpose-built vessels and advanced survey technologies will collect over 18,500 nautical miles of sonar data to help NOAA greatly improve safe navigation in the Albemarle Sound and its connecting waterways, while providing even greater insights into the effects of water level change and coastal resiliency and how nutrient movement is impacting the environment," he added.
To collect the sonar-based, high-resolution data, Geodynamics has been using six different types of vessels: a vessel capable of multi-day, 24-hour survey operations, three daily operation vessels, and two uncrewed surface vehicles.
The data is being managed through a survey information management system, or SIMS, which is a collection of online applications and eGIS geographic information system services for survey planning, management and quality control in an interactive online environment.
Geodynamics was founded in 2001 by researchers in marine geology, coastal science and remote sensing and was acquired in March 2021 by NV5, a company that works with public and private sector clients to support infrastructure, utility and building assets and systems. For more information, visit the Geodynamics website.