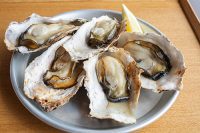 Because of potential contamination by norovirus, two seafood companies based in Korea have voluntarily recalled certain frozen, raw oysters that were harvested in early 2022 and distributed in North Carolina and 18 other states.
The U.S. Food and Drug Administration alerted consumers and restaurants Friday not to eat or sell the frozen raw half-shell oysters, individual quick-freezing oysters, and block-form oysters harvested by Dai One Food Co., Ltd., between Feb. 10 and Feb. 24, 2022, and between April 6 and April 21, 2022, as well as individual quick-freeze oysters harvested by Central Fisheries Co., Ltd. between April 6 and April 21, 2022.
Both companies harvested the potentially contaminated shellfish from the same area.
While food contaminated with norovirus may look, smell, and taste normal, raw oysters and other filter-feeding shellfish can contain viruses and bacteria that can cause illness or particularly in people with compromised immune systems, according to the FDA.
The FDA was notified of 10 illnesses in Hawaii and in Minnesota.
For the five cases in Hawaii, the raw oysters were consumed May 10 and came from a shipment by Dai One Food Co., Ltd. harvested April 13-14, 2022, from Designated Area No. II.
In Minnesota, the five ill from norovirus consumed raw oysters at a restaurant in the state June 3 and June 4. These implicated oysters were from a Dai One Food Co., Ltd., shipment harvested Feb. 17, 2022, in Designated Area No. II.
In addition to North Carolina, Hawaii and Minnesota, the possibly contaminated oysters also were distributed in Alabama, Arizona, California, Colorado, Florida, Georgia, Illinois, Louisiana, Mississippi, New Jersey, New York, South Carolina, Tennessee, Texas, Utah and Virginia.
The FDA notified state shellfish authorities and the Interstate Shellfish Sanitation Conference of the import and harvest details.
Consumers, especially those who are or could become pregnant, the elderly, and persons with weakened immune systems, who consumed raw oysters in these states and suspect they have food poisoning should seek medical care immediately.
The most common symptoms of norovirus are diarrhea, vomiting, nausea, and stomach pain. Other symptoms include fever, headache, and body ache. Most people infected with norovirus begin to develop symptoms 12 to 48 hours after infection. Symptoms usually last one to four days.
To avoid food poisoning, The FDA suggests not eating raw or undercooked fish or shellfish, or food containing raw or undercooked seafood, such as sashimi, some sushi, and ceviche.