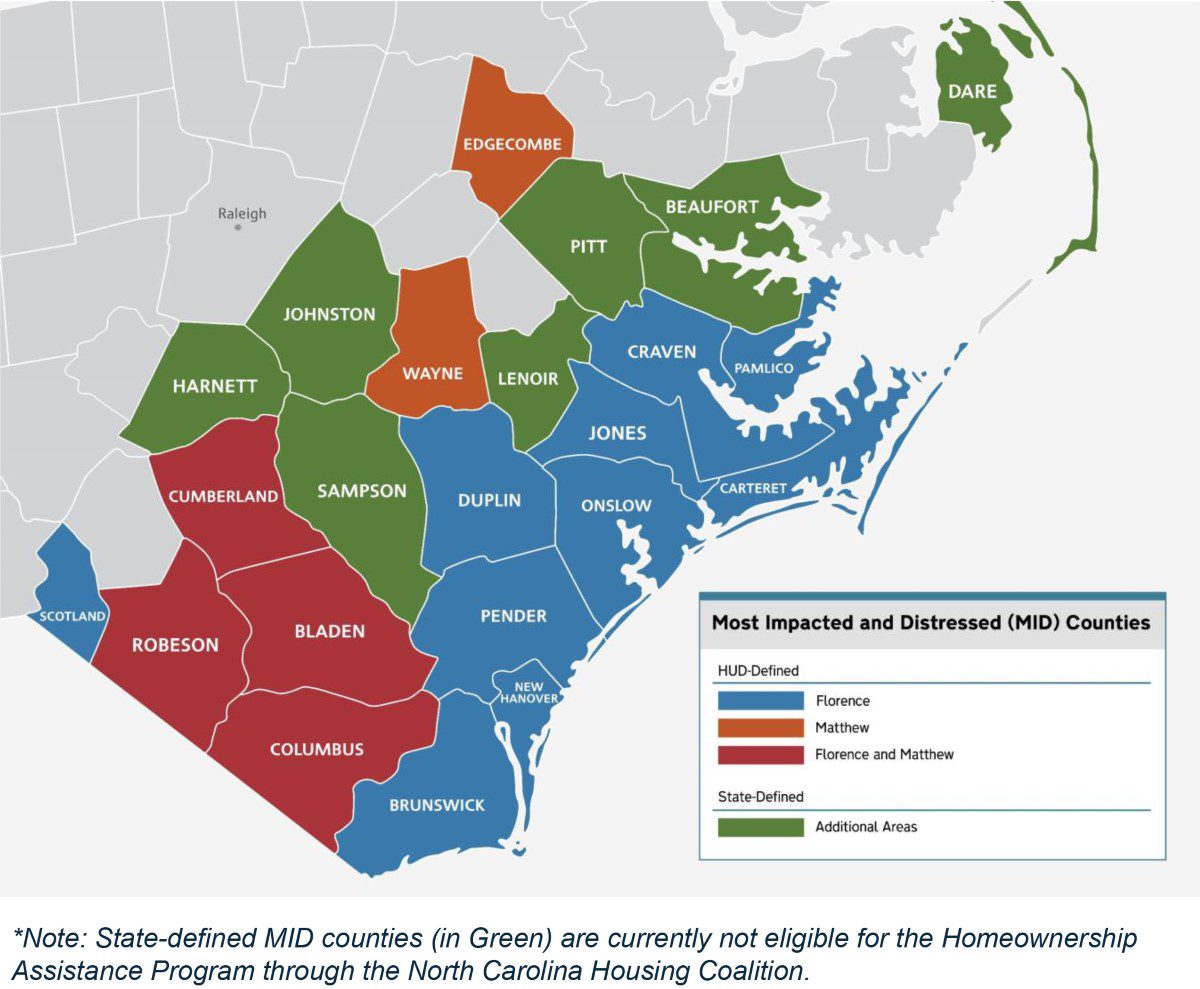 Local governments in impacted and distressed counties are encouraged to apply for the $47 million the North Carolina Office of Recovery and Resiliency expects to award by this fall for housing that increases community resilience.
This is the third phase of the Affordable Housing Development Fund program, and the money is for financing multifamily or single-family housing rehabilitation and new construction outside the 100-year floodplain, officials said this week.
Funding is available for projects located in any of the federally identified most impacted and distressed, or MID, counties, with priority given to the six state-defined MID counties that are not currently supported by the fund, which are Harnett, Johnston, Sampson, Lenoir, Pitt and Beaufort counties, according to the website.
Bladen, Duplin, Jones, Pamlico, Pender and Scotland counties are strongly encouraged to apply for this third round, officials said.
The funds will be used to increase the availability of safe, affordable housing in areas of the state that experienced major damage from hurricanes Matthew and Florence. Most of these areas were already experiencing a housing shortage prior to receiving damage from multiple hurricanes. The award funds will promote rebuilding and replacing some of the lost housing stock.
Local governments interested in applying should submit letters of interest by June 27 ahead of the application period that begins June 28. Letters of interest are nonbinding but mandatory for applications.
An information session is scheduled for 11 a.m. Wednesday, May 24. Sign up for the session and learn more about the letters of interest on the Affordable Housing Development Fund website
Applications will be accepted until 5 p.m. Aug. 25 and awards will be announced in October. Eligibility requirements are included in the online manual.
The Affordable Housing Development Fund Program is supported by North Carolina's Housing and Urban Development, or HUD, Community Development Block Grant–Disaster Recovery funding for hurricanes Matthew and Florence.
It is one of multiple housing programs overseen by NCORR through its Community Development Office.