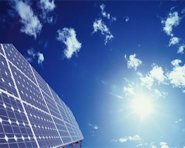 An opportunity to learn more about solar and wind power will take place in Carteret County during the week of Earth Day.
The Renewable Energy Symposium is set for 1 to 6 p.m. April 20 in Joslyn Hall at Carteret Community College. Attendance is free.
College Corporate and Community Education Vice President Perry Harker kicks off the speaker portion of the symposium at 1:30 p.m. and is expected to discuss the importance of the college training for the workforce of tomorrow.
Keynote speaker is Cassie Gavin, policy director for North Carolina Sustainable Energy Association. She will discuss the new Duke Energy Plan and the NC 2030 goals for reducing carbon footprint through further use of solar and wind energy.
Karly Lohan, North Carolina program and outreach manager for the Southeastern Wind Coalition, will speak on the economic benefits and the potential for both onshore and offshore wind in the state and NC Interfaith Power and Light Executive Director Susannah Tuttle will offer "a hope-filled response" to climate change.
A panel discussion is to begin at 3:15 p.m. with representatives from the Carteret-Craven Electric Cooperative, Duke Energy, Southern Energy Management in the Triangle, Cape Fear Solar in Wilmington and Saving Sunshine in Morehead City.
From 1-1:30 p.m. and during breaks, attendees may visit information tables in the foyer on the various utilities and solar installers with representatives there to answer questions.
Carteret Community College, the Croatan Group of the NC Sierra Club and NC Interfaith Power and Light are sponsoring the symposium.