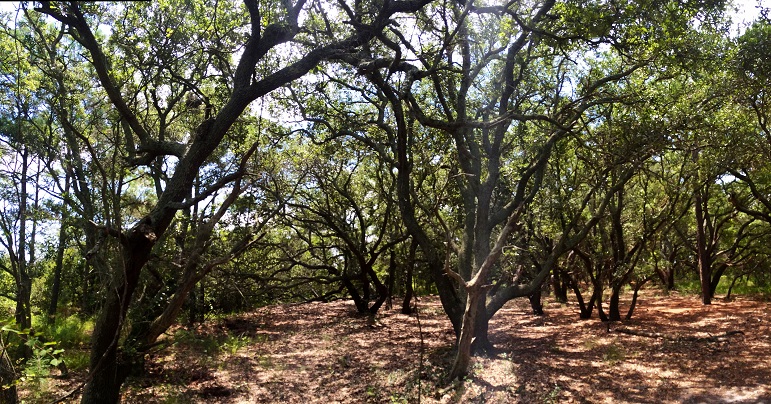 Closed for repairs since October 2022, the parking lot, boardwalk and trail at Currituck Banks Reserve in Corolla reopened Wednesday to the public.
Improvements to the boardwalk, which was built in 2002 through the maritime forest and swamp to the Currituck Sound, included replacing aging decking boards, seat boards, railing and side guards of the existing boardwalk and structural components as needed.
All work took place within the current footprint of the existing boardwalk, state Department of Environmental Quality's Division of Coastal Management Coastal Reserve officials said Wednesday.
"The work to replace the 20-year-old decking boards, railings, and benches will allow users to safely access the Currituck Banks Reserve for years to come," Erik Alnes, Coastal Reserve northern sites manager, said in a statement. "Wooden benches were replaced with composite benches, providing a safer alternative for visitors to sit and observe."
These replacements were identified as a facility need in the North Carolina National Estuarine Research Reserve's 2020-2025 Management Plan.
The North Carolina Coastal Reserve and National Estuarine Research Reserve received more than $122,000 in funding to repair the boardwalk through the N.C. Public Beach and Coastal Waterfront Access Grant Program during the 2020-21 grant cycle.
"The funds provided by DCM's Public Beach and Coastal Waterfront Access Program to replace and repair key areas within the Currituck Banks Reserve serve as an investment in safe infrastructure and visitor experiences," Braxton Davis, division director, said in a statement.
The Currituck Banks Reserve is one of 10 sites in the N.C. Coastal Reserve and National Estuarine Research Reserve, protected for research, education and compatible traditional uses.