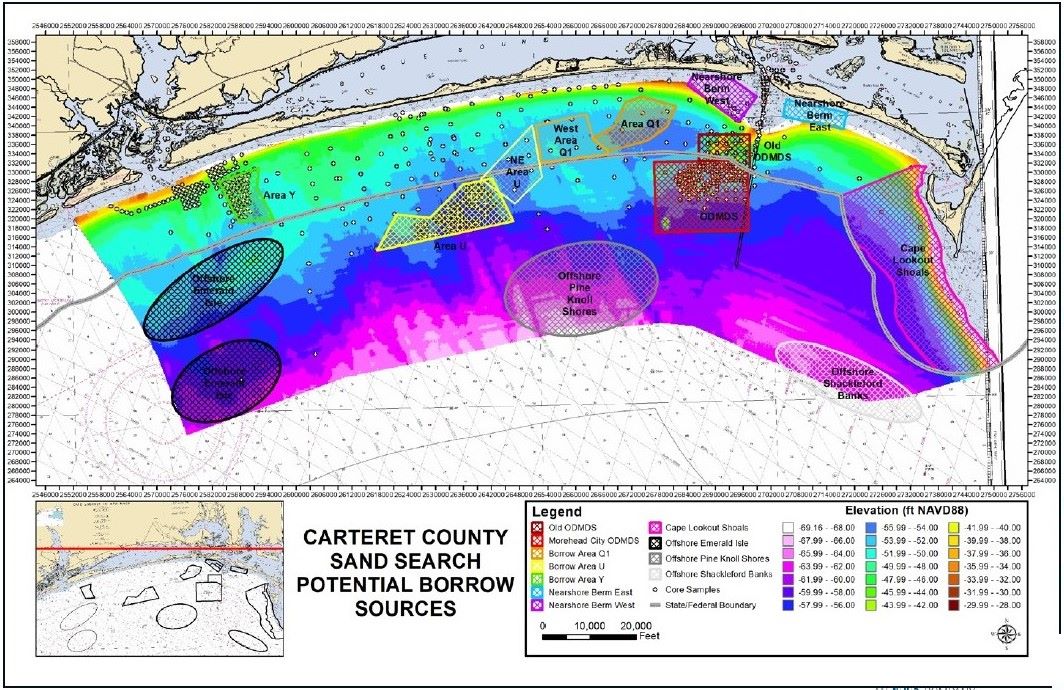 Carteret County Beach Commission members were presented Monday afternoon with potential offshore borrow locations from where the county may pump sand onto Bogue Banks ocean shorelines.
The commission is looking for offshore sand resources to support the county's 50-year beach preservation plan, the first of its kind in North Carolina.
The county received a permit in 2018 to take sand from a U.S. Army Corps of Engineers offshore dredge material disposal site, or ODMDS, to renourish beachfronts along the barrier island, which includes Atlantic Beach, Emerald Isle, Pine Knoll Shores and Indian Beach.
Shortly after the permit was issued, Hurricane Florence dumped record-breaking rainfall and produced a storm surge of up to 13 feet across eastern North Carolina, leaving behind sand-stripped beaches.
For the next three years after the storm, the county pumped 6 million cubic yards of sand onto the beaches to make up for the sand lost. The projects further depleted material available in the offshore dredge material disposal site now estimated to have about 16 million cubic yards of beach compatible sand.
Doug Huggett, an environmental permit specialist and project manager with the coastal engineering firm Moffatt & Nichol, explained to members of the commission that there is likely enough sand available in the offshore dredge material disposal site for two more nourishment events. How many years that the amount of material available would cover depends on the frequency of coastal storms.
"It's becoming less and less effective as a borrow source," Huggett said.
Moffatt & Nichol has identified potential offshore borrow areas the county may investigate, the top two of which include a nearshore berm off the Atlantic Beach coast and Cape Lookout shoals.
Huggett suggested that the nearshore site be a top priority to investigate because of its proximity to the beachfront and the quality of material anticipated to be in the area.
"Closer is always more preferable," because it is more cost-effective, he said.
The area, referred to as nearshore berm west, contains about 11 million cubic yards of material.
Cape Lookout shoals has a whopping 63 million cubic yards of material, but Huggett warned that the county may be faced with permitting issues to use the site because of environmental concerns. One member of the commission suggested the area may be deemed essential fish habitat.
Moffatt & Nichol will provide a final analysis and summary report to the commission later this year.