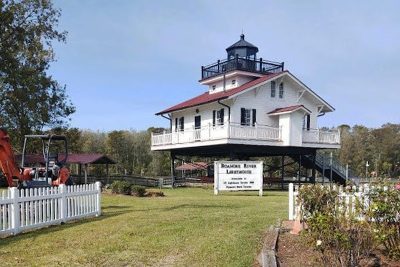 ELIZABETH CITY — "The Roanoke River Lights: Beacons to a Century of History" will be the focus of the Museum of the Albemarle History for Lunch program starting at noon Wednesday, April 5.  
Tad Howington, curator of the Roanoke River Lighthouse and Maritime Museum, will weave what organizers call the "fascinating tale of the Roanoke River Lights with the colorful history of Plymouth and the surrounding region."
Located along the shore of the Roanoke River, Plymouth was once a bustling port town where schooners, steamboats, and barges frequented its customs house. "The river connected the region to the broader world, and the beacon of the Roanoke River Lighthouse protected that connection for over 100 years. But the story of the four Roanoke River Lights is filled with unexpected twists and turns: war, fire, ice, and politics," organizers continued.
The program is offered in-person at the museum, 501 S. Water St., and through Zoom. Register in advance through the museum's Facebook page or website to receive a link to attend the lecture virtually, which is supported by Southern Bank of Elizabeth City.
The museum that serves Bertie, Camden, Chowan, Currituck, Dare, Gates, Hertford, Hyde, Northampton, Pasquotank, Perquimans, Tyrrell and Washington counties is the northeast regional history museum of the North Carolina Division of State History Museums within the state Department of Natural and Cultural Resources.
Hours are 10 a.m. to 4 p.m. Monday through Saturday and closed Sundays and state holidays.