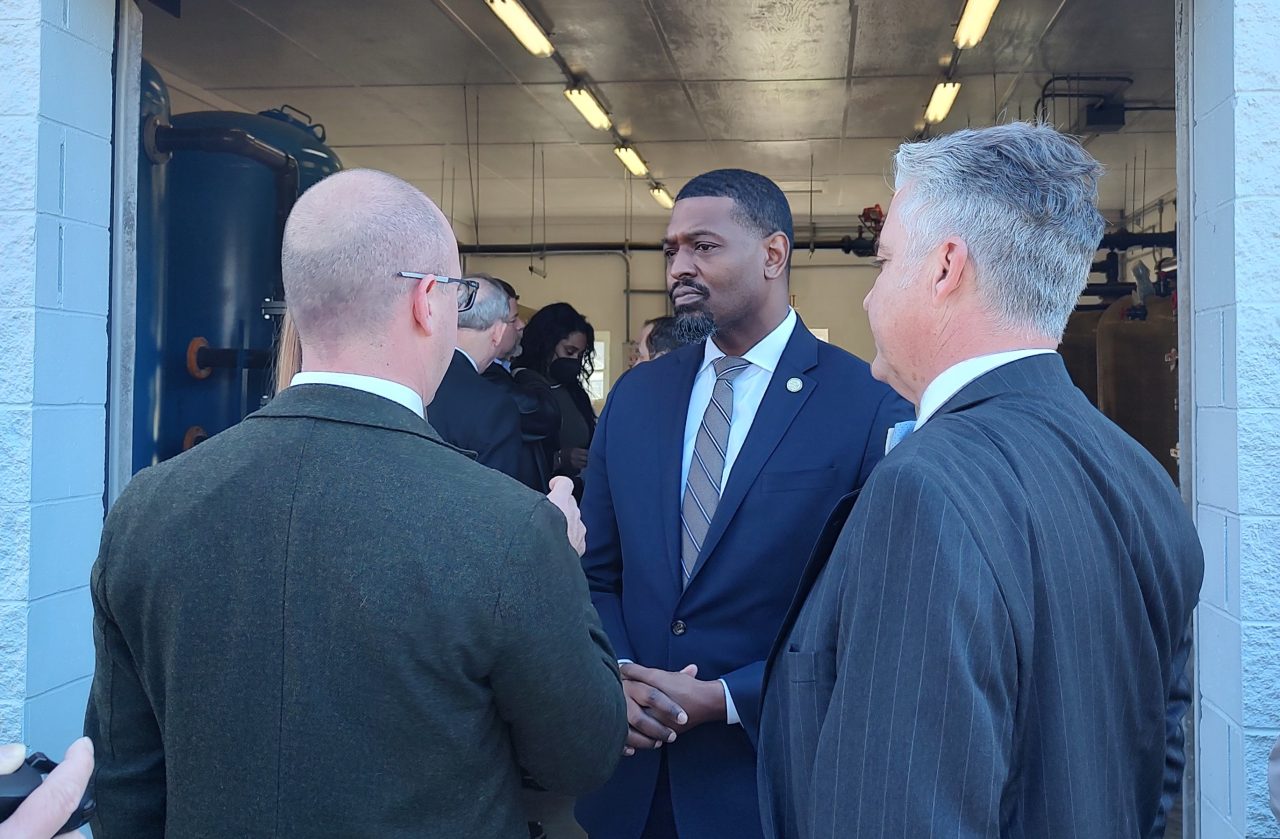 MAYSVILLE — Nearly $62 million in federal funds will go to address drinking water quality in rural and disadvantaged communities in the state, Environmental Protection Agency Administrator Michael S. Regan announced Monday during a visit to the town's water tower.
That $62 million, he told the town officials, residents, Department of Environmental Quality staff and the media, is coming from a total of $2 billion that has been allocated from the $1 trillion infrastructure bill that passed in 2021 to address emerging contaminants, like per- and polyfluoroalkyl substances, or PFAS, in drinking water across the country.
Maysville is one of the small, rural communities affected by PFAS contamination in the state.
Regan said that in the almost two years since becoming EPA administrator, he has had the opportunity to travel across the country, visiting big cities and rural communities like Maysville, and everything in between.
"I've had countless conversations with people from all different backgrounds and I've heard time and time again about how our nation's aging water infrastructure has directly impacted people's lives," he said. "Let's be clear, clean water is essential for all life on Earth. It's fundamental for healthy people, thriving communities and productive agriculture. Yet too many people in this country lack access to safe, affordable and reliable drinking water systems. Too many communities are grappling with the impacts of pollution and other emerging contaminants. And too many communities have been left to face these challenges alone."
Regan said that the administration was leading the investment in America's infrastructure like never before, including the single largest investment in water infrastructure in history. He said the Bipartisan Infrastructure Law provides more than $50 billion to replace lead pipes, address PFAS and other contaminants and build drinking water and wastewater systems that are sustainable and reliable.
Regan announced that the EPA is allocating $2 billion that will go to address contaminants including PFAS in drinking water through the agency's Emerging Contaminants in Small or Disadvantaged Communities Grant program.
"In total, EPA will provide $5 billion between now and 2026 through this grant program. This one year alone, North Carolina will receive nearly $62 million for projects that specifically address PFAS and emerging contaminants in drinking water in our small and rural communities," Regan said.
The grant program prioritizes investments in small communities dealing with PFAS contamination with few financial options. The grants do not require a state match, ensuring that the money gets to the communities that need it most, Regan said.
"Small communities have always been the backbone of our nation," he said.
Regan called the funding a significant milestone that will help communities tackle pervasive challenges like PFAS, a challenge he said he understood from his time as DEQ secretary.
In 2019, the NC PFAS Testing Network, a statewide research collaboration, tested the well in the Maysville drinking water system for 55 chemicals. Researchers found levels above the EPA recommendation for two chemicals, PFOA and PFOS, and similar levels of Perfluorohexane sulfonate, or PFHxS. To protect the community, town officials began to source water from Jones County. The town is currently installing a filtration system for its own well.
Maysville Town Manager Schumata Brown said during the press conference that he often refers to water as important to the quality of life. "I believe that if we are providing that to our citizens, they deserve that quality."
Brown added that when the new PFAS filtration system is finished, it will be one of the most advanced.
Current DEQ Secretary Elizabeth Biser told attendees that in the last six years since PFAS was discovered in drinking water in the Cape Fear region, the state had been working aggressively to address PFAS contamination.
"We have become a national leader by necessity. In 2017 When GenX was discovered and a Cape Fear River, DEQ under then Secretary Reagan took decisive action to stop Chemours from releasing GenX into the environment. Chemours contamination forced our state to learn a lot quickly about PFAS, its effects and protecting our residents. But we all know that the issue of PFAS goes beyond one chemical or one company. These forever chemicals are pervasive throughout our environment," Biser said.
"In 2019, Maysville learned that lesson firsthand. They also learned a lot about the impacts of PFAS that they are linked to health effects with that there are no federal drinking water standards yet, although we're hoping that will change soon, and while we're looking forward anxiously awaiting those federal standards," she said.
Biser said the state is working to address PFAS "in a comprehensive way with a comprehensive plan."
DEQ in June 2022 announced its plan for dealing with PFAS throughout the state through research, regulation and remediation.
"In order to protect drinking water, we know that we need to address regulations for PFAS. DEQ committed to proposing standards for groundwater, surface water and drinking water for the PFAS that are most prevalent in North Carolina's environment. We want to prevent more harm from being done. And we have to address forever chemicals that are already present in our environment for remediation efforts and continue to hold polluters accountable," Biser said.
Biser also commended the "decisive action" Maysville officials took to protect its residents.
"They did the right thing. They acted on the science to protect their community from the harmful effects of these compounds," she said. "They also took the initiative to do additional testing and since 2019 have been working with experts and legislators to find solutions."
After the press conference and round table discussion with state and local leaders, Biser said that the state will need to work with rural and disadvantaged communities to identify the projects that can be funded. She said the need was great and the problem was large.
"Having filtration technology available to small communities like Maysville is phenomenal," she said.