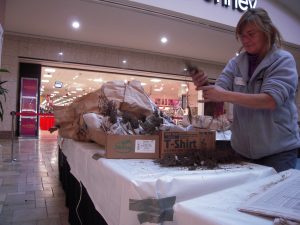 Get your shovels ready! The 25th annual TreeFest in Wilmington is coming up later this month and you may pick out up to five free trees or grasses and take them home to plant.
More than 10,000 plants will be available during the two-day giveaway — over 5,000 trees and grasses per day — between 11 a.m. and 4 p.m. Jan. 20 and Jan. 21 at Independence Mall, inside the JC Penney corridor.
Longleaf pine, red cedar, river birch, silky dogwood, sugarberry, red hickory, eastern redbud, crabapple, chestnut oak, live oak, wiregrass, Indian grass, little bluestem and big bluestem grass will be available on a first-come, first-serve basis. A donation of $5 per household is suggested.
Experts will be on hand to help with plant selection and provide information for their care.
Trees and grasses distributed during this event have been provided by the North Carolina Forest Service Nursery in Goldsboro.
Anyone interested in stopping in to pick up trees or grasses are encouraged to consider the size of the site in which they wish to plant, check for utility lines above and below ground, soil type, drainage, sun exposure and proximity to buildings.
Since the trees provided at TreeFest are bare root they should be planted as soon as possible.
"Our goal of expanding and increasing the tree canopy here in the Cape Fear region remains so important," said New Hanover County Arboretum and N.C. Cooperative Extension Director Lloyd Singleton in a statement. "Trees offer many benefits to our community, from flood protection and improving water and air quality, to providing shade and oxygen, along with food and nesting sites for birds and wildlife."
TreeFest began in 1997 after hurricanes Bertha and Fran wiped out tree populations in the area. TreeFest has given away over 100,000 tree seedlings to area residents.
Sponsors for TreeFest include the New Hanover County Arboretum and North Carolina Cooperative Extension, New Hanover County Soil and Water Conservation District, the city of Wilmington, Friends of Wilmington Skateparks, Independence Mall, N.C. Forest Service, and the University of North Carolina at Wilmington's Environmental Sciences and Biology & Marine Biology departments.