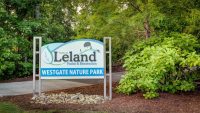 Leland will have a ribbon-cutting and community event to celebrate the grand opening of its new StoryWalk 1-3 p.m. Saturday at the Westgate Nature Park, 1260 West Gate Drive.
StoryWalk includes 18 panels along the Westgate Nature Park trail, each featuring a page from a children's book. The first story is "The Traveling Coin" by local author Kevin Kirk.
Visitors can walk the 0.3-mile trail to read the full story. This project is designed create movement, reading, and creativity.
The stories featured on the StoryWalk will be changed each quarter.
The ribbon cutting will be followed by crafts, face painting, and a meet and greet with Kirk.
The event is free and open to the public. Though parking at Westgate Nature Park is limited, a free shuttle will be running from the Leland Cultural Arts Center at 1212 Magnolia Village Way.
The StoryWalk is presented by the North Brunswick Kiwanis Club and cosponsored by the Town of Leland and First Bank.
The StoryWalk Project was created by Anne Ferguson of Montpelier, Vermont, and developed in collaboration with the Kellogg-Hubbard Library. StoryWalk is a registered service mark owned by Ferguson.