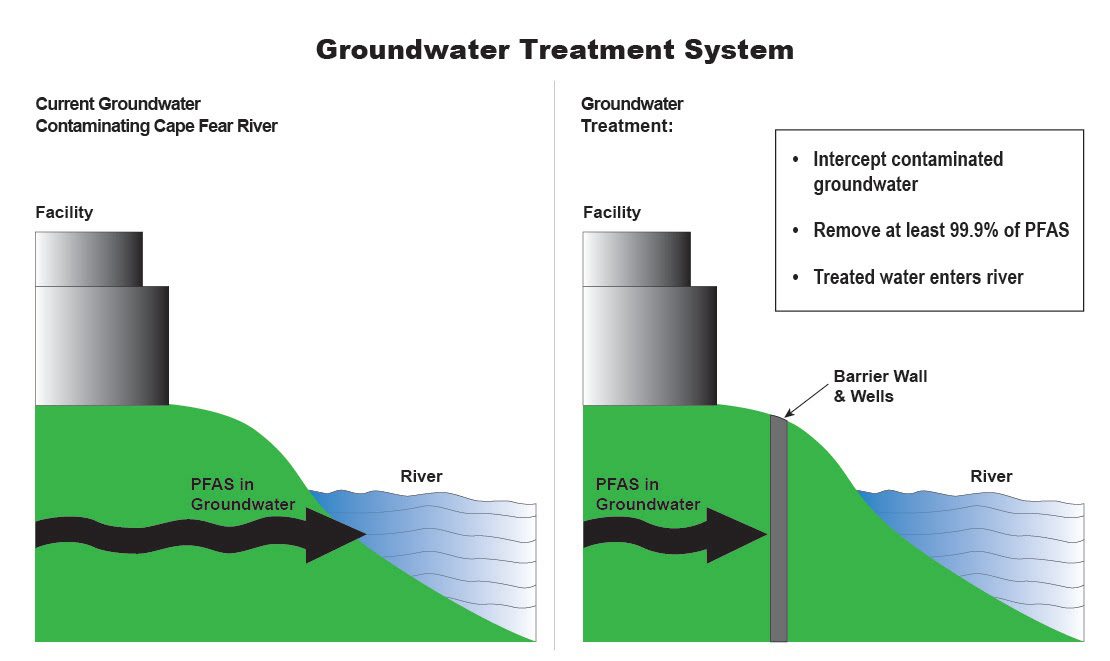 Construction is to begin Monday on a small portion of an underground barrier wall designed to stop contaminated groundwater from getting into the Cape Fear River from Chemours Fayetteville Works facility.
Chemours is building a test panel to gauge the overall project, including the company's construction equipment and building materials that will be used, according to a company news release.
It will take about one week to build.
The barrier wall will stretch more than a mile long and six stories deep off the riverbank. Groundwater will be diverted to about 70 wells, conveyed to an onsite treatment facility and treated before it is discharged into the river.
The facility, which is more than 70 miles upstream of Wilmington, for decades discharged synthetic compounds called per- and polyfluoroalkyl substances, or PFAS, into the river.
Chemicals from Chemours, a spinoff of DuPont, are also released into the air and ground.
Research is ongoing about potential human health effects of these chemicals, including PFAS unique to the facility in Fayetteville.
Under a court-enforceable consent order with the North Carolina Department of Environmental Quality and Cape Fear River Watch, Chemours began a couple of years ago putting measures in place to cut down on the amount of PFAS its Fayetteville plant released into the environment.
Chemours has installed a thermal oxidizer to capture and destroy more than 99% of PFAS from emitting into the air. The company has to cut PFAS emissions into the river by more than 90% and provide drinking water to residents whose wells are contaminated.
Residents who live near the facility may hear construction noise predominately during daylight hours. The company will share additional information about the construction schedule as it becomes available, the release states.