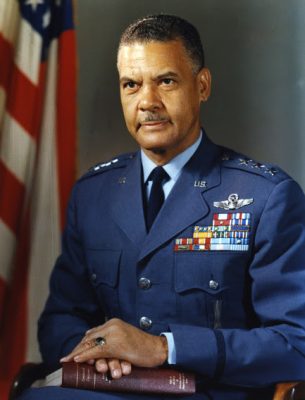 Post has been updated
Wright Brothers National Memorial, the First Flight Society and Outer Banks Forever are joining together at 9 a.m. Dec. 17 at the memorial to celebrate the accomplishments of Wilbur and Orville Wright on the 119th anniversary of their first heavier-than-air, controlled, powered flight.
The event will be held at the memorial, 1000 N Croatan Highway in Kill Devil Hills.
This year, the First Flight Society is to induct General Benjamin Oliver Davis Jr., the commander of the U.S. Army Air Corps' Tuskegee Airmen and the first Black brigadier general in the U.S. Air Force, into the Dr. Paul E. Garber First Flight Shrine, a portrait gallery honoring those that have achieved significant "firsts" in aviation's development
In addition to commanding the 99th Fighter Squadron and 332nd Fighter Group in World War II, Davis also commanded the 51st Fighter-Interceptor Wing in 1953 during the Korean War. On Dec. 9, 1998, Davis was advanced to the rank of general in the U.S. Air Force.
The anniversary event includes speeches from National Parks of Eastern North Carolina Superintendent David Hallac; First Flight Society President Mike Fonseca; U.S. Air Force Gen. Mark D. Kelly, commander, Air Combat Command; Doug Melville, great-nephew of Davis; and Maria Tinker, supervisory park ranger, Tuskegee Airmen National Historic Site, Tuskegee, Alabama.
Immediately following the speeches, a portrait of Davis will be unveiled that can be viewed in the park's visitor center until next year's anniversary event.
A wreath laying ceremony by descendants of the witnesses of the first flight is scheduled to occur after the unveiling of the Davis portrait.
Outer Banks Forever plans to livestream the entire event.
Park entrance fees are waived for that day. Ranger-led educational programs are set for 1 p.m. and 3 p.m. Visitors are invited to participate in the park's free Junior Ranger program. The park will remain open until 5 p.m.