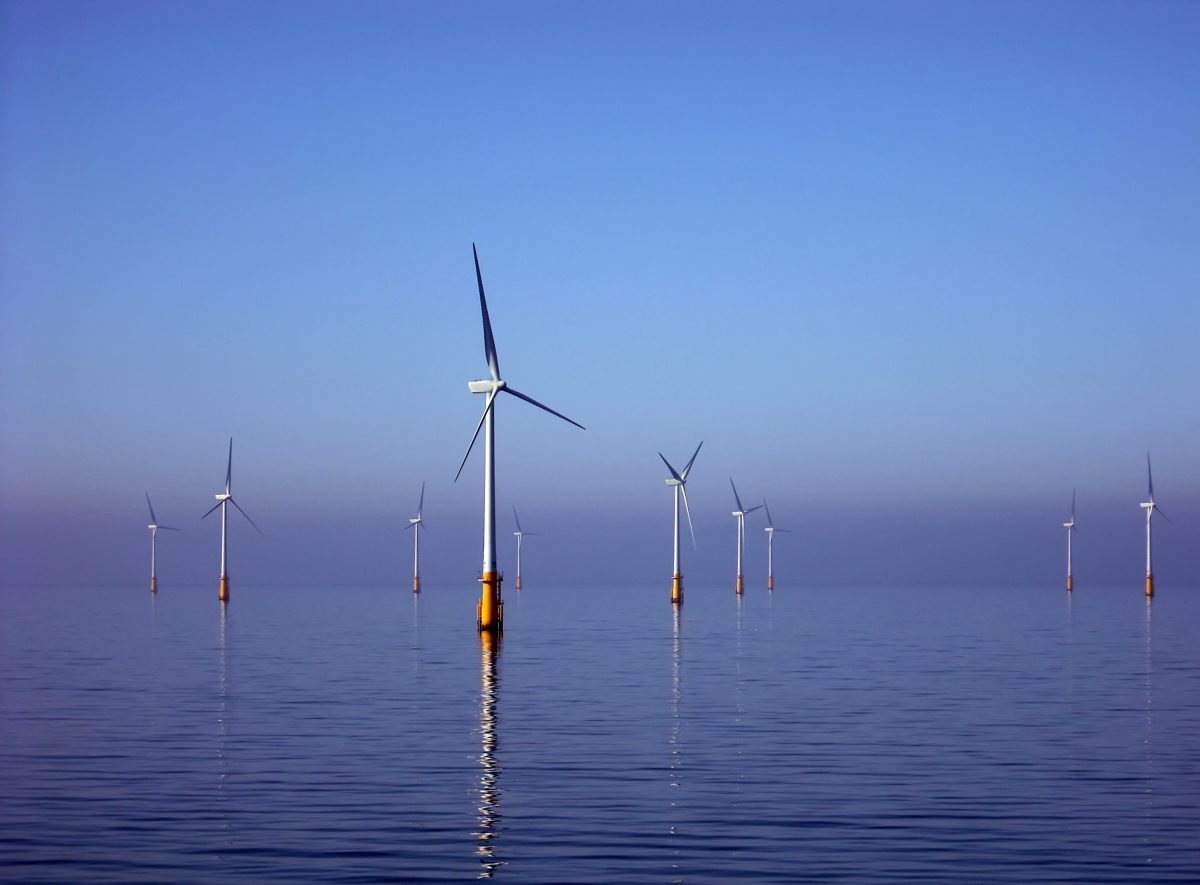 Proposed central East Coast offshore wind energy areas, including two off the northern North Carolina coast, may be scaled back in size by the time they are finalized early next year.
Sea scallop fishing, a NASA danger zone, a proposed shipping safety fairway, and marine habitat could further trim eight draft wind energy areas, or WEAs, the federal government is eyeing offshore from Delaware south to Cape Hatteras. 
These areas encompass about 1.7 million acres, a little less than half of the original 3.9 million acres the Interior Department identified as potential wind energy areas.
Last month, the Bureau of Ocean Energy Management, or BOEM, opened a 30-day public comment period on the draft WEAs, including one area located about 28 miles offshore of southern Virginia and northern North Carolina and one about 50 miles from those coasts.
BOEM hosted two virtual meetings last week, giving members of the fishing community and environmental organizations an opportunity to ask questions about and comment on the draft WEAs.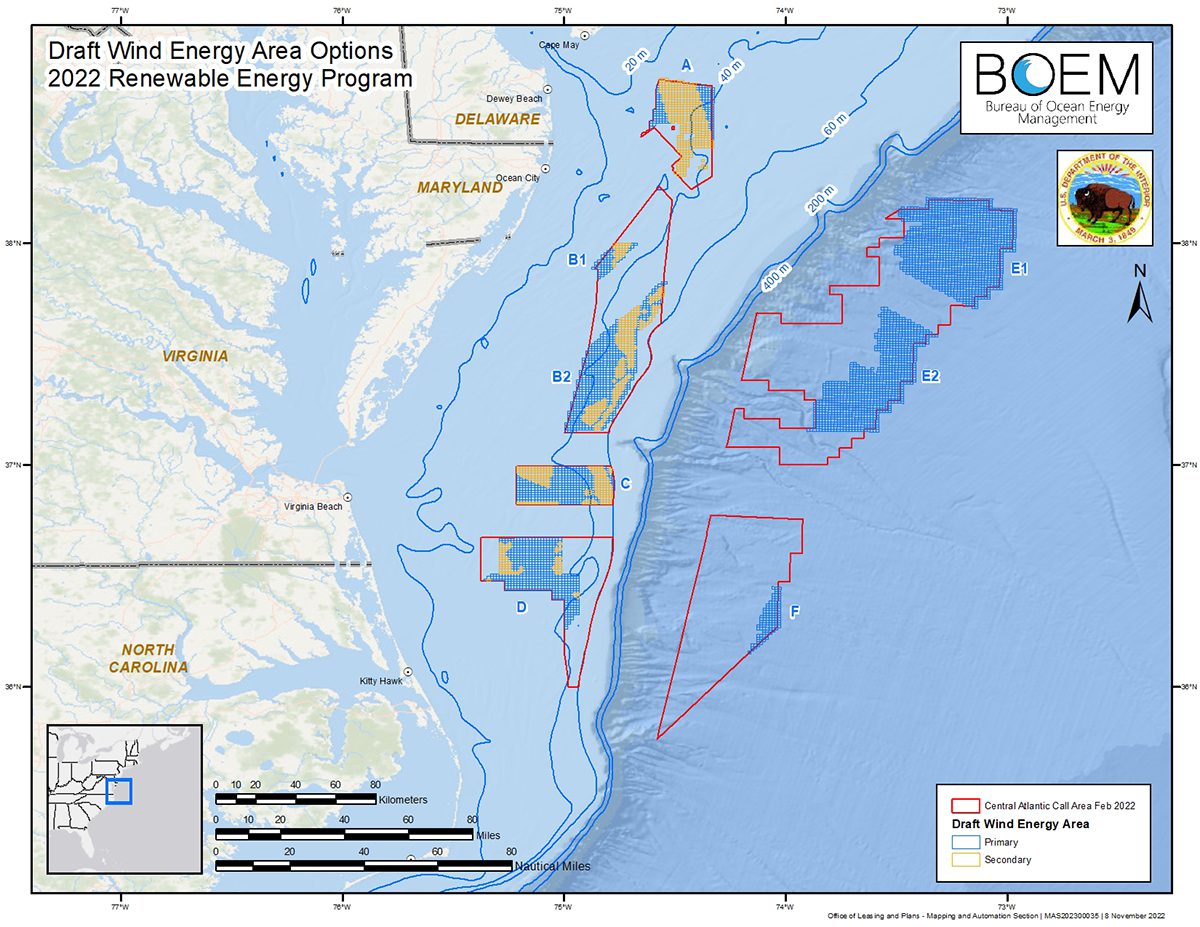 Among some of the concerns raised during the meetings were potential impacts to Atlantic sea scallop fishing off Delaware's coast and recreational fishing vessel businesses, possible effects on deep sea coral, and impacts to shorebirds and endangered right whales.
One participant suggested BOEM include exclusion zones for right whales.
"If these right whales are gone, that's it. They're gone forever," he said.
A representative with the Maryland Climate Action Network encouraged BOEM officials to move forward with examining the potential for wind development within secondary areas, where conflicts may exist, of the draft WEAs.
Related: Public comment period opens on draft offshore wind areas
In order to reach the country's clean energy goals, we're going to need as many acres as possible for offshore wind development, she said.
Capt. Cane Faircloth, a resident of Brunswick County and president of the North Carolina For-Hire Captain's Association, asked BOEM to take into consideration potential impacts to fishermen who hold operator of uninspected passenger vessels licenses.
Operator of uninspected passenger vessel licenses, also called OUPVs or six-packs, allow recreational charter fishermen to carry as many as six passengers as far as 100 miles offshore. These licenses are the most popular issued by the Coast Guard. 
Peggy Schultz, a representative of Coalition POWER, which stands for People for Offshore Wind Energy Resources, out of Delaware, asked about the viability of deep-water offshore wind farms and whether floating turbines are in the planning stages in the U.S.
"We really don't know," BOEM's David MacDuffee, chief, projects and coordination branch said. "It really is a big question for BOEM on how viable these areas are."
He said floating turbines have been deployed in waters in other areas of the world, but that the technology is still new.
Bridgette Duplantis, BOEM's central Atlantic team lead, said companies that have indicated an interest in the proposed deep-water sites have said they expect a "longer timeline" for technology to be developed for areas farther offshore. 
BOEM says it will collect additional information about activities in the draft WEAs with the Department of Defense, U.S. Coast Guard, NASA and other ocean users, including the fishing industry before finalizing the areas.
Once the final central Atlantic Ocean WEAs are selected, those areas will be environmentally assessed through the National Environmental Policy Act process. 
The final WEAs are expected to be published in the first quarter of 2023. The first lease sale is expected to occur about a year later, according to BOEM officials.
Those lease sales will expand the wind energy footprint offshore of North Carolina.
Plans are underway for a 2.5-gigawatt wind farm off Kitty Hawk. Avangrid, the company that won the lease sale of that WEA, has indicated construction could start in 2026 and eventually power as many as 700,000 homes.
And, in May, Duke Energy and French company TotalEnergies won leases for sites south of Bald Head Island to the tune of more than $300 million.
Energy produced at those sites could eventually power up to 500,000 homes.
Development of these wind farms will help North Carolina close in on Gov. Roy Cooper's goal for offshore wind to generate 2.8 gigawatts by 2030 and 8 GW by 2040, which would power some 2 million homes.
BOEM is accepting comments on the draft WEAs through 11:59 p.m. Dec. 16. Comments may be made by visiting regulations.gov, docket number BOEM-2022-0072.