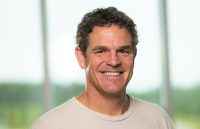 The Coastal Studies Institute's Science on the Sound lecture this month will feature Dr. Mike Muglia, a coastal oceanographer at the institute and North Carolina Renewable Ocean Energy Program assistant director for science and research.
He is scheduled to present at 6 p.m. Nov. 17 his research, "Renewable Ocean Energy Developments: Concepts to Kites" during the monthly, in-person, lecture series on the East Carolina University Outer Banks Campus on Wanchese.
Lectures are free of charge, and all are welcome to attend. The program will also be livestreamed and a recorded version is to be available on the CSI YouTube Channel.
Muglia will talk about several of the recent developments in renewable ocean energy from the North Carolina Renewable Ocean Energy Program and beyond. He is also expected to provide an update on the present status of ocean current and wave energy harvesting devices and future plans for them.
Muglia's research interests include understanding Gulf Stream variability in position, transport, and orientation, and its effect on the complex confluence of different water masses that occur off of North Carolina.
He leads the Coastal Studies Institute's Gulf Stream resource assessment for the Renewable Ocean Energy Program. He also expands and maintains the observing equipment for the northeastern region, or NC-COOS, and the Southeast Atlantic Coastal Ocean Observing Regional Association, or SECOORA. He has managed field research project design across disciplines in the marine environment of the Outer Banks, according to the university.
The Coastal Studies, a facet of ECU's Integrated Coastal Programs, is a multi-institutional research and educational partnership of the UNC System including North Carolina State University, UNC Chapel Hill, UNC Wilmington and Elizabeth City State University.