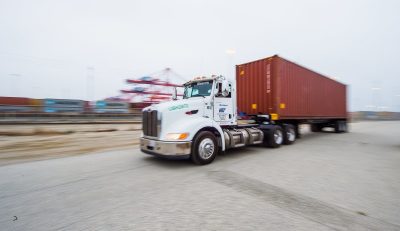 RALEIGH — The North Carolina Environmental Management Commission, when it meets Nov. 10, is expected to hear a presentation related to Gov. Roy Cooper's recent executive order calling for development of a program to phase in zero-emission medium- and heavy-duty trucks.
The meeting is to be held in the ground floor hearing room of the Archdale Building at 512 N. Salisbury St., Raleigh. Face coverings are optional for staff and attendees. Seating is limited. The public can attend using remote access.
Cooper's Executive Order 271, signed in late October, directs the state Department of Environmental Quality to work with stakeholders to propose to the commission an Advanced Clean Trucks program that would ensure zero-emission trucks and buses are available for purchase in the state.
Related: Executive order to expand zero-emission vehicle market
The commission is also expected to hear about a proposed rule readoption on transferring surface waters between basins, and allowing the Department of Air Quality to receive copies of applications, submittals, records and correspondence electronically where physical hard copies are currently required.
Also, the commission's water allocation committee meets at 9 a.m. Nov. 9, followed by the air quality committee at 10:15 a.m. and then the water quality committee at 1:30 p.m. And the commission's two civil penalty remissions groups meet at 1 p.m. Nov. 10.
Agendas and meeting materials are on the Department of Environmental Quality's website.
The Environmental Management Commission is responsible for adopting rules for the protection, preservation and enhancement of the state's air, land and water resources. The commission oversees and adopts rules for several divisions of the Department of Environmental Quality, including the divisions of Air Quality; Energy, Mineral and Land Resources; Waste Management and Water Resources