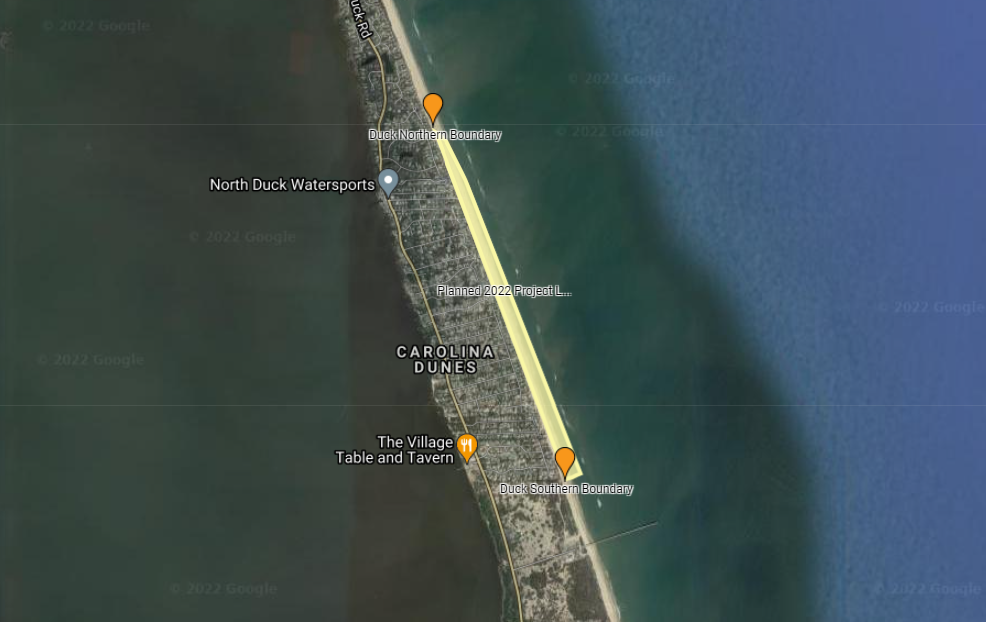 Town officials announced Tuesday that the planned $7.4 million beach nourishment project expected to begin here this month is delayed until possibly mid-March 2023.
According to the announcement on the town's website, contractor Weeks Marine had informed the town it would not be able to meet the schedule. The town said officials were working on contract modifications to ensure the work commences next spring.
"Due to equipment issues, minor weather-related delays, and commitment to another time-sensitive job, Weeks Marine has fallen behind the original schedule," according to the announcement.
Earlier this month, poor weather conditions prompted Weeks Marine to shut down operations, saying its dredges would return to Norfolk for safe harbor. Pumping operations in Duck were expected to begin around Nov. 14 and take about 32 days, once the company's heavy equipment was transported up the beach from Southern Shores.
Weeks Marine is under contract with Dare County to pump sand onto about 1.6 miles of shoreline in Duck, along with beaches in three other towns: Southern Shores, where the $11.5 million project on 3.8 miles of shoreline is ongoing; Kitty Hawk, where the $9.6 million, 3.97-mile project was completed Oct. 17; and Kill Devil Hills, where the $6.4 million, 2.58-mile project was completed July 22.
Duck officials said the contract modifications would include assurances that any beach or dune losses between now and when the project is completed are properly replaced and that Weeks Marine will be responsible for all costs associated with additional sand and delays.
"This change in schedule, while unfortunate, will have beach nourishment completed before the busier time of year and after the typically heavier part of the winter storm season. We remain confident that the job will be completed according to the new schedule by no later than mid-May," the town said.