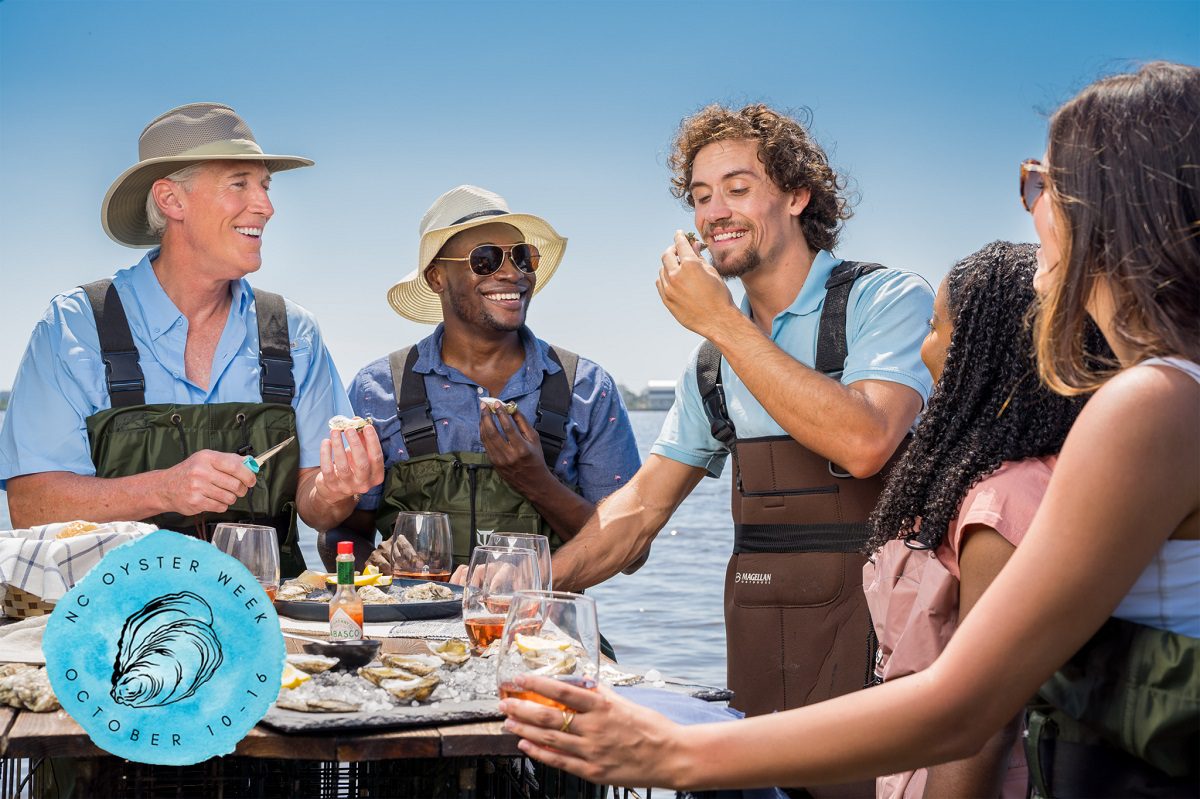 North Carolina is "shellebrating" Oyster Week Monday through Sunday
Coinciding with the start of the wild-caught oyster season, the shellebration includes engaging with oyster growers and harvesters, seafood restaurants and retail markets, recreational outfitters, coastal conservation and education organizations, and seafood festivals.
North Carolina Sea Grant, the North Carolina Coastal Federation, and the North Carolina Department of Natural and Cultural Resources are partnering with the NC Oyster Trail on the week of activities.
North Carolina Oyster Week events include cultivated and wild-caught oysters alike from new and returning participating organizations and businesses.
A full list of events is posted on the websites of the NC Oyster Trail and NCDNCR.
Crucial to North Carolina's marine and coastal environments, oysters provide food and shelter for a variety of other animals, reduce shoreline erosion by buffering waves, filter water, and bolster a thriving shellfish industry, according to Sea Grant. Additionally, the state's shellfish industry provided in 2019 over $27 million in economic impact and 532 jobs in the state, supporting the livelihoods of those who work the waters and sustaining traditional working waterfront communities.
"Oysters benefit our state in myriad ways. North Carolina Oyster Week events will highlight the ecology, culture, economy, and history related to this vital resource," " Jane Harrison, Sea Grant's coastal economist, said in a statement. "From N.C. oyster happy hours to volunteer events on the coast to maintain living shorelines, there is something for everyone during NC Oyster Week."
While some activities have already taken place, there are plenty of ways to celebrate the oyster across the state this month.
Oyster specials all month long Coquina Fish Bar, Wilmington. The chef will create specials during NC Oyster Week to highlight the bivalve. Every Sunday this month, the restaurant will offer $1.50 select oysters by the half or full dozen.
Tackle Box Lures: Local N.C. oysters this month at Catch Restaurant, Wilmington. "Tackle Box Lures" are North Carolina oysters prepared specially by award-winning Chef Keith Rhodes. Oysters are $2 each Tuesday through Saturday during regular business hours.
Oysters Uncovered 2-3:30 p.m. Oct. 13, Oct. 20 and Oct. 27 with the North Carolina Coastal Federation's Wanchese office and Blue Water Grill & Raw Bar in Manteo. Ticketholders will be able to tour the federation's demonstration oyster farm, learning about oysters and how a typical farm works, then head to to Blue Water for a half-dozen North Carolina oysters and Blue Water's signature oyster shooter. Additional food and beverages are available for purchase, but are not included in the $50 event ticket. Tickets are on Blue Water Grill's website.
Oyster special at Locals Seafood 11 a.m. to 8 p.m. Oct. 14, Oct. 21 and Oct. 28 at Locals Seafood, Durham Food Hall. Locals Seafood will have $2 oysters on the half shell at its Durham restaurant every Wednesday of this month.
Oyster specials all week long at Wrightsville Beach Brewery. The brewery will offer a half-dozen oysters on the half shell from Middlesound Mariculture and N. Sea Oyster Co. for $15 all week long. There will be live music 6-9 p.m. Thursday with David Dixon and Mac & Juice Duo 3 to 6 p.m. Saturday.
Oyster happy hour at Seabird 5-6 p.m. Monday, Thursday and Sunday at Seabird in Wilmington. $1 shucked oysters from North Carolina.
Oyster happy hour 2-6 p.m. Monday through Friday at Sea Level NC, Charlotte. There will be $1.50 Sea Level Salts oysters from Morris Family Shellfish Farm in Sea Level, NC. No minimums, no limits, dine in only.
N.C. Buck-a-Shuck happy hour 4-6 p.m. Monday through Thursday at Blue Water Grill & Raw Bar, Manteo. A member of the North Carolina Oyster Trail, the restaurant is having $1 select N.C. oysters during happy hour.
Half-price oysters 5-9 p.m. Tuesday through Thursday at three10, downtown Wilmington. Half-price raw and broiled oysters. No limits, dine-in only.
Grits with NC oyster gravy at Saltbox 11 a.m. to 8 p.m. Tuesday – Saturday at Saltbox Seafood Joint, Durham. Chef Ricky Moore is offering his grits and oyster gravy during shellfish week.
New River Oyster Highway open house 1-5 p.m. Thursday at Sturgeon City Education Center, Sturgeon City. Visit Sturgeon City Education Center to go on a self-paced walking tour and check out the oyster reefs from the observation deck. Educational displays and oyster experts will be on hand as well as a food truck.
Outer Banks Seafood Festival 10:30 a.m. to 6 p.m. Saturday in Nags Head. The Outer Banks Seafood Festival provides a fun educational experience promoting, honoring, and celebrating coastal seafood heritage and community.
Locals Seafood pop-up 5-8 p.m. Oct. 21 in Raleigh Wine Shop. Locals Seafood is hosting a dinner pop-up at Raleigh Wine Shop.
Oysters on the Mountain noon-4 p.m. Oct. 23 Native Prime Provisions, Cashiers. Live jazz with Tyler Kittle and a parking lot party with fresh shucked and grilled oysters. Enjoy special paired oyster & wine tastings as well as local mountain craft beers.
Fourth annual oyster roast noon-5 p.m. Oct. 30, Blue Water Grill & Raw Bar, Manteo on the docks at Mimi's Tiki Hut. All-you-can-eat event with North Carolina oysters served raw or fire-roasted, drink specials and full menu will be available. Tickets are $45 in advance and $50 at the door.
For more information on North Carolina Oyster Week and the NC Oyster Trail visit https://ncoystertrail.org/nc-oyster-week/ or read the current issue of North Carolina Sea Grant's Coastwatch magazine.