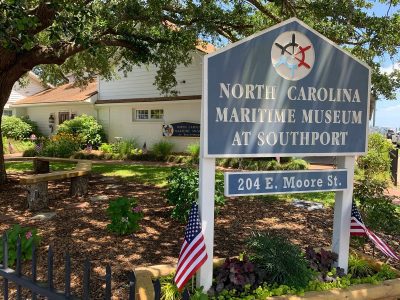 The North Carolina Maritime Museum in Southport will take a look at World War II and its impact on the state's coast during a Living History Day 10 a.m. to 4 p.m. Sept. 17 at the museum, 204 E Moore St.
Staff originally began the drop-in event to offer a more interactive style of learning and holds the day annually on the third weekend of September. Each year highlights a different time period, with this year's theme being World War II, organizers said.
Battle of Midway, Guadalcanal Campaign, Battle of Stalingrad and Battle of the Bulge all had their start in 1942. Also that year, the German U-boats patrolled to the Eastern seaboard attacking merchant vessels as part of the Operation Drumbeat campaign.
"This year marks many anniversaries related to World War II," museum Education Curator Katy Menne said. "Our Living History Day is a great way to dive deep into the time period."
Menne said they decided to move away from an encampment as in years past and instead focus on a more traditional museum experience.
Visitors can check in and get a passport. Once they complete the specific tasks or visit set stations, they'll receive a prize. There will be hands-on crafts, as well as sensory-friendly aspects, including calmer activities and a quiet space to self regulate if needed. She said representatives from the U.S. Coast Guard, Navy and Merchant Marines will be on site.
"We have a private collector, as well, bringing some really cool artifacts," she said.
A costume station will allow visitors to deck themselves out as Uncle Sam, Rosie the Riveter and Wendy the Welder, who would be more historically accurate to the Wilmington Shipyards.
"That's because of the ways the Liberty Ships were made," Menne explained, "but Rosie is the iconic one."
All activities are scheduled to be in the museum. Admission is free though donations are appreciated.
The N.C. Maritime Museum at Southport tells of pirates and pillage, blockade running and riverfront archaeology, and other nautical adventures. Museum hours are 10 a.m. to 4 p.m. Tuesday through Saturday. The museum is open to the public with free admission. Donations are always appreciated.
For more information, call 910-477-5151 or visit the website.
The North Carolina Maritime Museum system is made up of the Graveyard of the Atlantic Museum in Hatteras, the North Carolina Maritime Museum at Beaufort and the North Carolina Maritime Museum at Southport. All three museums are part of the Division of State History Museums in the N.C. Department of Cultural Resources.