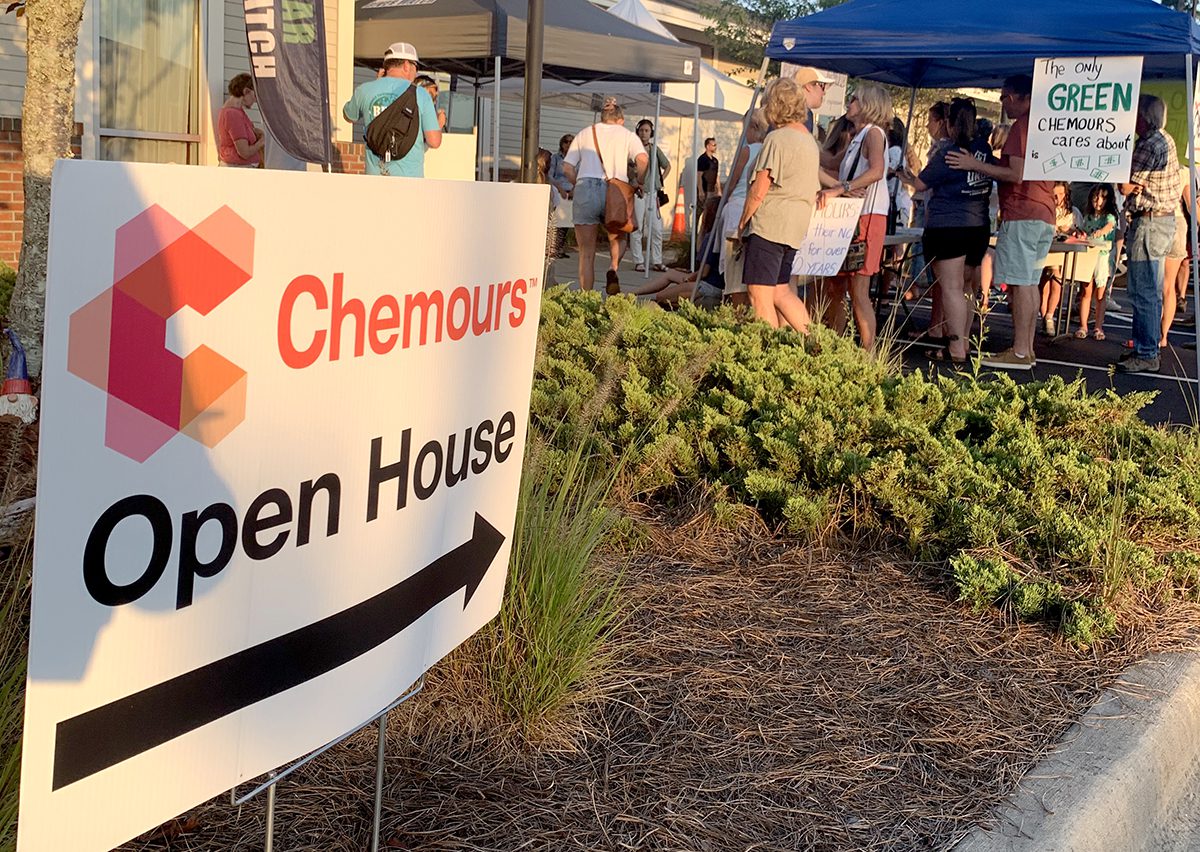 LELAND – Inside, employees of the Fayetteville-based chemical plant that discharged contaminants into the Cape Fear River for decades touted the company as an environmental steward, community supporter and that their products are critical to the country's security and the future of clean energy.
Outside, dozens of protestors listened Wednesday as, one-by-one, people took turns speaking into a microphone and expressing their anger and frustration, their remarks met by cheers and applause like a church congregation affirming its pastor's preaching.
It was a juxtaposition of two meetings separated by an exterior wall of the Leland Cultural Arts Center where Chemours officials hosted an open house to discuss expansion plans to its Fayetteville Works plant more than 70 miles upstream.
Inside, plant officials offered assurances expanding operations will not increase emissions into the river, the air and/or the ground.
Outside, residents of the lower Cape Fear region collectively balked at the idea of the plant that discharged a host of per- and polyfluoroalkyl substances, or PFAS, into their drinking water source expanding its manufacturing operations.
"The absolute gall of this company that has been contaminating our drinking water for more than 30 years to say that they're good neighbors when they are anything but," said New Hanover County resident Kayne Darrell. "Look at what they're doing right now. All of these people who care about their community, we're having to stand out here. Is that a good neighbor? I don't think so."
Attendees of the open house were admitted inside the building 10 people at a time by a Chemours security guard. Those carrying homemade protest signs had to leave them at the door.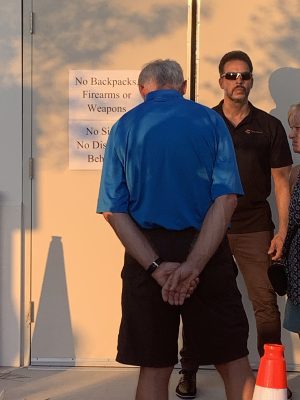 Private guards and local law enforcement stood post outside and inside of the center's performing arts space, where tables were set up as stations, each with its own subject matter expert or two.
After a group of attendees was allowed to file in, they had to wait behind a red velvet rope barrier as a plant employee gave the rundown of the setup.
A Chemours official explained that the open house was designed to allow a more intimate setting, one where people were free to ask questions after they heard from subject matter experts about the plant, the products manufactured at the plant, emissions reduction initiatives, expansion plans and how the plant will grow its manufacturing operations without increasing emissions.
That's not how residents in attendance interpreted the open house. Waiting outside under a scorching sun in 90-degree heat was not their idea of a hospitable meeting, even with the offering of free snow cones and smoothies from a truck vendor paid for by Chemours.
"It just seems they wanted to manage everybody," said area resident Ivy Croake shortly after the group she and her husband made their round through the open house. "It's not a very satisfying thing."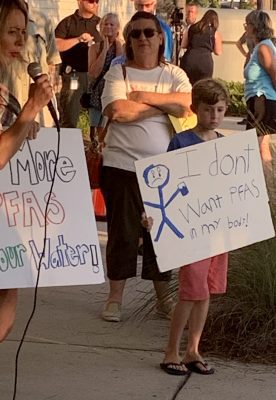 About 100 people filed through the two-hour open house. The company hosted a similar event the night before in Dublin, a small town a little more than 15 miles southeast of the Fayetteville plant. About 70 people attended the open house in the Bladen County town.
Chemours, a spinoff of DuPont, has more than 60 manufacturing labs and offices around the world. The company employs roughly 6,400 people worldwide and its customers are spread across 120 countries.
"We are a leader in environmental stewardship space so we want to continue to use responsible chemistry with responsible manufacturing in all that we do," said Seth Bailey, a technology manager at Chemours' Fayetteville Works facility.
Bailey talked about the company's 2018 "bold emissions goals" targeting greenhouse gas emissions reductions, its contributions to science and technology education programs at nearby schools through scholarships, and support of local volunteer fire departments.
"Leading by example, the (United Nations) developed sustainable development goals a number of years ago and we're committed to having 50% of our revenue actually coming from products that contribute positively to those United Nations goals and we're very proud of that," he said. "We are setting a new standard for essential manufacturing in North Carolina. We're raising the bar on environmental stewardship. We have already achieved significant reductions in air emissions. And we're not finished. We're continuing to advance that technology."
Chemours installed a thermal oxidizer to capture and destroy PFAS from emitting into the air to meet the terms of a 2019 consent order with Cape Fear River Watch and the North Carolina Department of Environmental Quality.
Under the terms of the court-enforceable order, Chemours must reduce air emissions facility-wide by 99.9%, cut PFAS emissions into the Cape Fear River by more than 90%, and sample private wells for PFAS and provide drinking water to residents whose wells are contaminated.
To prevent contaminated ground water on the plant site from getting into the river, Chemours plans to build a barrier wall stretching more than a mile long and six stories deep off the riverbank. Groundwater will be diverted to about 70 wells, conveyed to an onsite treatment facility and treated before it is discharged into the river.
"Any of our expansion plans will be based on the foundation of responsible manufacturing and as we have shared we just want to reiterate that we have achieved greater than 99% reduction in air emissions, greater than 97% reduction in water emissions and Chemours is the leader in deploying the best available technology to reduce emissions," plant manager Dawn Hughes said to a group of media. "Those technologies will be important as we expand the facility."
Chemours plans to expand its monomers and Nafion production facilities, processes the company has run for many years, according to Sean Uhl, sustainability director.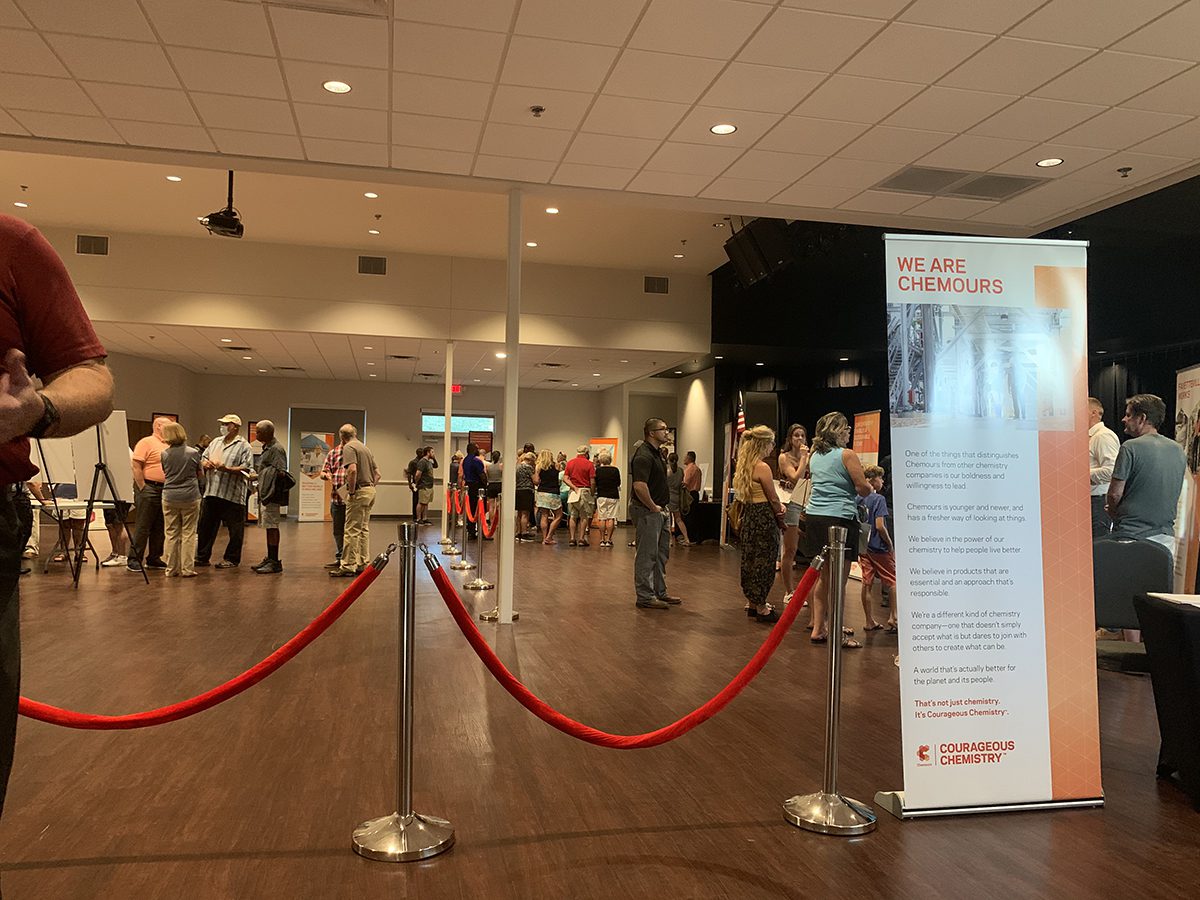 "So, these expansions aren't building a new asset and new raw materials and products. These are expansions within the assets that we have. In each of those plants we're touching about 10% of equipment that we have today."
Plant officials would not disclose further details, saying those were a proprietary matter.
Uhl said there a number of internal recycle streams at the company's plants and that the company is continuously researching technologies in abatement.
When asked the timeframe in which Chemours initiated plans to reduce its emissions, Uhl said, "I would say we were working on this technology before the consent order was even in place. To build something like what we are building takes years. Did the consent order work influence us? Certainly, it did as we went through there and we learned from that process and what was needed to incorporate that design."
Chemours is in the process of obtaining a state Division of Air Quality permit with plans to submit a permit application next month. The state permit review process will include a 30-day public comment period.
"There'll be no net increase in the volatile organic compounds from what is in our permit today," said Christel Compton, environmental manager of the Fayetteville plant. "There will be no increase in fluorinated compounds either as a result of these."
GenX, one of the chemical compounds emitted into the river, air and ground, will remain under the facility's current annual limit of 23 pounds, or about two tablespoons a day, Compton said.
Related: Discharge permit requires Chemours remove 99.9% of PFAS
The U.S. Environmental Protection Agency does not regulate fluorinated compounds as individual compounds.
DEQ, however, has set a requirement for GenX.
"Will they ask for other compounds to be included? We'll find out in our next meeting," Compton said, noting that company and state officials were meeting the following day.
In June, Chemours filed a lawsuit challenging the EPA's review of the agency's health advisory for GenX, arguing the agency failed to use best available science when making its determination.
The EPA announced earlier that month its final health advisory for GenX at 10 parts per trillion, or ppt.
The company argues the chemical compound does not post human health or environmental risks "when used for its intended purpose."
But the EPA's toxicity assessment of GenX in health studies of animals that ingested the compound show health effects in the kidneys, blood, immune system, live and developing fetuses.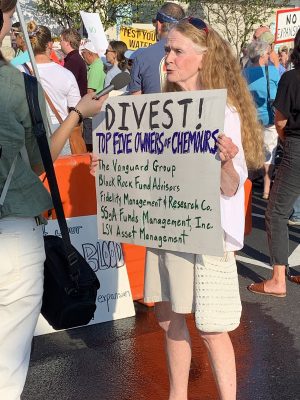 On Wednesday, protestors loudly chanted "No more Chemours" as they held signs that read "A good neighbor doesn't poison their neighbors drinking water," "The only GREEN Chemours cares about is $ $ $ $," "Kill-mours 'We're Already In You,'" and "Get your PFAS out of our BLOOD THEN talk to us about expansion."
Young children, teens and young adults, and the elderly spoke passionately about their futures, their fears, and their health after years of ingesting PFAS.
In late June, a coalition of community and environmental justice groups filed a lawsuit against the EPA for not requiring Chemours to fund studies examining the effects of 54 PFAS the Fayetteville plant has released into the Cape Fear.
Emily Donovan is a co-founder of Clean Cape Fear, one of the six groups involved in the lawsuit.
"They should know exactly what their chemistry does to the human body and until they can answer that question they have not earned the right to expand around here," she said.