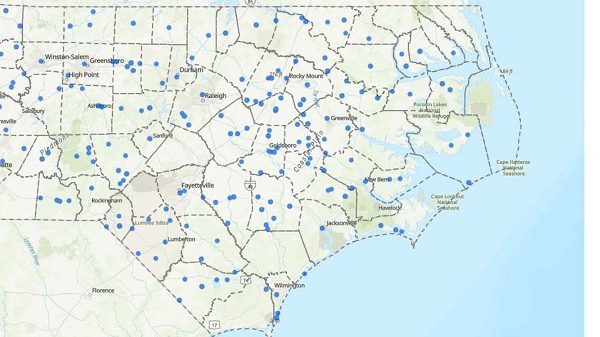 Communities across the state, including dozens on the coast, have been awarded a portion of $789.4 million in water and wastewater infrastructure funding.
The funds are to help pay for 385 projects total statewide, including 140 construction projects. The state announced the awards last week.
"Clean drinking water is necessary for healthy families and thriving communities and businesses," Gov. Roy Cooper said in a statement. "The historic level of investment provided by the American Rescue Plan will help increase resiliency, support economic growth in our state and improve access to clean water in the communities that need it most."
Notable projects on the coast include $4.85 million to Edenton for two new water wells and to conduct asset inventory and assessments.
River Bend in Craven County is to receive $9.1 million for wastewater treatment plan enhancements and $300,000 for wastewater system and water system AIAs.
Ocracoke Sanitary District in Hyde County will receive $5.75 million for a water tank replacement and asset inventory and assessment of their drinking water system.
The town of Hertford will receive $2.15 million for water treatment system improvements, and $3.74 million for collection system improvements.
Columbia is to receive $6.13 million in American Rescue Plan Act, or ARPA, funds fo ra water system improvement project.
The State Water Infrastructure Authority approved the awards during its July 14 meeting. The authority is an independent body with primary responsibility for awarding federal and state funding for water and wastewater infrastructure projects.
"These funds will replace aging infrastructure and help utilities remain viable, which benefits the health and economic well-being of communities across our state," said DEQ Secretary Elizabeth S. Biser.
This funding round included the first awards of American Rescue Plan Act water and wastewater funding on the state level, as well as $174.85 million in funds that were appropriated in the 2022-23 state budget, signed by the governor July 11.
Funds also came from the Viable Utility Reserve and the Drinking Water and Wastewater State Reserves, funded from American Rescue Plan Act funds allocated to the state, and the drinking water and clean water state revolving funds. Projects funded from the Viable Utility Reserve are conditional upon approval by the Local Government Commission.
The Department of Environmental Quality's Division of Water Infrastructure received more than 700 applications from 94 of North Carolina's 100 counties, requesting more than $3.1 billion. Applications were for funding drinking water projects, wastewater projects, preconstruction planning grants, merger/ regionalization feasibility project grants, and asset inventory and assessment grants.
A merger/regionalization feasibility project, or MRF, grants evaluate the potential consolidation of two or more systems into one system and the potential physical interconnection with another system for regional wastewater treatment or regional water supply.
An asset inventory and assessment, or AIA, grant is use to inventory the existing water and/or sewer system and document the condition of inventoried infrastructure.
Other projects on the coast to receive funding include the following:
Cape Fear Public Utility Authority and Wrightsville Beach $400,000 in MRF grants.
Washington County $237,000 for AIA/rate study.
Dover $500,275 for sewer and water AIA, $812,700 for water supply well improvements, and $2.45 for water line replacement project.
Plymouth $160,000 for a sewer project.
Bay River Metropolitan Sewage District in Pamlico County $139,500 for an assessment and study.
Bertie County Water District IV, Lewiston Woodville Community, $247,000 for AIA, and $4.9 million for water system replacement.
Engelhard Sanitary District $250,000 for sewer AIA.
Newport wastewater system AIA $120,000 and $110,000 for water system AIA.
Brunswick Regional Water and Sewer H2GO, $400,000 total for 2022 wastewater AIA and water AIA.
Carolina Beach $400,000 for water system and sewer system resiliency assessment projects.
Kure Beach water system and sewer system asset management plans, $300,000 total.
Weeksville water meter system AIA $150,000.
Onslow Water and Sewer Authority water system master plan $150,000.
Pamlico County water system AIA $130,000.
Bridgeton wastewater AIA $335,000.
Topsail Beach water AIA $180,000.
Columbia $400,000 for sewer and water AIAs.
Morehead City $400,000 for a water AIA, and $6 million for 2022 ARPA wastewater treatment plant improvements.
Hyde County $1.44 million for booster stations replacement, rehab and resiliency.
Chowan County $400,000 for reverse osmosis water treatment plant.
Gum Neck in Tyrrell County elevated storage tank and biogas production system, or BPS, $2.45 million.
Dixon water treatment plant expansion $250,000.
Lower Cape Fear Water & Sewer Authority $275,000 for a 48-inch parallel raw water main repair and rate study project.
Tyrrell County will receive $5 million for Old Highway 64 sewer extension.
Beaufort wastewater improvements $225,000.
Washington wastewater treatment plan expansion study, $400,000, and $250,000 for replacement work.