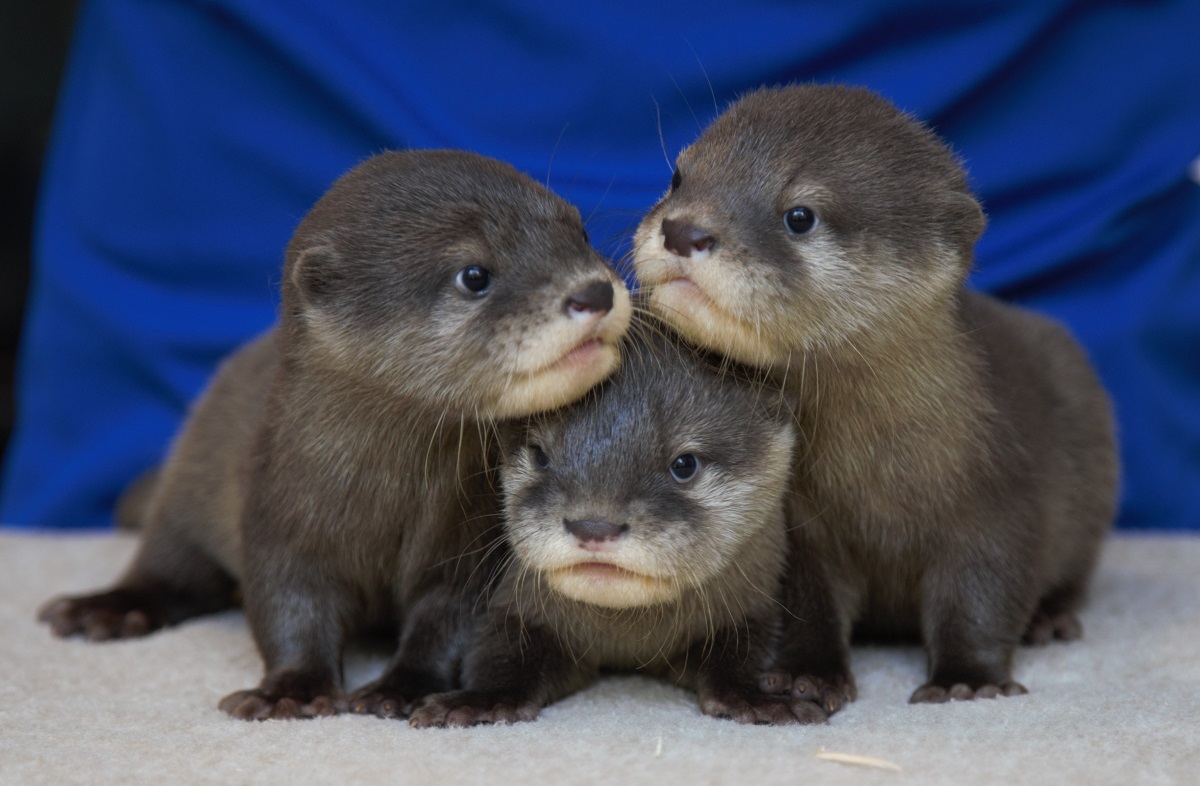 The North Carolina Aquarium at Fort Fisher's newest members of the Asian small-clawed otter family need names.
The otter pups born May 21 are exhibiting their unique personalities and the aquarium team is ready to give them their own names. With staff input, the otter team has narrowed down the choices to four trios of names.
"The team at the Aquarium researched and shared meaningful naming ideas based on the native habitat of Asian small-clawed otters and the unique circumstances of when they were born. We're sharing the top four trios of names and asking our community to vote for their favorite," said Shannon Anderson, otter keeper at Fort Fisher, said in a statement.
The public can vote on their favorite of the following trios of names:
Stella, Mae and Selene (moon, Thailand moon goddess and goddess of the moon).
Padma, Bulan and Melati (Indonesia's three national flowers — the Giant Padma, Anggrek bulan, the moth orchid; and Melati putih, the Arabian Jasmine). 
Tala, Reyna and Ula (bright star, queen and small one). 
Java, Bali and Nusa (Volcanic islands in Indonesia).
Voting is open online at Name the Otter Pups, by QR code on the screens at the aquarium, and at the Otters on the Edge habitat with advanced tickets required to visit the Fort Fisher aquarium. Reserve tickets online.
The pups were born during a full moon, King Tide and a storm. Asian small-clawed otters are native to Indonesia, southern China, southern India, Southeast Asia, and the Philippines. They are the smallest of the otter species and listed as vulnerable on the International Union for Conservation of Nature's Red List of Threatened Species. Population numbers are declining because of many threats, including residential and commercial development, deforestation, the illegal pet trade, pollution, climate change, and poaching. Find out more at IUCN Red List.
The pups have reached some important milestones and preparations are underway to introduce them to their public habitat. Stay up with the pups by following their journey on Facebook and Instagram using #OtterPupsNCAFF.
"Our hope is that by discovering more about Asian small-clawed otters, our community will both celebrate how special they are and take individual actions to prioritize their conservation," Anderson said.
Aquarium officials suggested the following individual actions to protect local species, which can create a ripple effect to protect species across the globe:
Buy shade-grown coffee. It's produced on farms with a shade cover that provides important habitat for different species, preventing deforestation and destruction of homes for animals like Asian small-clawed otters, don't support illegally traded wild animals as pets, and Think before buying furs.
Support Aquarium conservation priorities by visiting North Carolina Aquarium Society.