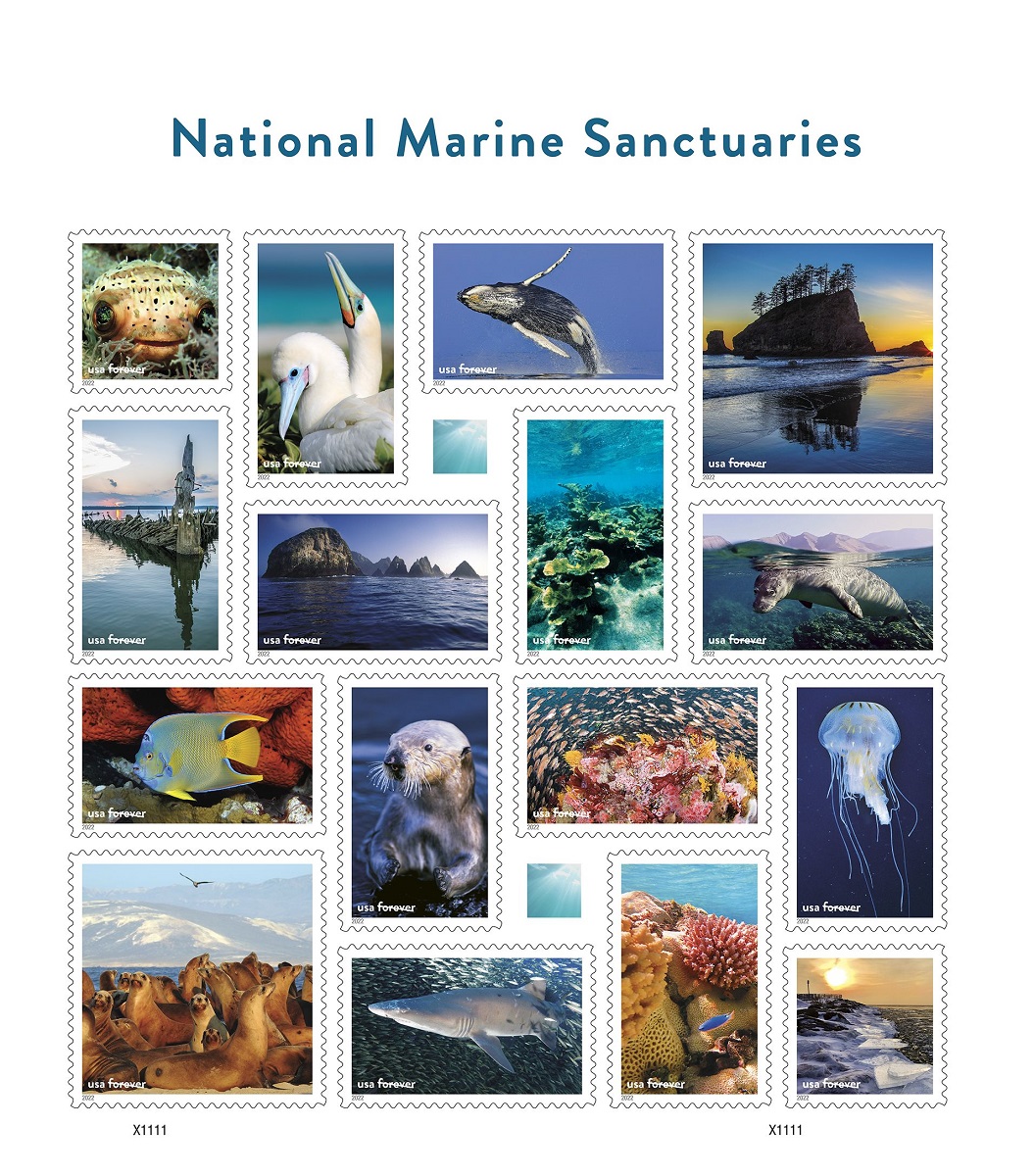 The U.S. Postal Service has released 16 new Forever stamps celebrating the 50th anniversary of NOAA's National Marine Sanctuary System, a network of underwater parks totaling more than 620,000 square miles of marine and Great Lakes waters.
The Marine Protection, Research and Sanctuaries Act that established a framework for designating national marine sanctuaries was signed into law Oct. 23, 1972.
Now Managed by the National Oceanic and Atmospheric Administration, or NOAA, the system of national marine sanctuaries and marine national monuments have protected areas with special ecological, cultural and historical significance.
The 16 stamps released Friday and now available online, showcase the abundant wildlife, scenic beauty and underwater archaeological treasures found throughout the sanctuary system, which currently has 15 national marine sanctuaries and two marine national monuments, from the North Atlantic to the South Pacific, and from the Florida Keys to the Pacific Northwest, according to the Postal Service.
The system preserves habitats that are especially vital for the survival of threatened and endangered species, including threatened green sea turtles, endangered Hawaiian monk seals and critically endangered Southern Resident killer whales. The system also safeguards feeding and breeding grounds for humpback whales, seabirds such as albatross and shearwaters and a variety of other species.
The system originated with the Monitor National Marine Sanctuary, home to the Civil War shipwreck USS Monitor on the Outer Banks. The latest designation is the Wisconsin Shipwreck Coast National Marine Sanctuary, which protects unique Great Lakes resources.
"The sanctuary system balances the protection of the nation's maritime ecosystems and maritime history by allowing visitors to enjoy the sanctuaries responsibly," officials said.
The majority of U.S. national marine sanctuaries and marine national monuments are open for sustainable recreation, including diving and snorkeling, kayaking and canoeing, sailing and sport fishing, and have educational centers. The sanctuaries also help preserve and celebrate the ancient sites, cultural artifacts and living traditions of the Indigenous peoples who have inhabited these regions for millennia.
The 16 stamps include photographs by Daryl Duda, Michael Durham, Mark Sullivan, Peter Turcik and Norbert Wu, and by NOAA employees Wendy Cover, Jeff Harris, Elliott Hazen, Joseph Hoyt, Ed Lyman, Greg McFall, Matt McIntosh, G. P. Schmahl and Kate Thompson.
"National Marine Sanctuaries" appears in blue type at the top of the pane. The words "USA" and "Forever" are at the bottom left of each stamp. A map of the National Marine Sanctuary System, illustrated by Todd M. Detwiler, is printed on the back of the pane. Art director Greg Breeding designed the pane using existing photographs, according to the Postal Service.