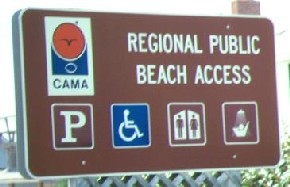 State swimming advisories have been posted at public accesses in two coastal counties after tests results at those sites found fecal bacteria levels exceed state and federal water quality standards.
North Carolina Department of Environmental Quality recreational water quality officials said Wednesday that warnings were posted at public accesses in Carteret and New Hanover counties.
The Carteret County site is in Morehead City at the 16th Street access to Bogue Sound, where weekly testing of water samples there indicate a running monthly average of 41 enterococci per 100 milliliters of water.
In New Hanover County, officials posted an advisory at the public access to Banks Channel at the corner of Waynick Boulevard and Sunset Avenue in Wrightsville Beach.
Test results there show a running monthly average of 37 enterococci per 100 milliliters of water.
The advisories are for waters within 200 feet of posted signs. Testing will continue at the site and, once the levels are down, state officials will remove the sign and notify the public.
DEQ's and the Environmental Protection Agency's recreational water quality standards are set at 35 enterococci per 100 milliliters based on five samples collected within 30 days.
Enterococci are bacteria that live in the intestines of warm-blooded animals as well as humans that, in levels higher than water quality standards, may increase the risk of gastrointestinal illness or skin infections in humans.
The state samples recreational waters at 215 sites, most once a week, throughout the coastal region from April to October. Testing continues through the remainder of the year, but on a less frequent basis.
A map of testing sites may be found on DEQ's website.