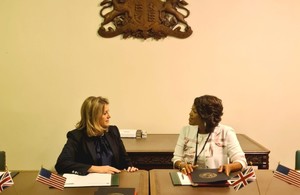 North Carolina and the United Kingdom have agreed to strengthen economic ties and transition to a clean energy economy, state officials announced Wednesday.
Gov. Roy Cooper and United Kingdom Minister for International Trade Penny Mordaunt signed the agreement, which calls for accelerating growth in green trade, particularly in electric vehicles and offshore wind, and removing unnecessary trade barriers to allow British and North Carolinian businesses to work together more efficiently.
"With this memorandum, we will deepen economic and cultural ties with the United Kingdom to create new opportunities for trade and economic development as we transition to a clean energy economy," said Cooper in a statement. "This collaboration reflects our commitment to tackling climate change, deploying clean energy technologies, creating jobs and promoting environmental justice."
North Carolina and the United Kingdom aim to achieve net-zero greenhouse gas emissions as soon as possible, accelerate the development of clean energy industries, increase economic opportunities for citizens and residents, promote equity and environmental justice, and prioritize opportunities in government procurement processes, according to the state.
"Whilst we continue engaging with Washington D.C., we're speaking to businesses and political leaders right across America – from North Carolina to California – to grow our already £200bn ($239.4 billion) trade relationship," Mordaunt said.
North Carolina Commerce Secretary Machelle Baker Sanders has represented the state during various economic development meetings.
"This agreement recognizes our longstanding relationship with the United Kingdom," Sanders said. "It further underscores and aligns our shared commitment to advancing economic opportunities within the clean energy industry, including offshore wind."