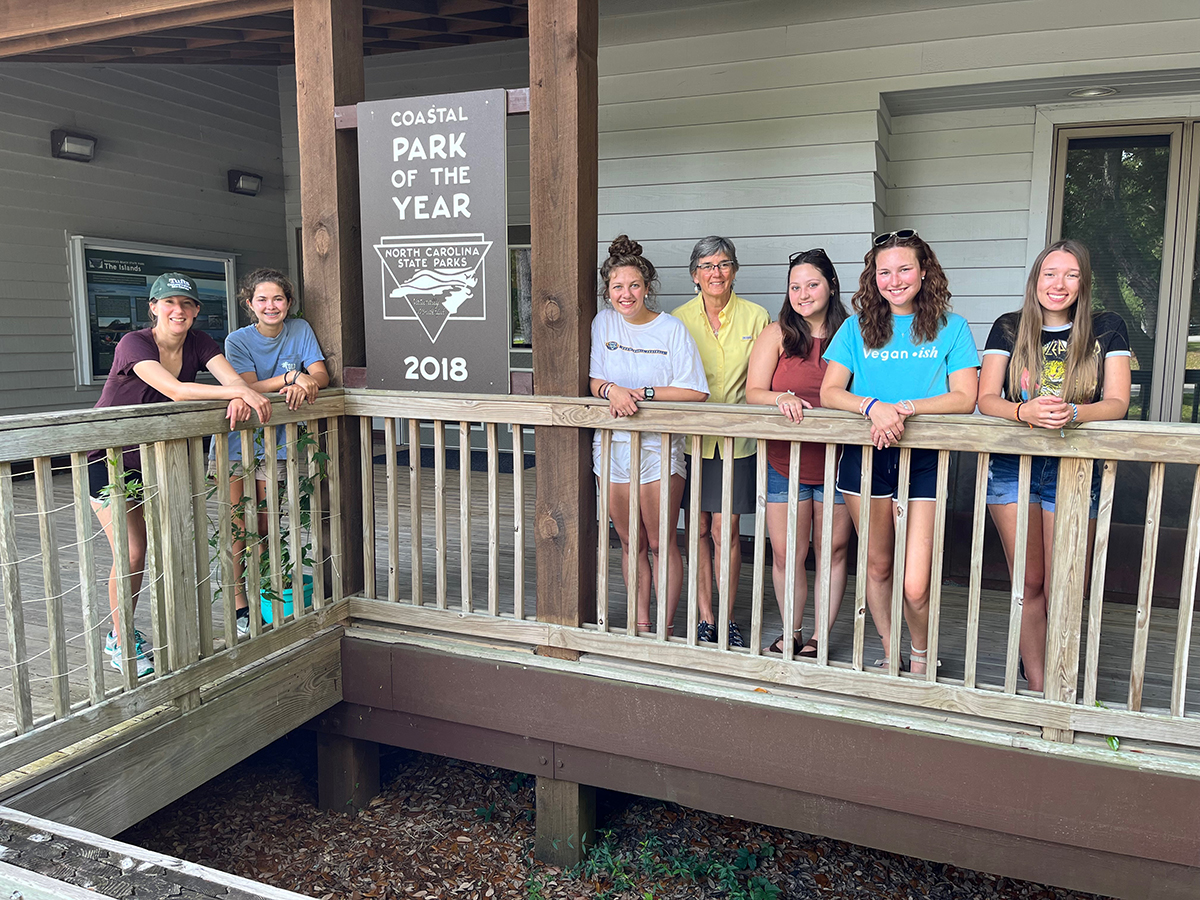 Reprinted from the Tideland News.
The 2022 interns at Hammocks Beach State Park have expressed a variety of goals in mind that led them to spend a summer in what some would consider primitive circumstances on a barrier island. They range in age from 17 to 23 and attend, have attended or will attend, colleges from across the country. But what they all have in common is a love of nature.
This year's interns are Rachel Hoag, Destini Hudson, Kylee Johnson, Sarah Kinicki, Sydney Machion and Megan Rozier.
Megan Rozier, 19, is a rising sophomore at the University of North Carolina Charlotte. She is studying environmental biology and ecology.
A resident of Swansboro, she did not have to travel far to become familiar with Hammocks Beach State Park.
"I found out about Hammocks Beach State Park pretty soon after we first moved here about 10 years ago," she said. "My first visit to Hammocks Beach was quite a long time ago. I was about 10 years old and my family and I came to check the place out. It didn't take long for us to come back and start exploring the beautiful nature trails. Ever since we have been to the park many times for various events such as the Pirate Fest, Military Appreciation Day, educational programs, etc. It wasn't until a few years later though that we would start to visit Bear Island."
In high school and in her first year at UNCC, Rozier has been involved in music.
She was in the band program at Swansboro High School and was drum major in the marching band. Rozier continued playing her primary instrument, the flute, in UNCC's Wind Ensemble.
"I was also active in various clubs at Swansboro such as Student to Student and National Honor Society and I was a member of the swim team my senior year," she said.
Rozier is one of four sea turtle interns at the park this year.
"Our responsibilities include tagging the turtles, measuring them and taking an egg DNA sample for research," she explained. "We also aid in the nesting process by relocating the nest if it is not situated far enough back onto the dune. This all happens at night while we patrol from 9 p.m. to 6 a.m."
Rozier said she has enjoyed the hands-on experience provided by the internship.
"I personally feel like I am able to learn so much more this way and I am excited to use this knowledge to further me in my field. This opportunity is helping to prepare me for when related topics may come up in my college courses, but more importantly in real life. I love being able to share everything I know with others in hopes of bringing more awareness to the turtles and to ocean health in general."
The experience could translate into a career.
"I would really love to work with marine animal rehabilitation programs and to be in the field as much as possible … whether it be collecting data, picking up trash, or removing nets and other things from the ocean," Rozier said. "I am hoping to get SCUBA certified soon and possibly even work part time at a dive shop if time allows."
When she is not up all night walking the Bear Island shoreline, Rozier still likes to be on Bear Island.
"I am fortunate to have such easy access to a beautiful beach while living on Bear Island," she said. "This is where I like to spend a lot of my spare time. Us girls also like to watch movies together or take the ferry back to the mainland and go to local events. Some of the places we have been to are the Salty Air Market, Humphrey Farm and the Foundry in Jacksonville."
Otherwise she said she enjoys catching up on her sleep!
Sydney Machion. 20, is from Mohnton, Pennsylvania.
A rising junior at West Virginia University, she is pursuing a double major in wildlife and fisheries resources and recreation, parks and tourism with a minor in conservation ecology.
She came to be familiar with Hammocks Beach State Park during her internship search.
"I came across this application and that was the first I had heard of the park," said Machion.
Her first visit to the park came recently. "The day I moved into the barracks this summer to start the internship was the first I had ever visited the park."
Machion iss president of WVU Beekeeping Club, she is a member of the women's rugby team and is an employee of Adventure WV.
She is a sea turtle intern.
"As a sea turtle intern I work directly with nesting sea turtles, taking measurements and collecting data that is used for conservation efforts around the country," Machion said.
After college graduation she plans to pursue a career in the U.S. Navy's Marine Mammal program and/or environmental policy. This internship could help with that goal.
"The hands-on experience, fieldwork and connections have all set me up for a future in marine conservation," Machion said. "Working directly with a state park has taught me communication skills while participating in field work for my desired career."
Her spare time is filled with activity.
"I spend most of my time recreating outdoors, so stand up paddleboarding, kayaking, fishing and swimming are my go-to activities," she said.
Destini Hudson, 21, is originally from Mount Airy but she moved to Shallotte two years ago.
She is a senior at the University of North Carolina Wilmington pursuing a bachelor's in marine biology with a minor in digital arts.
"I learned of Hammocks Beach State Park when I learned of this internship opportunity, which I had heard about through a flyer that the biology department at UNCW shared with its students," Hudson said.
She said her first visit to the park came just a day before the start of her internship.
"It's a beautiful park with one of the best beaches I have been on, definitely worth a visit," Hudson said.
As befits a student spending her summer on a barrier island, Hudson is formerly a member of a year-round swim team.
"Now I enjoy the sport by swimming at my leisure," she said.
A turtle intern, Hudson will be keeping up with the loggerheads, and perhaps leatherbacks, that nest on the park's Bear Island, a 4-mile-long, undeveloped barrier island.
"My role this summer is to study turtles and contribute to their conservation by collecting data on the turtle, such as carapace length, and relocate a nest if necessary," she said.
"This internship furthers my educational goals by providing me with field experience, of which I was lacking in school due to COVID these past two years," Hudson explained.
This experience will provide a taste of what lies ahead.
"When I graduate I plan on searching for a job in rehabilitation or husbandry and move wherever the job takes me, but I would like to stick to the East Coast," she said.
Being on one the nation's most beautiful undeveloped barrier islands makes leisure time special for Hudson.
"In my spare time I like to go hang out at the beach," she said. Otherwise, she said she enjoys watching movies and Netflix, reading and playing video games.
Rachel Hoag, 23, is from Erie, Pennsylvania, and is a May 2021 graduate of St. Bonaventure University.
She earned a degree in environmental studies.
Back in Pennsylvania, Hoag raises and trains service dogs with New Hope Assistance Dogs, an organization in Warren.
"I discovered Hammocks Beach State Park through the Texas A&M job board," she said. "I previously worked with sea turtles along the North Carolina coast as an intern with the sea turtle hospital in Surf City and I was hopeful to find another sea turtle opportunity in North Carolina. Then I found Hammocks Beach State Park."
Though she had been very close previously, Hoag said her first visit to Hammocks Beach State Park came when she arrived for the internship.
As a sea turtle intern, Hoag has some experience. And she takes the role seriously.
"I conduct nightly surveys with my team looking for nesting loggerhead sea turtles along 4-mile-long Bear Island," she explained. "When we come across a nesting mother we scan her for pit tags and measure her carapace (sea turtle shell). If she has no previous tags, we tag her ourselves. If necessary, we relocate the nest further back along the dunes, which involves carefully digging up the eggs and placing them carefully one-by-one in containers. Nests are relocated if the nest is too close to the tide line and there is a risk of over-wash.
"One egg sample is taken from the nest for the ongoing DNA study with Duke Labs.
"We then dig our own hole back closer to the dunes approximately the same width and depth as the mother's and then place the eggs in their home. The nest is then covered and a metal cage is placed over the nest to protect the eggs from predators, like coyotes."
Hoag hopes to pursue a career in marine conservation, preferably on the East Coast.
She said her work at the park, which has one of the few nighttime sea turtle nesting programs along the east coast, provides good experience.
"In the field of wildlife conservation, hands-on experience is what matters most," Hoag said. "This internship is giving me the opportunity to participate in this rare program and further my experience with nesting loggerhead sea turtles."
In her spare time Hoag enjoys spending time at the beach or time with her host family.
"I've also had the opportunity to go scuba diving off the Emerald Isle coast and I hope to do more diving this summer," she said.
Kylee Johnson, 17, is a rising senior at MaST Early College High School/Carteret Community College.
Johnson, who lives in nearby Stella, only visited the park for the first time this past spring.
"I've always known Hammocks Beach was here but I've never visited before," she said.
"My first visit was on May 28." She was impressed with the park and Bear Island. "It was absolutely beautiful and I couldn't believe I've never been before."
While at MaST Early College High School/Carteret Community College, Johnson is pursuing associate's in science and arts. She hopes to participate is SkillsUSA beginning with the fall semester. SkillsUSA is a partnership of students, teachers and industry working together to ensure America has a skilled workforce, according to its website.
Johnson is the environmental education intern.
"I'm not sure what I want to be yet, but I definitely want to go in the science direction," she said of her future course of study. "I took on this role so that I could gather more experience in parks and recreation, to see if this is something I would like to do in the future."
In her off time, Johnson said there is plenty to do at and near the park.
"During my spare time I love to fish off the ferry dock on the island and the surf," she said. "Bogue Inlet also has some cool things. I also love to read when I'm at the barracks. I look forward to kayaking and all the other wonderful things you can do on the water."
Intern coordinator passionate about mission
While a lot of folks may have passing knowledge of the Hammocks Beach State Park summer intern program, few are as involved as Allyson Roberts of Swansboro.
From her role as intern coordinator with the Friends of the Hammocks and Bear Island, a citizen support group for the park, she admits the program is close to her heart.
It is, she noted recently, "a mission."
"I'm passionate about the park and my volunteer work with the interns," she said.
When "The Barracks," the interns' living quarters on Bear Island, needs repairs or new furniture, you can count on Roberts and her husband Chuck taking care of it.
When Hurricane Florence knocked out The Barracks in 2018, Roberts said a way was found to work around it.
The four turtle interns were local. "They worked very long nights as the rangers took them to Bear Island on the patrol boat and picked them up in the morning," Roberts said.
When COVID-19 shut down most of the world in 2020, Roberts found a way to work around it.
Again, "We had some local folks just to do turtles," she said.
So it was a relief for Roberts to return to some sense of normalcy during the summer of 2021.
"Last year. We had the barracks all year and had a full crop of interns," she said.
To the casual observer, the intern is a young person with a summer job. To Roberts, more is there.
"I truly enjoy the interaction with them. I enjoy being out there with them," she said. "We have a lot of fun."
Roberts also matches the interns with host families on the mainland. This gives the young people a place to get away to for a home-cooked meal, to do laundry or use the internet.
"The community is so supportive of them," she said. And, Roberts added, "As a parent, we want our kids to have these great adventures. But as a parent, we want to know that somebody has their backs."
Interns work from mid-May to mid-August, according to Ranger Sarah Kendrick, park superintendent.
In addition to being provided lodging at The Barracks during the internship, the interns are considered seasonal employees at the park and are paid $14 an hour.
"Six is our typical intern number," Kendrick said. "Some years we have less for various reasons. We typically have three to four sea turtle interns, one or two shorebird interns, and an education intern."
She also said the role the interns play is vital to the park operation.
"Interns are able to complete the valuable work of sea turtle monitoring and protection, shorebird monitoring and protection and extra educational programs above and beyond what the ranger staff is able to do," Kendrick said. "Without the interns a lot of this work would not be able to be done because of the rangers' workload. We have one of only two nighttime sea turtle monitoring programs in North Carolina, the other being Bald Head Island."
This story is provided courtesy of the Tideland News, a weekly newspaper in Swansboro. Coastal Review partners with the Tideland to provide readers with more environmental and lifestyle stories of interest about the North Carolina coast.