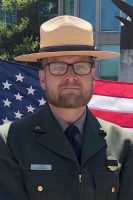 The state Division of Parks and Recreation has named Joe Shimel the new east district superintendent of North Carolina State Parks.
North Carolina State Parks' east district includes parks in the coastal plain east of Rocky Mount, from the Dismal Swamp and Merchants Millpond state parks in the northeast to Fort Fisher State Recreation Area and Carolina Beach State Park in the southeast.
As district superintendent, he will be the chief of operations and administration of a park district with wide-ranging responsibilities for staffing, planning, law enforcement, and visitor services.
Shimel is relieving Sarah Kendrick, who has been acting superintendent for the district since 2020. Kendrick will return to her post as superintendent of Hammocks Beach State Park in Swansboro.
Shimel said that his priority will be providing the best possible visitor experience while protecting natural and cultural resources.
"This is the delicate balance we are called to carry out in North Carolina's state parks. As district superintendent I will do my best to ensure the parks have the tools and resources they need to accomplish this," he said in a statement.
After graduating from North Carolina State University in 2000, Shimel served as a park ranger at Falls Lake State Recreation Area and Carolina Beach State Park before becoming park superintendent at Medoc Mountain State Park.
Shimel has been superintendent of New River State Park and Mount Jefferson State Natural Area since 2009. During his leadership at New River, he obtained a master's degree in parks, recreation, and tourism management from NC State.
Shimel serves on the Division of Parks and Recreation's fire management team, EMS quality management review committee, and critical incident stress management team. He is a certified interpretive trainer.
"Joe comes to the east district with extensive experience in state parks in each region and expertise in several aspects of park management," said Kathy Capps, deputy director of operations, in a release. "His familiarity with park operations paired with his expertise in natural resources and education will be great assets to the east district, with its wide-ranging ecology and state parks with varied features and facilities."
North Carolina State Parks manages more than 253,000 acres of landscape within North Carolina's state parks, state recreation areas and state natural areas and administers the N.C Parks and Recreation Trust Fund.