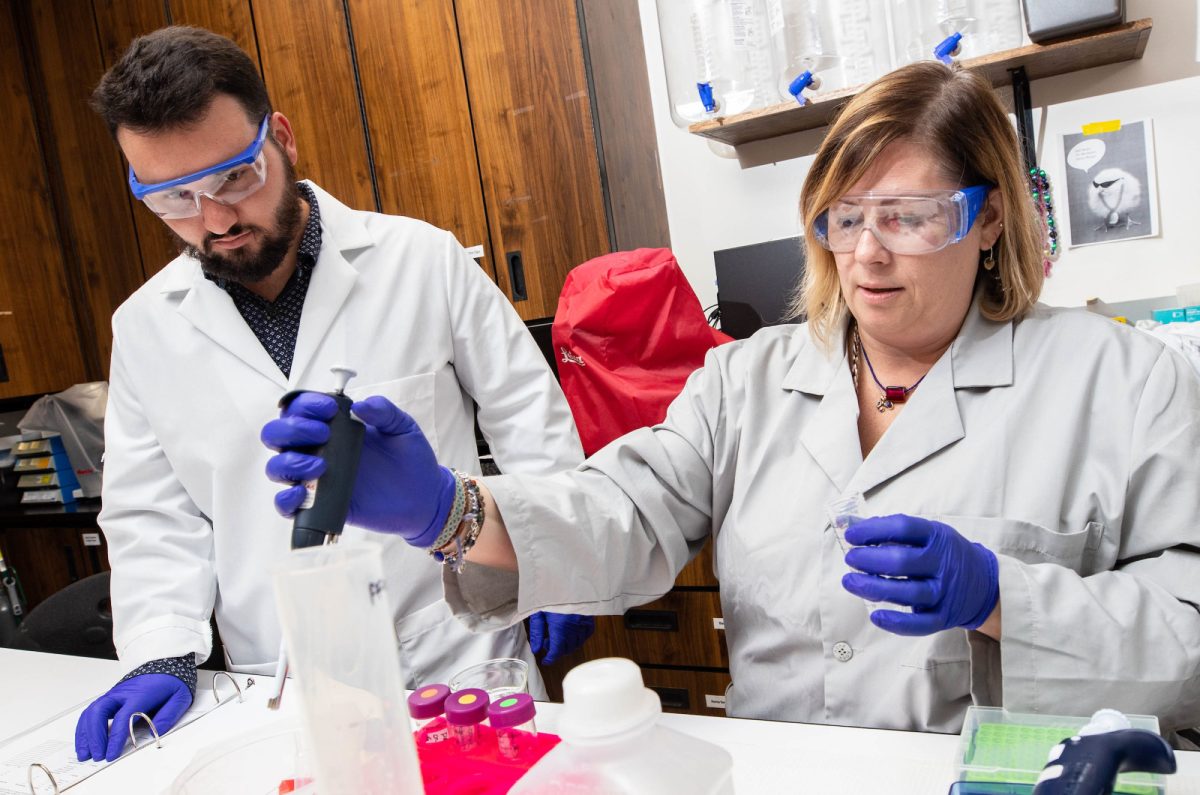 First in a series
WILMINGTON – Raise your hand if you had heard about GenX before the summer of 2017.
Five years have passed since we first learned that the lower Cape Fear River, the drinking water source for more than 300,000 people, was being contaminated by GenX and a host of other man-made chemical compounds called PFAS, or per- and polyfluoroalkyl substances.
The news sent residents of communities in and around this area reeling. They had questions for which there were few to no answers, particularly when it came to how they could protect themselves against something they could not see, taste or smell in their water.
Perhaps even more frustrating, no one — not the government, not scientists — could tell them whether or how GenX and other PFAS discharging from a chemical manufacturing company some 80 miles upstream might affect their health.
North Carolina-based researchers have worked diligently to find some answers to these questions these past five years.
There have been tests to determine the most effective PFAS-removing water filtration systems. Blood samples collected from more than 300 willing participants in New Hanover County have been examined for the presence of GenX and other PFAS.
Studies exploring the potential health effects in living organisms dosed with some of the PFAS flowing into Cape Fear River have taken place in university laboratories from Greenville to Wilmington to the Triangle to Charlotte.
Meanwhile, public utilities in New Hanover and Brunswick counties are investing millions in upgrades, the costs of which have inevitably trickled down to their customers through nominal fee increases that, during a time when inflation is at a 40-year high, makes it no less painful on the purse.
Related: Measure would hold Chemours liable for contamination
Under a 2019 consent order between the state and Cape Fear River Watch, Chemours Co. must reduce at least 99% of PFAS it releases into the river, ground and air from its Fayetteville Works facility in Bladen County.
DuPont started using PFOA to make Teflon in the early 1950s. In 1980, the company began making vinyl ethers at its Fayetteville Works facility, emitting PFAS into the river, air and ground. Chemours Co. was founded in 2015 as a spinoff from DuPont.
The company has been mailing thousands of letters to addresses of private drinking water well owners in New Hanover, Brunswick, Pender and Columbus counties. The letters are kicking off a process, also required by the consent order, to identify which wells are eligible to be sampled.
There's more to be done.
Emerging answers about emerging compounds
The U.S. Environmental Protection Agency keeps track of the number of individual PFAS.
At last count, that number was around the order of 10,000.
"We've studied a fraction," said Jamie DeWitt, a professor in East Carolina University's Department of Pharmacology and Toxicology. "That's why I've been part of a group of scientists who have been calling for regulating PFAS as a class because there's just so many different PFAS out there that we can't possibly study them all in order to create regulation."
Her research of PFAS stretches back to 2005 when she began looking into the health effects of legacy PFAS, chemical compounds that have been around the longest and largely phased out in developed countries. These include perfluorooctanoic acid, or PFOA, and perfluorooctanesulfonic acid, or PFOS, which was used to make things like stain-resistant fabrics, fire-fighting foams and food packaging.
It wasn't until 2014 she learned about GenX. Back then it was called something else.
"I didn't know about all of the other compounds. I didn't realize that there were thousands of individual PFAS until I worked on with some folks a paper in 2017. I didn't realize that there were so many different subgroups of PFAS and that this class of chemicals was so huge. It's overwhelming."
DeWitt is among a group 20 researchers from universities across the state who received funding from the North Carolina General Assembly in 2018 to study PFAS found in the Cape Fear.
The collaboration of researchers, known as the North Carolina PFAS Testing Network, or PFAST, launched studies examining water filtration systems effective in removing PFAS, analyzing water samples from drinking water sources across the state, determining the risks of PFAS to private water wells, how PFAS travels through air emissions and gaining an understanding of how PFAS impact human health and the environment.
In one study, North Carolina State University researchers collected blood samples from more than 300 New Hanover County residents in November 2017.
GenX was not detected in those samples, but 99% contained Nafion byproduct 2, 98% showed PFO4DA, 87% had PFDoDA, and 76% contained hydro-eve, all of which were discharged at the Chemours plant.
DeWitt's lab has been researching how understudied PFAS like Nafion by-product 2 and perfluoro-2-methoxyacetic acid, or PMOAA, affect basic responses of the immune system.
Researchers administered doses of such short-chain PFAS to experimental models — mice.
"When we see changes in this response in our model, that makes us very concerned that we may also see changes in that response to people," DeWitt said. "What we do know is that the PFAS that we've studied are persistent and or mobile and or bioaccumulative and or toxic, so PFAS have these characteristics of concern in common."
Heather Stapleton, a Duke University environmental science professor, is part of a team working with Pittsboro, a town about 17 miles southwest of Chapel Hill, since discovering a couple of years ago that concentrations of PFAS were two to four times higher in the blood of that town's residents than the U.S. population.
"Basically, we detected them in everyone's blood sample and they were higher than what we see in the general population and actually were pretty similar to what has been observed in the population in Wilmington," she said.
Legacy PFAS, including PFOA and PFOS and at least one newer chemical compound, have been found in the Haw River, Pittsboro's drinking water source.
Researchers are looking into the potential health effects of the chemicals found in the Haw River, which flows southeast where it empties into Jordan Lake, which empties into the Cape Fear River.
Working to uncovering the effects of emerging environmental contaminants to humans and animals faces a unique set of challenges.
That's because, in many cases, researchers start out with "absolutely no information about what the chemical might do to living organisms," DeWitt said.
"For example, when we first started asking questions about PFMOAA, one of the compounds found in the Cape Fear River, we had no idea what it might do to living organisms and so where do you start? What questions do you ask? How do you start to figure out what these compounds do?"
A way to get at those initial questions is by gaining access to toxicological data gathered by the companies that make these compounds.
One of DeWitt's students was able to do just that after finding a National Pollutant Discharge Elimination System, or NPDES, permit application DuPont filed in West Virginia to discharge GenX into one of that state's rivers.
Through public records, researchers were able to get toxicological data from that permit application, which included some of the doses the company had administered to experimental models.
"That allowed us to guide our study and say, 'OK, if this dose does this in this organism then we're going to give this dose in this organism.' Those toxicological databases are really important in helping to guide future studies and helping to really cement understanding about what chemicals do."
For her, the past five years have been peppered with opportunities she did not have before: access to compounds to dose experimental models, access to resources and instrumentation, and working closely with colleagues she might not have had the opportunity to work with prior to 2017.
That kind of access to those resources has equated to some pretty big strides for researchers of PFAS in North Carolina.
"I know that individuals, especially those who live in the Wilmington area, are frustrated with what seems to be the slow pace of scientific research, but I think we here in the state of North Carolina have really moved forward in a very rapid pace," DeWitt said. "For some researchers, this could be a lifetime endeavor, but we've accomplished it in five years. Although it may appear to be slow, on a scientific timescale, we've moved really, really quickly."
Home sweet home filtration
By early 2020, researchers within the PFAST Network released the results of a study examining which home filtration systems are most effective in removing PFAS from drinking water.
Stapleton was part of the research team that discovered the most effective systems in removing 13 different PFAS molecules found in the Cape Fear River to be reverse osmosis (RO) and dual-stage filters, which typically include one carbon and one sediment filter.
"The (reverse osmosis) and the dual stage did work well for all the different PFAS that we tested, which included short-chain and long-chain PFAS and some of the novel ether-based compounds as well," Stapleton said.
Until that study was completed, most of the literature and information on the effectiveness of various filtration systems were either from the manufacturers of those systems or from experiments conducted in labs, Stapleton said.
"In reality, how we use some of these filters in our homes can be very different."
For example, not everyone remembers to change the cartridge in their filter on a regular basis.
"The type of water can make a difference because water here in North Carolina often comes from surface waters, but there's some places it comes from groundwater and water from different areas will have different types and levels of organic carbon and other molecules so the filtration can be different in different areas," Stapleton said. "If you look at the upper Cape Fear along the Haw River, it's really dominated by some of the short-chain PFAS molecules and there has not been a lot of research on how well those have been removed by certain water filters. And then you get down to the lower Cape Fear near the Chemours facility and it's dominated by the ether compounds like GenX, so there's a number of reasons we wanted to do this study."
The filtration systems found to work best removed more than 95% of PFAS. Those systems, however, are the most expensive, running anywhere from more than $100 to well over $300.
But some filtration, Stapleton said, is better than none.
She thinks about worried residents in Pittsboro paying for expensive filtration systems to reduce their exposure to the man-made chemicals being released into their drinking water source.
"They're bearing the burden of exposure and the costs of these water filters when it's likely from some manufacturer or industry upstream that may or may not even know they're contaminating the water all because our system is so lax."
Detlef Knappe, a professor at North Carolina State University and one of the researchers who discovered GenX in the Cape Fear River, was a panelist at Cape Fear River Watch's State of the River forum last week in downtown Wilmington.
He said that, while PFAS levels in the river have "dramatically decreased" compared to five years ago, the chemicals will probably be in the river for decades.
In his remarks during the forum, Knappe joined a chorus of researchers calling for government regulation of PFAS as a class of chemicals rather than one chemical at a time.
Managing PFAS at the source is important to breaking the cycle, he said.
"In my opinion that's an important aspect that really needs to be part of regulations and legislation. While there's been improvement in water quality, there's still a lot that needs to be done."
Later in the series: What is being done?