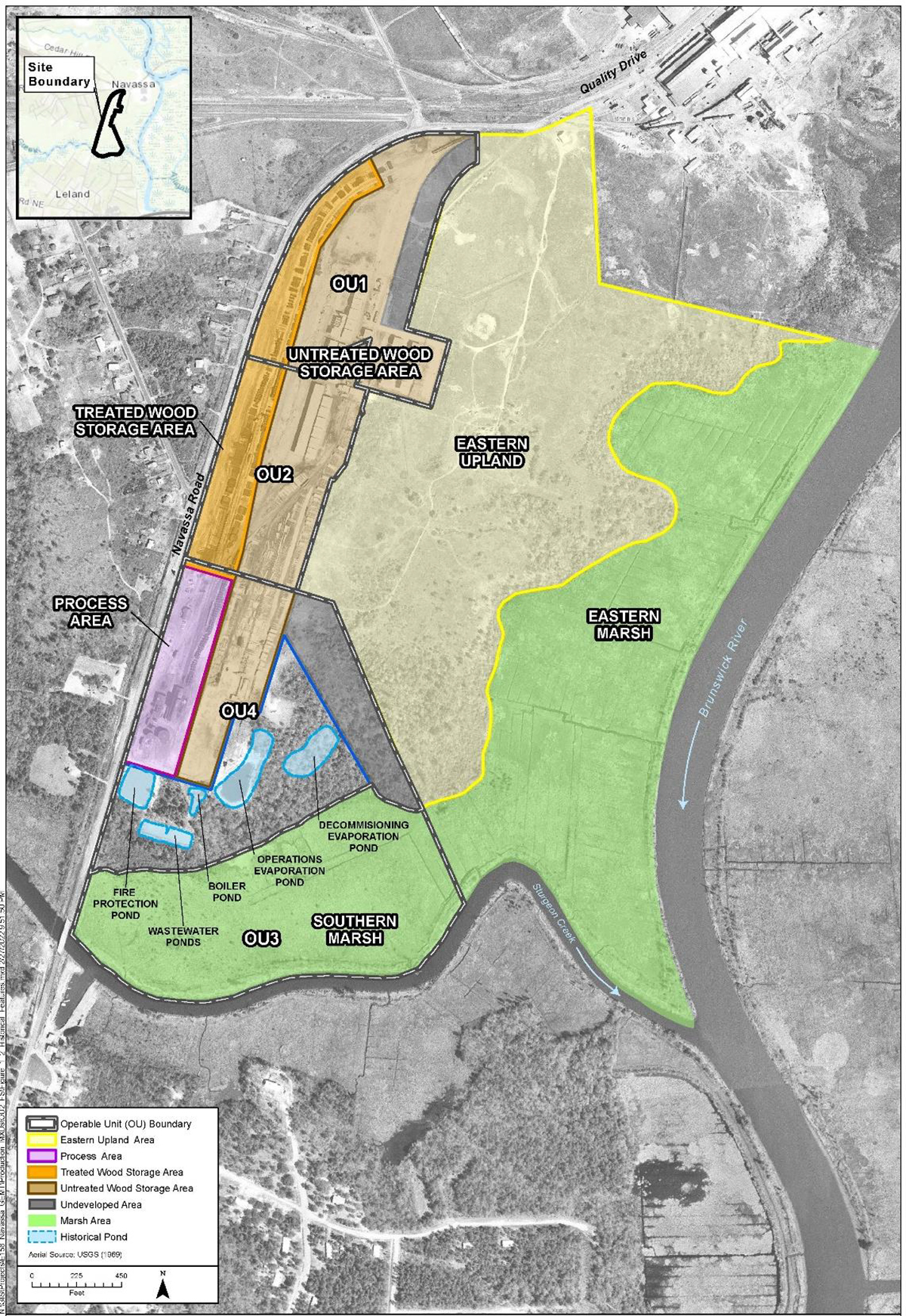 The U.S. Environmental Protection Agency is proposing to excavate contaminated soil from portions of a more than 15-acre tract where chemically treated wood was once stored on the Navassa Superfund site.
During a meeting Tuesday evening, officials discussed the agency's preference to have about 2,800 cubic yards of surface and subsurface soils dug up and removed from an area referred to as operable unit 2. The contaminated soils would then be disposed of at an EPA-approved landfill.
About 1.6 acres of operable unit 2, or OU-2, contains soil that pose unacceptable risk to human health, according to the EPA's findings, which are based on numerous soil samples. About 14 acres of the 15.6-acre site do not pose unacceptable risk to human health.
The EPA is proposing to have a little more than 2,500 cubic yards of surface soil at a depth of up to 1 foot excavated and taken off the site. About 295 cubic yards of subsurface soils 1 to 2 feet below the ground's surface would be removed.
This is one of four site remediation alternatives the EPA has considered for the site. Other alternatives include the following:
Taking no action.
Excavating contaminated soil and possibly stockpiling the soil on a different operable unit to eventually use as backfill. If it is determined that the soil cannot be reused it would be taken to an EPA-approved landfill.
Covering contaminated soil with 1 foot of clean fill material and planting clean dirt with ground cover such as local grasses to prevent erosion. The vegetated soil would have to be monitored every five years.
Charles King, EPA interim remedial project manager, explained Tuesday that, though the agency's preferred alternative is the most expensive – $1,578,000 – it would not require long-term maintenance.
Removing contaminated soil from the site would allow for unlimited use and unrestricted exposure to the land, making it suitable for residential development.
Navassa residents have expressed a particular interest in having at least some of the Superfund site used for housing.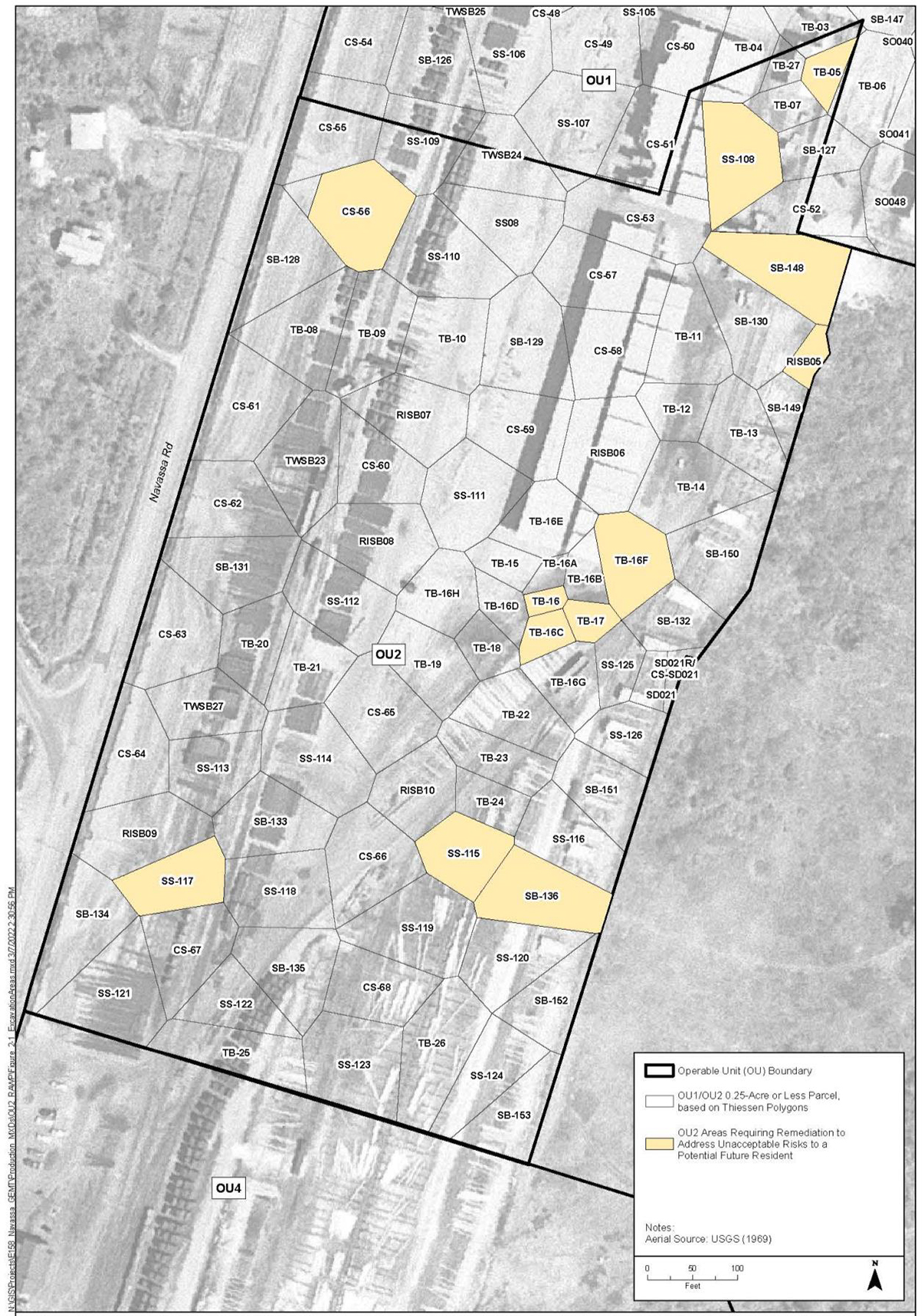 The former Kerr-McGee Chemical Corp. site includes more than 254 acres where a wood-treating facility was operated for nearly 40 years.
The land was added to the National Priorities List of federal Superfund sites in 2010 because creosote, a tar-like substance made of hundreds of chemicals and used as a wood preservative, has been found in the groundwater, soil and sediment on portions of the site.
Since 2016, the EPA, North Carolina Department of Environmental Quality and the Multistate Environmental Response Trust have hosted more than 20 community meetings in Navassa to update residents on the process and receive their feedback.
The EPA, in consultation with DEQ, oversees the Multistate Environmental Response Trust, which is court appointed to own the Superfund site and take responsibility for managing the remediation of the property.
The site has been broken down into five operable units.
OU-1, which includes the northernmost 20.2 acres of the property, was deleted from the National Priorities List last September. The land is also being eyed for residential use.
Operable units 3-5 will be addressed in future proposed plans.
OU-3 includes about 30 acres of marsh.
The 36 acres within OU-4 include a pond, process area and storage area for treated wood.
OU-5 includes groundwater affected by wood-treatment operations.
OU-1 is adjacent to 82 acres known as the eastern upland area, which is free of contamination and not part of the Superfund site.
Town officials hope that area will become the site for the proposed Moze Heritage Center and Nature Park. This would be the first cultural heritage center in the state dedicated to preserving the stories of enslaved Africans who worked the rice plantations along river banks in southeastern North Carolina.
After King's presentation Tuesday at the meeting, which was held in person and virtually, a handful of attendees asked questions about the proposed remediation plans for OU-2. No one spoke in favor of or against the EPA's preferred alternative to get the land ready for residential use.
The EPA's public comment period on the proposed remediation of OU-2 ends June 30.
King said all comments will be reviewed after the deadline and, if those comments are generally acceptable of the EPA's preferred alternative, that would shorten the time it takes the agency to release its record of decision.
If the preferred alternative is selected, officials anticipate work would begin on the site in early to mid-September and take two to three months to complete.
Comments may be submitted by telephone or email to EPA Remedial Project Manager Erik Spalvins, 404-562-8938, Spalvins.erik@epa.gov; or EPA Community Involvement Coordinator L'Tonya Spencer-Harvey, 404-562-8463, Spencer.latonya@epa.gov; or by mail to U.S. EPA Region 4, 61 Forsyth Street, S.W., 11th Floor, Atlanta, GA 30303-8960.