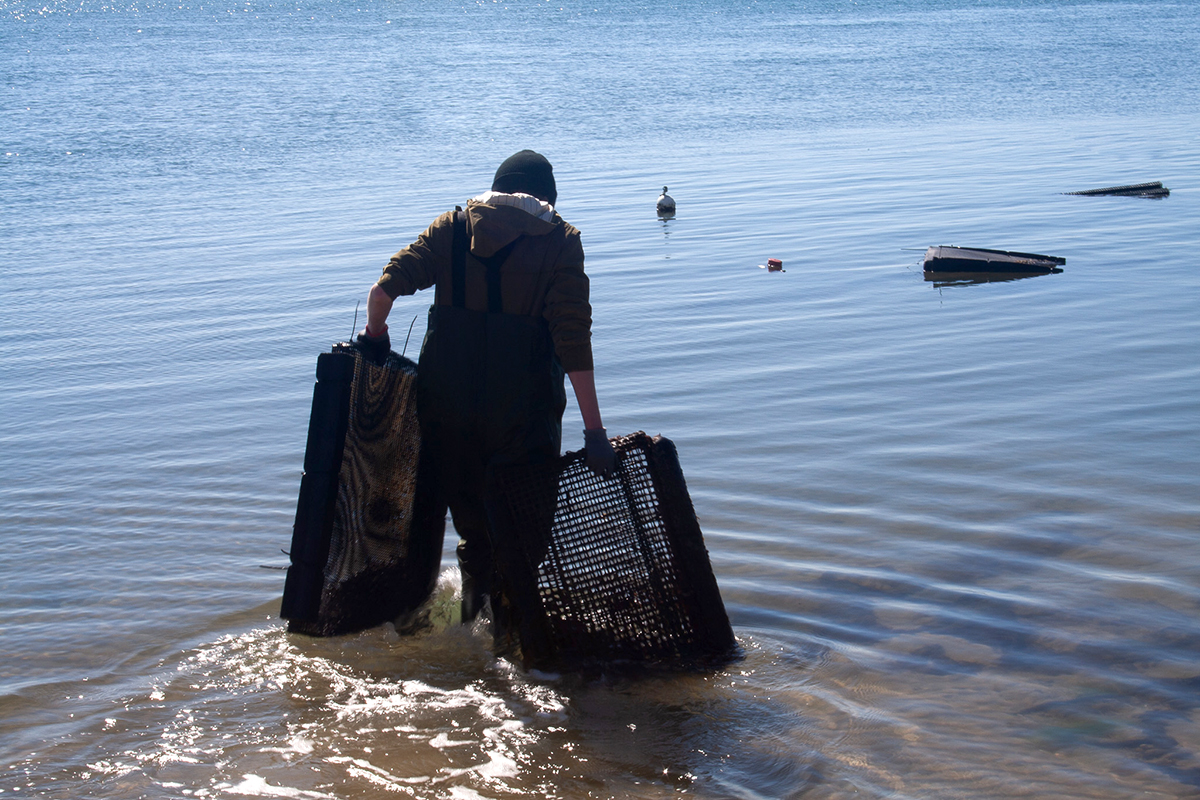 Second in a series. Read part 1.
Students in Carteret Community College's Aquaculture Technology program accumulate hands-on experiences in the wide-ranging industry that is aquaculture. The program's lab space, which includes countless tanks and an oyster lease, sits on the Bogue Sound in Morehead City.
The program teaches students how to be part of an industry that is constantly changing. David Cerino is the program chair. Day-to-day, climate change doesn't factor into their work, he said. But zooming out, it impacts their future.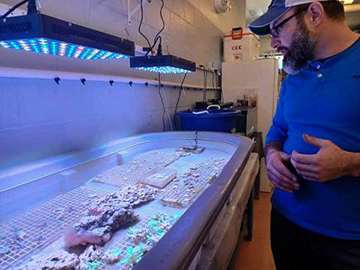 "You have to look on a larger scale, I think, to see it," Cerino said.
For example, research shows that ocean acidification may impact shellfish development. Lower pH levels in the ocean could hinder shell growth for larval clams and oysters in some parts of the world. It's not yet a big problem for East Coast hatcheries, but he believes that someday it could be.
Changing water temperatures are another example, Cerino said. Some of the clams they work with are at the northern edge of their range in North Carolina. Warmer temperatures could eventually change that.
"It certainly can go into some of the planning of what are the next species you should be looking at," Cerino said. "If we can expect that in the future the water's going to be warmer, there may be some more southern species that we can grow effectively here in North Carolina."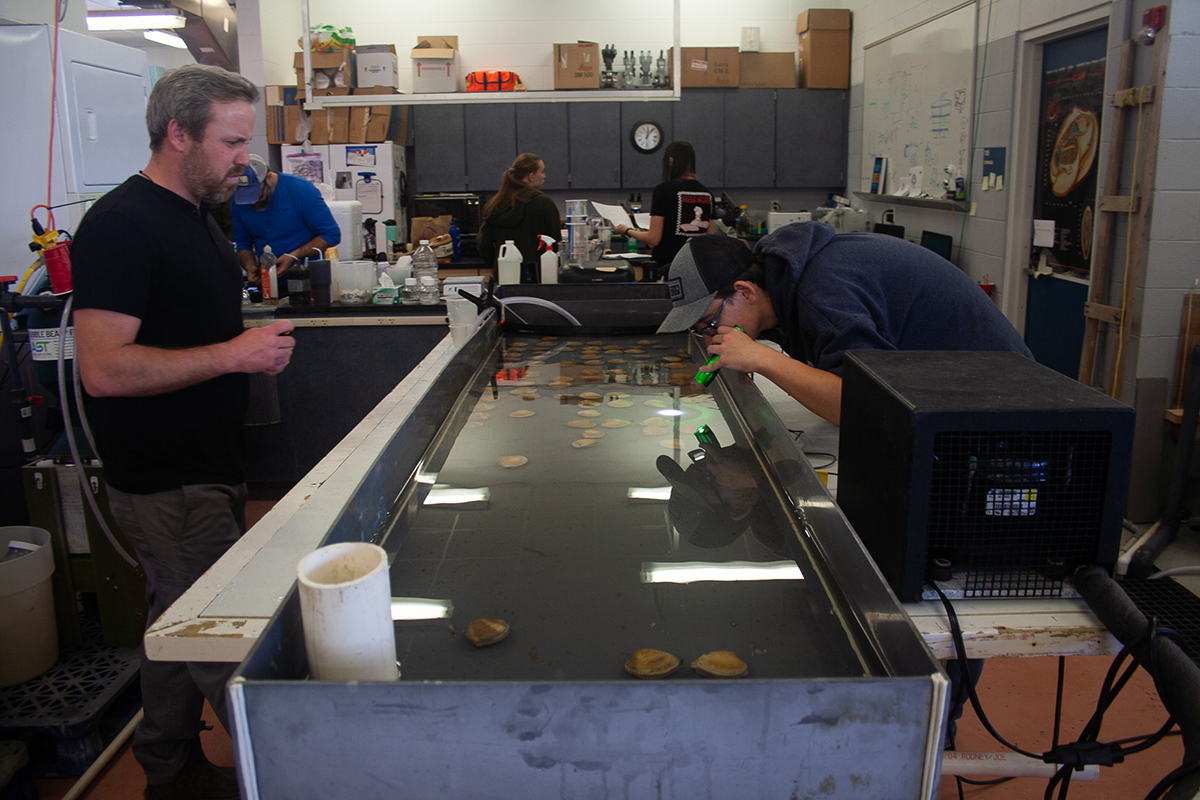 Growing the industry
In North Carolina, an important aspect of aquaculture is shellfish farming. In 2018, the state launched a state shellfish plan, modeled after NOAA's National Shellfish Initiative.
The National Shellfish Initiative aims to grow the shellfish aquaculture industry through restoration activities and sustainable commercial development. North Carolina's participation specifically prioritizes job creation, sustainable management, water quality and shellfish health. This move acknowledges that shellfish farming is an important part of culture and identity for the region.
It also shows that moving forward, the state's environmental health and economy are intrinsically linked. Research shows that for every $1 invested in oyster restoration, the state receives benefits equivalent to $4.05. In 2017, shellfish aquaculture in North Carolina had a farmgate value of $2.6 million.
North Carolina wants to be the "Napa Valley of Oysters." Consistent and intentional action will be necessary to grow an industry like marine aquaculture in a way that is both economically sustainable and climate resilient.
Mass mortality
Next door to Carteret Community College is the University of North Carolina Institute of Marine Sciences. Doctoral candidate Mark Ciesielski's research project is looking to unveil the causes behind oyster mass mortality events.
Oyster mortality events — when large amounts of oysters die off — present a great risk to the shellfish industry. There has been an increase in the frequency of these events over the last decade. Recent research has highlighted the problem up and down the coast. In North Carolina, the trend is in anecdotal occurrences. The state's Oyster Blueprint keeps close documentation on the state of the oyster over time.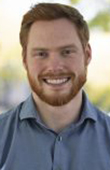 "If there's that significant of an economic loss, it's not going to inspire a lot of confidence in the industry," Ciesielski said.
These events have often been attributed to a single pathogen, but the truth is probably a little more complicated than that, says Ciesielski. Evidence suggests there are likely many contributing factors derived from the effects of climate change that might favor a myriad of pathogens working in concert. Ciesielski hopes to identify these drivers.
Four teams of scientists in North Carolina and Virginia are working with local shellfishermen to regularly monitor oysters across multiple sites throughout the coming year, starting in March of 2022. They'll be monitoring several environmental factors such as salinity, dissolved oxygen and temperature, and using these field observations in conjunction with advanced molecular workflows and histological data. The idea is to address a complex issue holistically.
"We're not looking at just one thing, we want to hit it from all angles, and just be as smart about it as possible," Ciesielski said.
The future stability of aquaculture in North Carolina depends on research like this.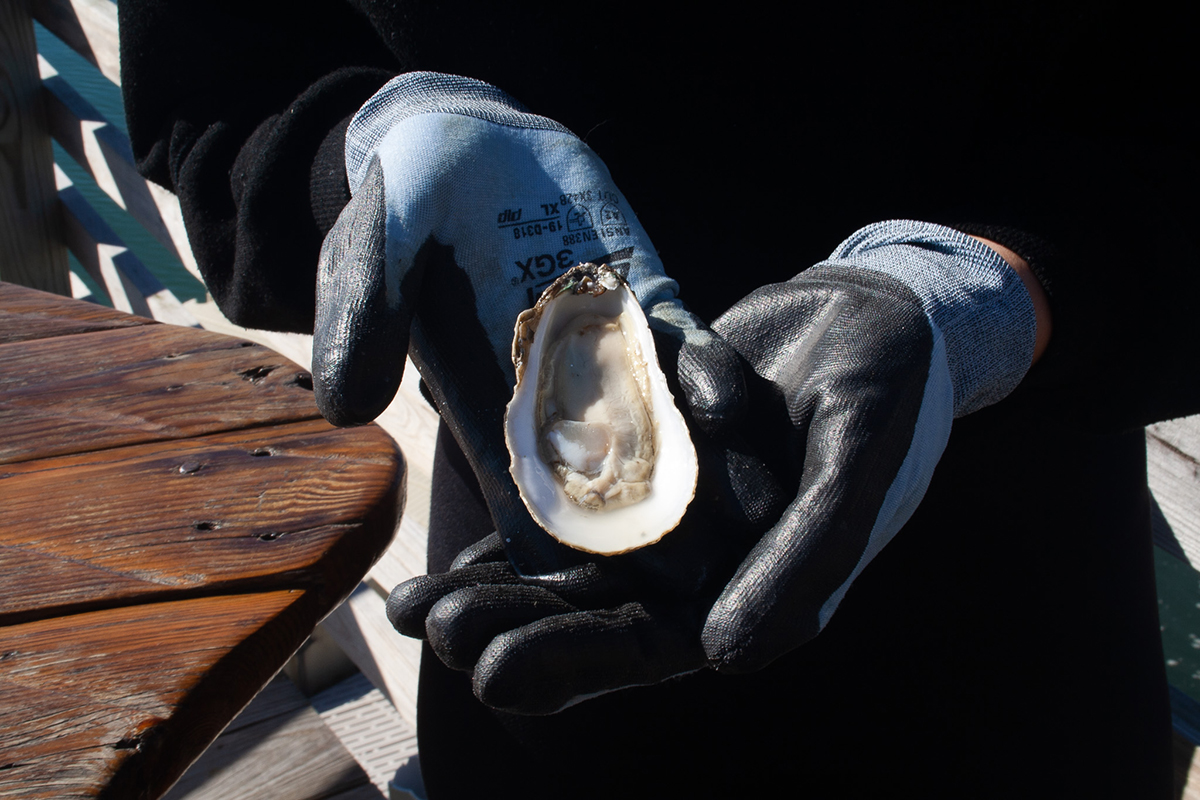 For Rebekah Williams of Bekah's Bay Oysters in Morehead City, being an oyster farmer fits like a glove. The nights when she's bartending at Southern Salt tend to be the busiest, said one of her coworkers. People come for her, and they come for her oysters on the half shell. Despite the ubiquitous threats to the industry, this is where she belongs.
"I love the water. And I love it here," Williams said. "People are like, 'are you ever going to leave?' Probably not…my roots are definitely going to be here."
If this project can help unveil the triggers behind oyster mortality, it can increase the environmental and economic resiliency of the oyster industry for the future.
"It has a lot of importance in terms of the local community — people are very interested in making sure that they can make a living off of this," Ciesielski said. "And so we're trying to support them as much as possible, and just give them answers to questions, and what the limitations are. That's an important thing if we're going to continue to grow moving forward."