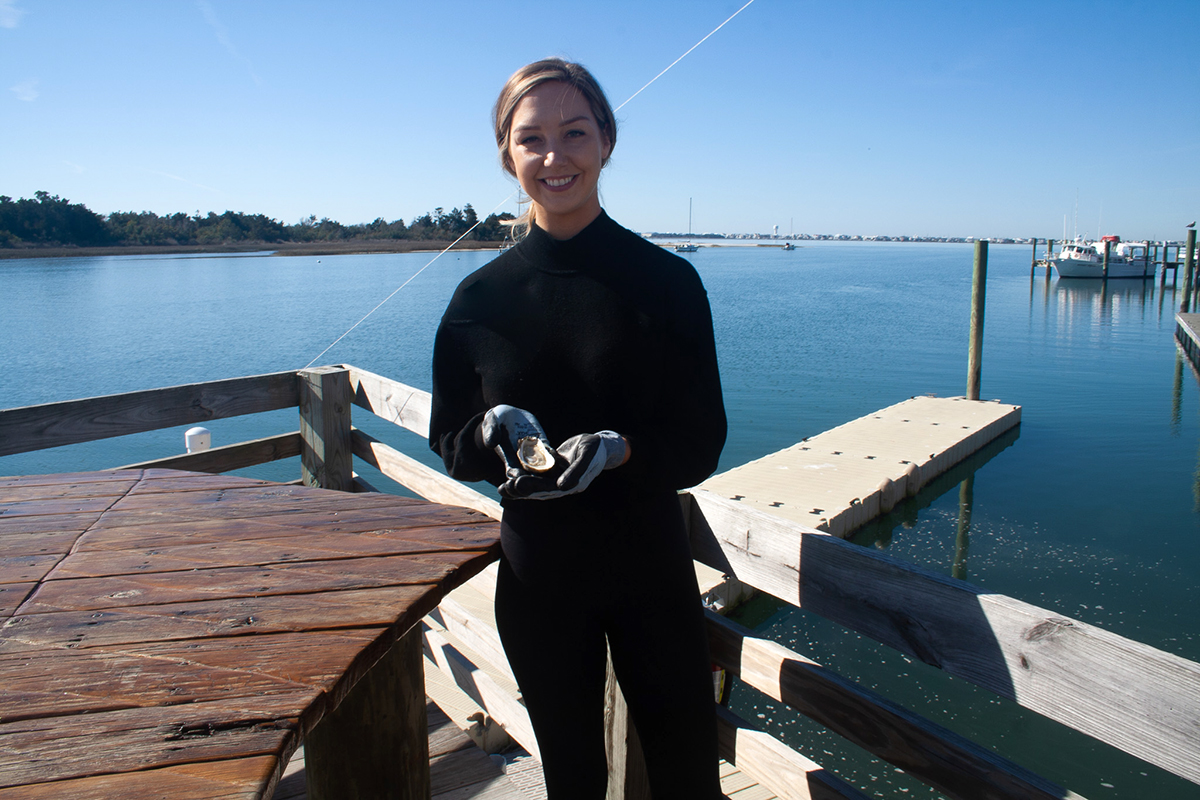 First in a two-part series.
The sun warms the docks in Morehead City as Rebekah Williams stands on the back deck of Southern Salt, a restaurant on Morehead City's waterfront that serves fresh seafood.
Before her on a table is a heap of oysters from her farm, Bekah's Bay Oysters, sorted into two piles. The pile of bigger oysters will go inside and be served to guests that evening on the half shell. The others will go back into a floating oyster bag at her lease in a tidal bay near Cape Lookout.
Oyster farming is one of the United States' most prominent forms of marine aquaculture, and Williams is one of many shellfish farmers in North Carolina. Aquaculture is an expansive industry that encompasses a lot of things — farming fish and shellfish for food is prominent among them.
New research out of the University of British Columbia in Canada has indicated that while the marine aquaculture industry has huge potential for feeding a growing world population, a significant amount of that potential will be curbed due to climate change if we stay on our current carbon emissions pathway.
An economically and culturally important industry in North Carolina, aquaculture has the potential to help us adapt to a changing world. But as things like warmer ocean temperatures, storms and landscape changes become more pressing factors, the industry will have to adapt as well.
Room to grow
Previous research indicates that marine aquaculture has tremendous potential when it comes to feeding the growing world population, which is expected to hit 10.9 billion by the end of the century. But whether that potential ever comes into being is another thing altogether.
Many capture fisheries around the world are either at their maximum yield or are close to overextending their capacities. This means there isn't much room for that industry to grow in order to feed a higher world population.
Dr. Muhammed Oyinlola, lead author of the study published in Global Change Biology, said that while that food pathway is close to maxed out, the marine aquaculture industry is expanding.
"My recent research looked into marine aquaculture, because marine aquaculture production has been increasing over time," Oyinlola said. "And most people are seeing it as the panacea for (the) decline of fisheries, particularly from the marine environment — how we're going to increase food production."
Oyinlola used modeling techniques to project into the future of marine aquaculture. He modeled two main pathways to see how the industry could be impacted by a suite of environmental and socioeconomic factors.
His results indicated that by the end of this century, climate change will be the driving factor influencing the production potential of the industry.
Under the more pressing of the two scenarios, Oyinlola found that global marine aquaculture production could decrease by up to 16% by the year 2090. This projected decrease was mostly driven by factors like warming ocean temperatures and changes in what areas are suitable for aquaculture.
What he found is that the future of the industry, globally, has vastly different possible trajectories. This study highlights the need for strong carbon emission mitigation measures in order to ensure a climate-resilient and economically sustainable future for marine aquaculture.
Climate extremes
The growing global aquaculture industry includes Williams, who jump-started a career in oyster farming about seven years ago. After a bit of trial and error, she started her own business and never looked back. Now, you can find Bekah's Bay Oysters on the Southern Salt menu as well as with several regional distributors. It's also not uncommon to see Williams driving around Morehead City in her truck, making dock to door deliveries herself.
Climate change is not part of Williams' day-to-day train of thought. Between bar shifts at Southern Salt, tending to her oysters on her lease, and renovating homes for Airbnb on the side, Williams has a full schedule. But that's not to say climate extremes haven't affected her.
A few years into her business, Williams, like so many others in North Carolina, had to quickly pivot when Hurricane Florence made landfall in 2018.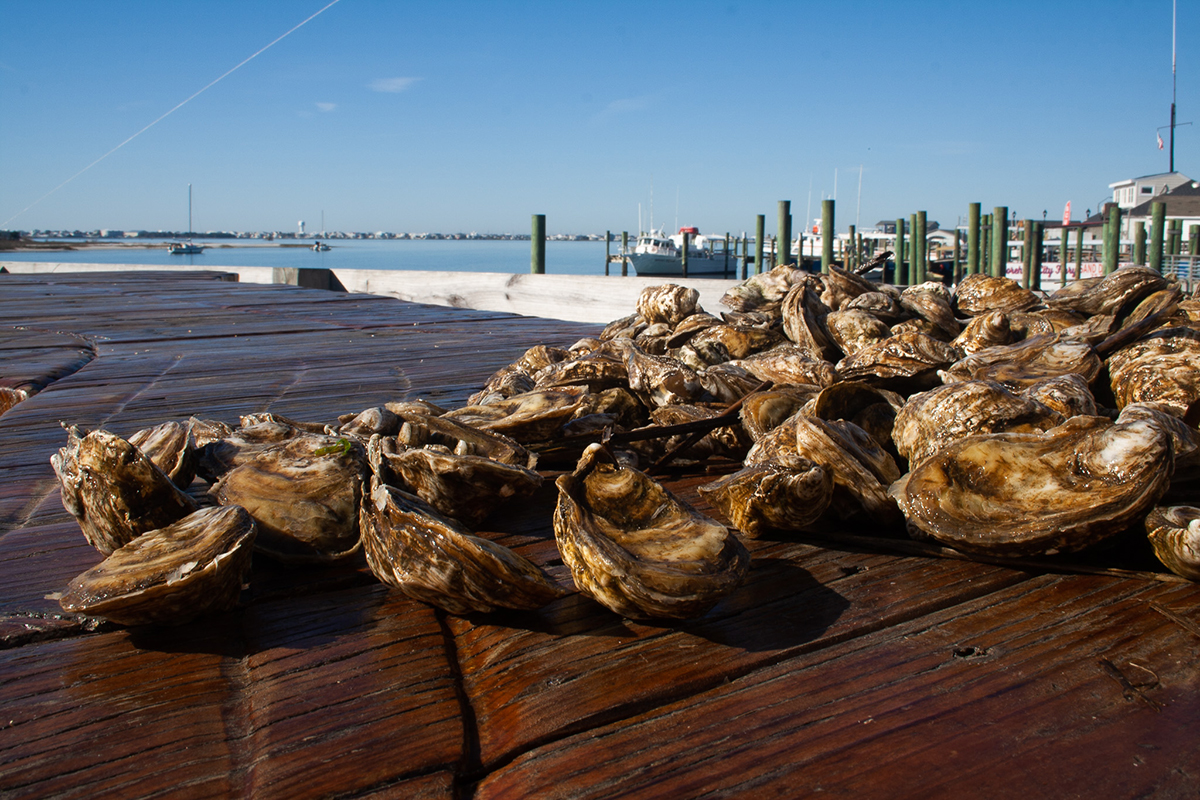 "You don't get a big heads-up on a storm," Williams said. When she realized Florence was going to impact her oysters, she had to act fast.
She went out to her lease and gathered all of the baby oysters, leaving the more mature ones in place. She used a refrigerated trailer to bring them into the restaurant. It was a risk to bring them in, because reintroducing them to the water later on could cause them to die.
"You're taking a chance on bringing them in," Williams said. But then, she didn't have a lot of other options. "So we were like, 'well, we'll try it.'"
Many of the mature oysters she left at her lease did not survive the storm. But her baby oysters did.
"It's a lot of work. You're out there in the sun, no power … and you're doing all this work to save the oysters, and luckily we did and we didn't have any huge issues."
Others weren't so lucky. In 2018, Hurricane Florence and Tropical Storm Michael caused nearly $10 million in damage to North Carolina's shellfish industry.
The storm caused damage to gear, and leases were hit with an onslaught of freshwater, which decreased both salinity and dissolved oxygen. For many oyster farmers, it was a huge loss.
Research has shown that, while hurricanes are not new, climate change results in a heightened risk for more intense and more frequent storms. For Williams and many other small business farmers, these storms threaten catastrophic losses. They are a direct threat to the industry's stability and security.
"It's tough if you don't have the resources," Williams said. "But luckily, having the restaurant and coolers and refrigerators and stuff, we were able to try it and do it. And it did work. So, at least we know now."
Next in the series: Seeding a future for North Carolina's shellfish aquaculture industry