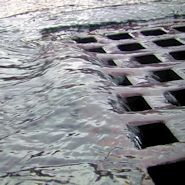 Learn how stormwater pollutes waterways and how to make a positive impact during the Stormwater 101 workshop June 13.
The New Hanover County Soil & Water Conservation District is offering the workshop from 6 to 7 p.m. in the New Hanover County Extension Service & Arboretum at 6206 Oleander Drive in Wilmington. Register online.
Any Wilmington resident who registers and attends the workshop will be entered to win a rain barrel valued at $85 and a $50 gift certificate to Home Depot.
New Hanover Soil & Water Conservation District Director Dru Harrison will explain where the water goes when it goes down a storm drain and what pollutants it might be carrying. Harrison will suggest actions that can be taken or devices that can be installed to reduce the amount of pollution carried into waterways.
The New Hanover Soil & Water Conservation District works to bring environmental education to any interested class, group or organization, to assist public and private land owners with storm-water management, and to aid the community in open lands preservation and conservation, according to the website.