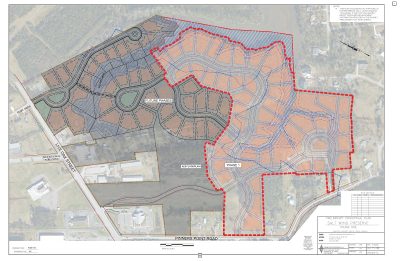 BEAUFORT – Environmental advocates say a proposed 37-acre, 47-lot residential development here would bring "significant degradation" of a tidal creek estuary that the state has designated as high-quality waters for commercial shellfishing.
The town planning board approved 5-1 the developer's, Beaufort Agrihood Development, LLC, request for preliminary plat approval for the proposed Salt Wynd Preserve on undeveloped land next to Gibbs Creek where the single-family homes would be built. The board's approval is the final word on this initial step in the process.
Town commissioners last week voted 4-1 to grant conditional approval of the developer's annexation request.
The nonprofit Coastal Carolina Riverwatch had urged town officials in a letter dated May 16 to allow more time for public input before acting on the request.
The preliminary plat for Salt Wynd Preserve had first gone before the planning board during its meeting Feb. 21. The board voted 6-1 to table the item until the March meeting to ensure the board had time to review the packet, which had been submitted less than 14 days before the meeting took place.
Then in March, action was again tabled.
The Southern Environmental Law Center first submitted comments on behalf of Coastal Carolina Riverwatch in March, urging the planning board to consider concerns about water quality and deny the request.
The law center sent a second letter Monday seeking delay to allow time to review the environmental impact statement and refer it to appropriate state agencies for input.
"Our March 16, 2022 public comments detail the ecological significance and high water quality of Gibbs Creek, which make it the last creek in Beaufort not permanently closed to shellfishing. Our comments raise concerns with the effects of the proposed development on the Creek's ecological integrity and water quality," according to the letter.