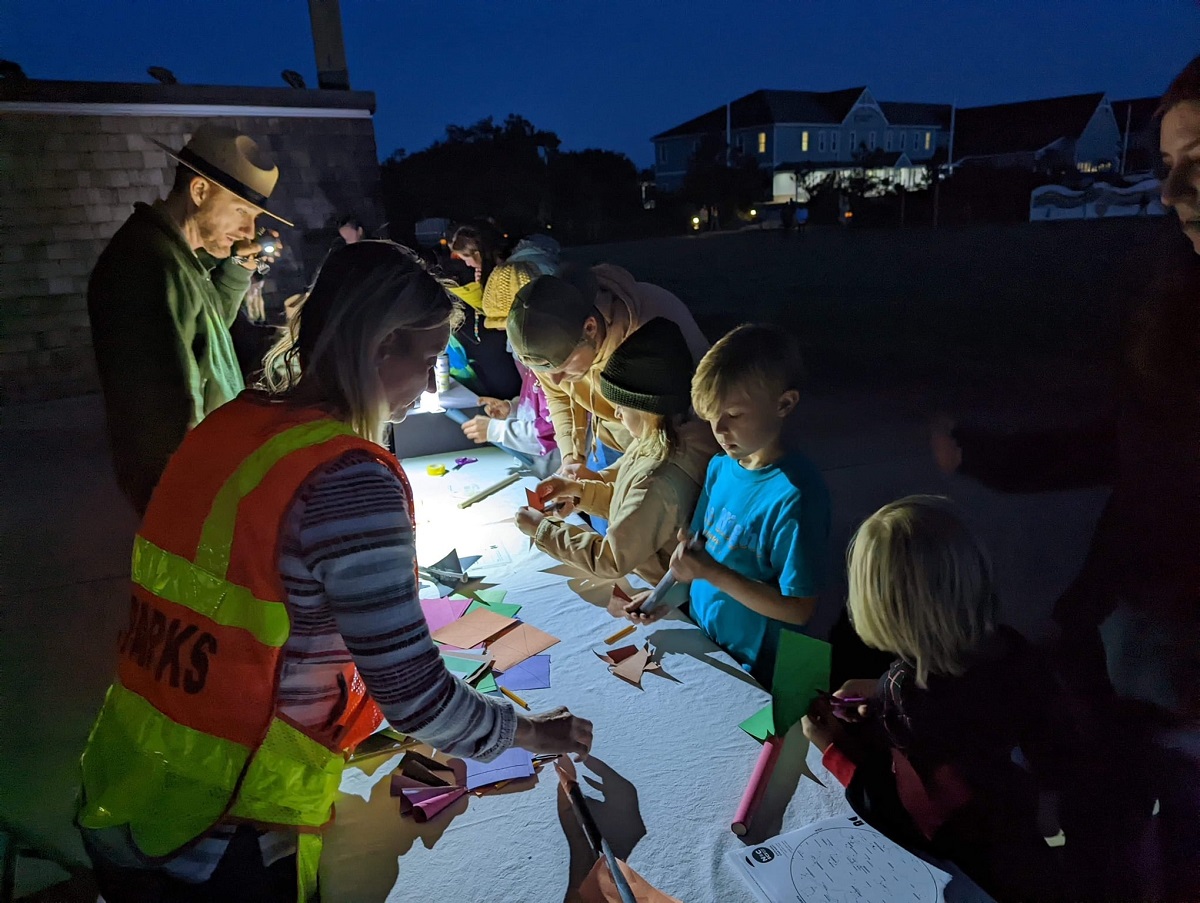 A statewide celebration of science is taking place this month, coinciding with Earth Day April 22.
Through the North Carolina Science Festival, or NCSciFest, more than 300 in-person and virtual events have taken place or are scheduled to, including several on the coast. There are handful of Earth Day events taking place as well.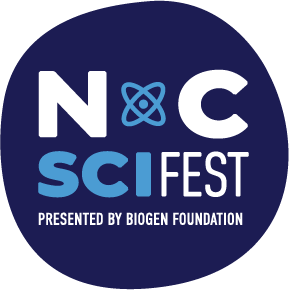 The festival, in its 12th year, is an initiative of Morehead Planetarium and Science Center based in Chapel Hill and highlights the educational, cultural and financial impact of science with hands-on activities, science talks, lab tours, nature experiences, expos, exhibits and performances.
This year's theme, Engineering Tomorrow, focuses how engineering is helping communities respond to the pressures of climate change.
"Every April, the North Carolina Science Festival inspires people to engage with the science that's a part of their everyday lives. What better way to do that than to focus on the incredible scenic beauty that's in our mountains, along our shorelines, and everywhere in between?," NCSciFest Director Jonathan Frederick said Tuesday in an interview.
"From Earth Day celebrations to nature walks and guided hikes, our friends working to protect the health of our ecosystems get in on the act in a big way and provide one-of-a-kind events that make a lasting impression on the families who attend," he added. "Our work is to celebrate our partners at our local state parks, museums, and communities and spread their important missions to all of North Carolina."
NCSciFest's Statewide Star Party
Frederick said it was a great time at the coastal Statewide Star Parties last weekend. The 10th annual party is the effort of 35 organizations to offer public skywatching events made possible through North Carolina Space Grant.
Related: Coastal events set as part of 10th Statewide Star Party
Parties were hosted by the North Carolina Aquarium on Roanoke Island with Jockey's Ridge State Park on the Outer Banks, Hammocks Beach State Park in Swansboro, Fort Macon State Park in Atlantic Beach and College of the Albemarle in Elizabeth City.
A star party is scheduled for later this month in the Wilmington area. Cape Fear Museum, Carolina Beach State Park, Cape Fear Astronomical Society and community partners are joining together for the Statewide Star Party: Carolina Beach State Park at 7 p.m. April 22. The free event includes laser-guided constellation tours, the Stellar Story Corner, telescope and binocular viewings, stargazing tips from experts, and activities related to this year's theme, "Understanding the Universe."
More events to come
Though the festival is well underway, there are numerous coastal events still to come this month, including weekly events at the Museum of Coastal Carolina, Cape Fear Museum and Hammocks State Park and one-time events like the North Carolina Coastal Land Trust's Pollinator Palooza! and Conservation Imagination at the Children's Museum of Wilmington, both on April 16, and the Coastal Climate Science and Engineering Expo in Wilmington April 30, organizers said.
The Coastal Climate Science and Engineering Expo, set for 1 to 4 p.m. is one of the final events of this year's festival and will take place at the USS Battleship North Carolina on the Cape Fear River in Wilmington.
The University of North Carolina Wilmington's MarineQuest, which has participated in the festival since it began in 2010, and Battleship North Carolina are co-hosting the event at Battleship Park, a site that illustrates the challenges of climate change due to the regular flooding there.
MarineQuest is the official marine science outreach program for UNCW, the Watson College of Education and the Center for Marine Science to provide youth with opportunities to explore, discover and value marine habitats.
The southeastern region of the state has experienced the severe impacts of climate change over the past few years, from inland flooding and tornadoes to coastal hurricanes and sea level rise. Many of the rural and underserved communities have been particularly hard hit. The expo is an opportunity to learn more about the region, the science of climate change, ways scientists and engineers are mitigating its impact, and what communities can do to build resiliency, officials said.

The festival's theme, "Engineering Tomorrow," "really resonated with us, so we came up with a concept and reached out to our campus and community colleagues to start planning," said Sue Kezios, director of youth programs at UNCW, in a statement.
Terry DeMeo, director of development for Battleship North Carolina, which is in the process of launching the "Living With Water – A Coastal Community Resilience Project," welcomed the chance to partner to host the expo, according to the university.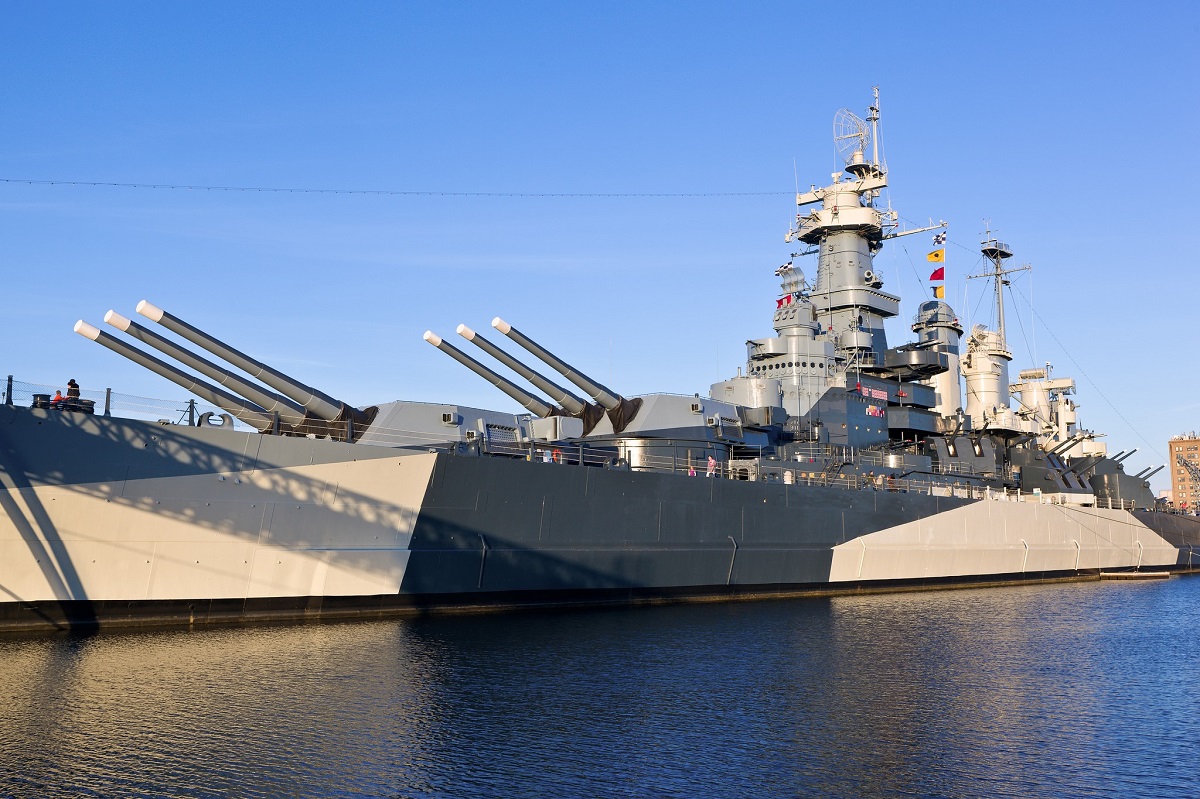 "The battleship is a highly recognizable symbol of Wilmington and in recent years has been experiencing extreme flooding events due to sea level rise. This made it a perfect location to hold an event focused on climate change and related issues," Kezios said.
Community partners including the Army Corps of Engineers, UNCW's Coastal Engineering program, the North Carolina Coastal Federation, MarineQuest, Trees-4-Trash, and others will host interactive, family-friendly stations on climate change and solutions to build resiliency. Visit the expo website for a list of exhibitors, to host a station or volunteer.
The expo is free to attend and includes access to the walkway around the battleship but tickets must be purchased to tour the interior of the ship. Children ages 11 and under can tour free with a ticketed adult. Wilmington Water Tours will also be on site offering short waterfront tours for a small fee.
Pollinator Palooza! April 10-16 is a weeklong virtual event about the important role pollinators play in nature and some of the threats that pollinators face. North Carolina Coastal Land Trust in Wilmington is hosting a socially distanced live demonstration at the end of the week, 11 a.m. to 1:10 p.m. April 16, for individuals and families who register to pick up the free, do-it-yourself pollinator kit beforehand.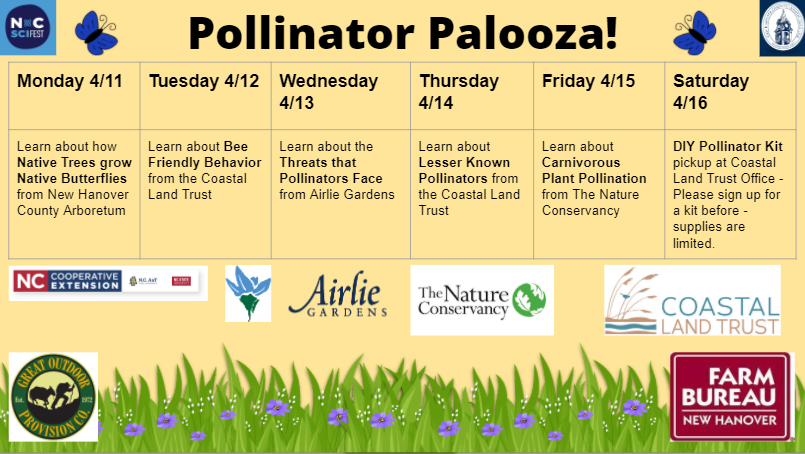 Environmental educators and partners have created new videos about pollinators to be posted on the Coastal Land Trust website at 4 p.m. each day during Pollinator Palooza week.
Conservation Imagination begins at 9 a.m. April 16 at the Children's Museum of Wilmington. The morning includes activities and experiments focused on conservation and engineering with a chance to engineer wildlife corridors and hurricane-safe homes, clean up the ocean and other activities.
Earth Day during NCSciFest
Several Earth Day activities are planned as part of the science festival, including the 10 a.m. to 3 p.m. April 23 Earth Day celebration at Sturgeon City Environmental Education Center in Jacksonville.
Molly Fifield, Sturgeon City program and event assistant coordinator, explained that Sturgeon City is an environmental education center that provides numerous opportunities for hands-on science programs for the community.
"NCSciFest sponsoring our event helps us reach more members of our community and helps us achieve our mission. Both organizations share the same goal of spreading science education through hands on science events," she said.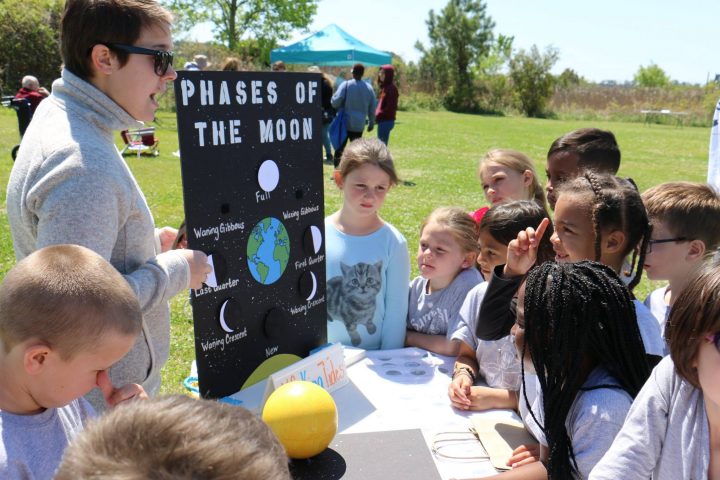 The free Earth Day event will feature multiple food trucks and around 40 local business and organization vendors to provide a fun and enriching day of community connection. Sturgeon City will also be running numerous educational science tables with activities and science experiments for attendees to visit and explore.
"We hope to encourage a celebration of environmental stewardship and continue fostering a love of science among current and future generations in our community. We are very excited for our community to come together and celebrate Earth Day with us," she said.
Rangers at Hammocks Beach State Park in Swansboro are joining in the Earth Day festivities with an Earth Day Tree Hike 9 a.m. April 22. Rangers will lead an educational hike through the woods to explore some of the sights and sounds along the park's new walking trail.
"People will get a chance to explore our trails and learn about the different plants and animals that be found here at the park," Hammocks Beach State Park Ranger Renee Evans told Coastal Review. The trail is about 2.5 miles.
Hammocks Beach will also host an Earth Day Matinee 2 p.m. April 23 at the Visitor Center. Popcorn will be provided. Attendees should bring their own snacks, pillows, and blankets. Sign up for a spot beforehand by contacting the park office at 910-326-4881.
Evans explained that every year North Carolina State Parks have select statewide celebrations that each park participates in, from self-guided activities to individual ranger-led programs. The North Carolina Science Festival is one of the optional events in which a park can celebrate.
Hammocks Beach State Park has participated in the Science Festival every year since 2015 except 2020. 
This year, Evans said, the park will have a total of 11 ranger-led science programs all month long. Programs are free of charge, science-based, and related to the park or coastal North Carolina. These hands-on programs are designed for all ages.
Earth Day events near the coast
In nearby Kinston, the Earth & Science Day at Neuseway Nature Park will be from 12:15-4:15 p.m. April 16. The community event with various vendors and activities include hands-on science experiments and crafts. The Neuseway Science Fair Competition open to any student in Eastern North Carolina fourth grade and up is also included in the event.
At East Carolina University in Greenville, various researchers and area organizations will have displays and activities on biodiversity during the ECU Earth Day Expo 3 to 5 p.m. April 19. There will be live animals and plants, lab activities, natural history story times and other activities. The Biodiversity Initiative and Department of Biology at ECU will host the expo at the new Life Sciences and Biotechnology Building, at Evans and 10th streets. More details are at https://biology.ecu.edu/biodiversity/.
Family Earth Science Night at River Park North is from 6 to 8 p.m. April 21 at River Park North, 1000 Mumford Road, Greenville. Celebrate Earth Week with an evening of hands-on, family-friendly science experiments and demonstrations with the theme of air, water, fire and earth.
NCSciFest events through April
Cummins Rocky Mount Engine Plant: New Engineered Wastewater Reclamation System Tour 5:30-6:30 p.m. April 13. Virtual tour of Cummins Rocky Mount Engineer Plant's new water reclamation system. Engineers and employees of the Cummins Rocky Mount Engine Plant will host the virtual event. Register at https://forms.gle/xP1NAgJpXdUqgSFUA.
Teen Science Chat 6 p.m. April 13 with Cape Fear Museum in Wilmington. Explore the science of liquid nitrogen and dry ice during the free event.
Science in 3D: Hurricane Maria at The Museum of Coastal Carolina on Ocean Isle Beach 11 a.m. April 14, April 19, April 21, April 26, and April 28. The virtual reality mobile classroom will dive into the eye of Hurricane Maria, track wind speed and rainfall, and learn what to do when there is a hurricane.
Sea Tales: Behind the Scenes 6 p.m. April 14 at The Museum of Coastal Carolina on Ocean Isle Beach. Visitors will be able to enjoy a tour of the facility's aquariums, operations, and touch tank animals.
Virtual SciFest Storytime: Women in Engineering with the Asheville Museum of Science will feature on Facebook Live a storytime about one of the many woman pioneers of engineering at 11 a.m. April 13, April 20 and April 27.
Connecting Art & the Environment: NCMA & EPA Educator Webinar 4 p.m. April 19 with the U.S. Environmental Protection Agency's Community Engagement & STEM Education Program and the NC Museum of Art. The free educator webinar showcases selected works in the museum's upcoming exhibition, Fault Lines: Art and the Environment, which investigates how artists tackle environmental issues in their work, and explore how EPA scientists are addressing those issues in their research. Register to attend.
Crabby Crustacean Catch 11 a.m. April 16 at Hammocks Beach State Park in Swansboro. Hear about different species of crabs found on the state park's beaches and in the surrounding waters and investigate their habitats, what they eat, and any threats.
Family Day at the Museum of Coastal Carolina on Ocean Isle Beach from 10 a.m. to 2 p.m. April 16 includes crafts and games inside and outside of the museum, weather permitting, as well as food vendors and community representatives. Admission is free for Brunswick County residents with an ID and $3 a person for nonresidents.
Mission Mars: An Interactive Mars Adventure Game is at 3 p.m. April 17 and April 24 at Ingram Planetarium in Sunset Beach. Included in the program is a virtual reality expedition to the surface of Mars. Best for groups of four to eight people, with participants being at least 8 years of age. Admission is $9.50 for adults, seniors $8.50 and for ages 3 to 12, $7.50.
Personal Storytelling in Science: Shaping the World We Hope to See is at noon April 20. The Story Collider virtual talk with Dr. Edith Gonzalez will discuss her research into personal stories as tools of identity formation among scientists and specifically provides historically marginalized scientists to see their own expertise as a way of inoculating against imposter phenomenon. The Story Collider helps people of all walks of life tell their true, personal stories about science. To attend, register here.
Local Composting Facility Virtual Tour noon April 21. The webinar will include a full virtual tour of the composting facility and information about the various process that takes place to make soil-enriching compost at the Brooks Composting Facility in Goldston. Register online.
HeatHack: Data Science Collabathon 8:30 a.m. to 8:30 p.m. April 23. The Data-Driven EnviroLab and the Museum of Life and Science are hosting the HeatHack 2022 Data Science Collabathon. The hybrid in-person/remote one-day hackathon will bring together coders, programmers, data visualization experts, and environmental enthusiasts to help develop engaging data visuals, and create action plans to address the growing and intensifying challenge of climate change and urban heat in the Triangle.
Butterfly BINGO begins at 2 p.m. April 24 at Hammocks Beach State Park in Swansboro. Hear about some of butterflies in the park's gardens and learn about some of the ways you to attract butterflies to a backyard garden.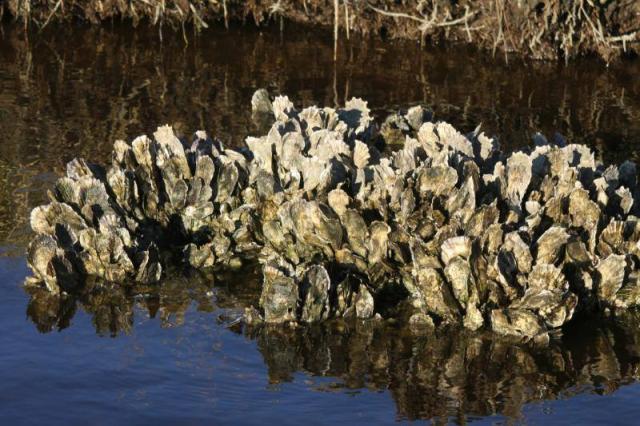 Restoring the Oyster 3:30 p.m. April 25, Hammocks Beach State Park in Swansboro. Meet at the kayak dock behind the visitor center for a close look at oysters and how they benefit people and the environment.
Sea Tales: Sea Turtles 6 p.m. April 28 at The Museum of Coastal Carolina in Ocean Isle Beach will teach visitors about the life cycle and species of sea turtles, how volunteers track sea turtle nests, and how to protect sea turtles.
Migration Madness 2 p.m. April 30 at Hammocks Beach State Park in Swansboro. Join a park ranger for a short hike and look at migrating birds.
Introduction to iNaturalist and the City Nature Challenge with Cape Fear Museum in Wilmington. Learn about the City Nature Challenge, a worldwide annual BioBlitz-style event where people record their observations of nature. Discover how to use iNaturalist to identify, document and discover living things around you. Organizers recommend creating a free iNaturalist account in advance of the program by downloading the app or visiting www.inaturalist.org. The free program is intended for ages 14 and up, but all are welcome.