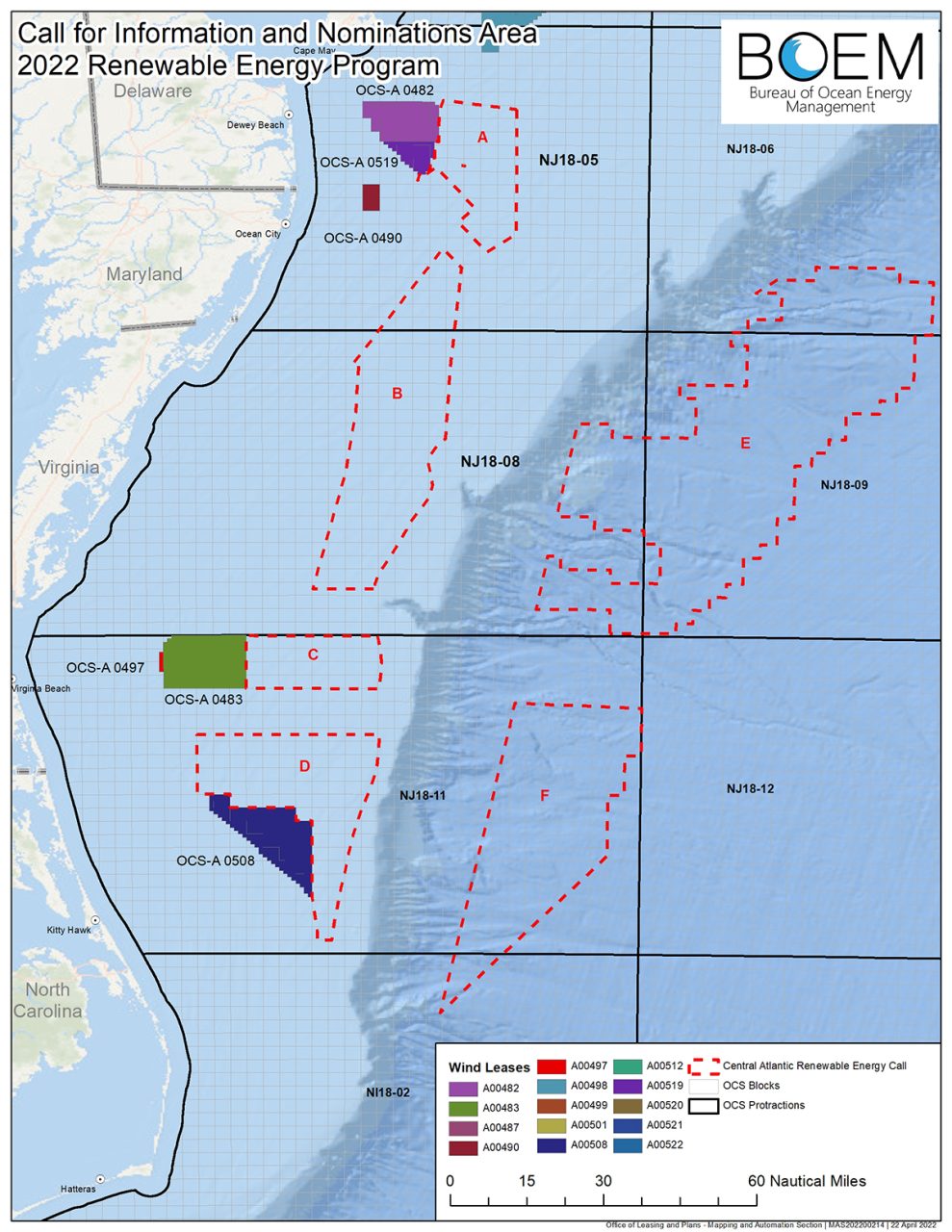 The Bureau of Ocean Energy Management is looking to expand wind energy leasing areas in United States waters, including off the North Carolina Coast.
The Department of the Interior announced Wednesday that it will publish Friday in the Federal Register two separate calls for information and nominations for possible leasing off the coast of Oregon and the Central Atlantic, which is offshore of Delaware, Maryland, Virginia and North Carolina.
"The Biden-Harris administration is committed to supporting a robust clean energy economy, and the upcoming steps taken toward possible leasing off the coast of Oregon and Central Atlantic provides another opportunity to strengthen the clean energy industry while creating good-paying union jobs," said Secretary Deb Haaland in a statement. "We will continue using every tool in our toolbox to tackle the climate crisis, reduce our emissions to reach President Biden's bold goals, and advance environmental justice."
BOEM is seeking information on six areas in the Central Atlantic comprising almost 3.9 million acres. Two of the proposed sites are off North Carolina. The 60-day public comment period ends 11:59 p.m. June 28. Additional information can be found at BOEM's Central Atlantic webpage.
Publication of the Oregon call for information Friday will initiate the 60-day public comment period ending at 11:59 p.m. June 28. For more information visit BOEM's Oregon webpage.
There are two ongoing activities offshore the state's coast: Carolina Long Bay offshore North Carolina and South Carolina and Kitty Hawk Offshore Wind near the Virginia and North Carolina state line.
BOEM Director Amanda Lefton announced the plans during the International Offshore Wind Partnering Forum, according to the department. The calls for information and nominations for Oregon and the Central Atlantic provide an important avenue to solicit information as we identify potential areas that may be suitable for future offshore wind energy leasing, Lefton said in a statement.
"Today's announcement reflects years of working with ocean users, Tribal governments, and local, state, and federal agencies as we drive toward achieving the ambitious goals of the Biden-Harris administration to fight climate change and create good paying jobs," Lefton said.
BOEM will consider public comments and commercial nominations and then conduct environmental reviews of the wind energy areas with stakeholders. After completing its environmental reviews and consultations, BOEM may propose one or more competitive lease sales for areas within the WEAs. There will be multiple opportunities for public input throughout this process.
National Ocean Industries Association President Erik Milito issued the following statement:
"Interior pursuing the first wind lease sale offshore Oregon and an additional lease sale in the Central Atlantic is welcome news," he said. "The Calls for Information and Nominations for the Central Atlantic, which potentially includes areas offshore North Carolina, underscores the need for an immediate legislative fix that rescinds the upcoming prohibition on new offshore wind lease sales."
Milito continued that beginning July 1, there will be a 10-year moratorium on offshore wind leasing in the area stretching from North Carolina down through the Eastern Gulf of Mexico.
National Ocean Industries Association "is strongly advocating for legislation revoking the ban. Overturning the moratorium has been non-controversial. Language is already included in the America Competes Act and was previously included in the Build Back Better Act text. Congressional leaders should continue their bipartisan work in passing legislation that overturns the moratorium and allows for additional future lease sales," he said.