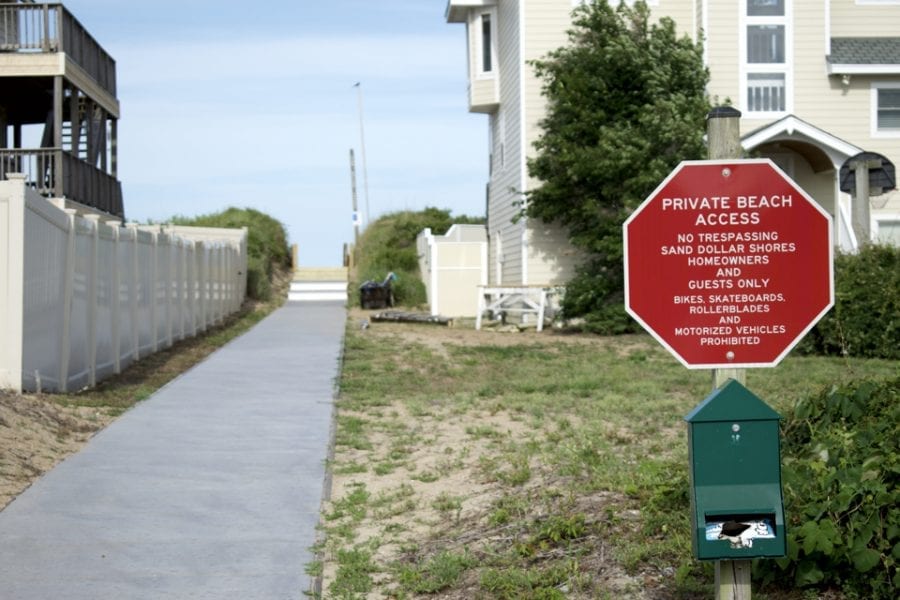 Reprinted from Outer Banks Voice
Bob Hovey, the Duck business owner who has waged a three-year legal battle for public beach access in the town, acknowledged that this battle has come to an end. But the war, he indicated, is not over.
Related: Confrontation stirs beach access debate
In a Facebook post on the evening of March 15, Hovey wrote that, "We regret to inform everyone that the Supreme Court of North Carolina has decided not to hear our case and the Appellate Courts decision to overturn the Public Beach Access will stand as law at Sea Breeze Drive for now. Unfortunately, this will have a big impact on several disputed beach accesses throughout Dare County and North Carolina."
Hovey, who has for years led a crusade for public beach access in the northern Outer Banks town, filed the lawsuit in 2019, several months after being arrested and charged with second-degree trespassing when attempting to use the access at the end of Sea Breeze Drive. These charges were later dropped.
He argued in the suit that a beach access in the Sand Dollar Shores subdivision is in the public trust, but on April 6, 2020, a North Carolina Court of Appeals reversed an earlier decision from a Camden County Superior Court Judge and ruled that the Sea Breeze beach access in the subdivision is private. Almost immediately, Hovey announced his intention to appeal to the N.C. Supreme Court.
Related: Court determines Duck access isn't public
In the March 15 Facebook post signed by Hovey and his wife Tanya, he said that their "immediate plans" include an intent to petition "the Town of Duck to create additional state-owned roadside parking, handicapped access, and cooperation from elected officials in maintaining accessible opportunity at Plover Drive as the public has enjoyed for nearly 50 years as a publicly deeded access."
He added that there will be an effort to convince officials at the Duck Research Pier "to return the former public parking lot, picnic gazebo, and 4×4 vehicle access to a public access" and to re-open the former Duck Pier Public Beach. And he pledged to "use the attention and publicity this case has gained to seek any and all opportunities to create access to the beautiful beaches in Duck, Dare County, North Carolina, and beyond for the public to enjoy."
"The fight for access in Duck is far from over," he added in the final paragraph of the lengthy post.
This story is provided courtesy of the Outer Banks Voice, a digital newspaper covering the Outer Banks. Coastal Review is partnering with the Voice to provide readers with more environmental and lifestyle stories of interest about our coast.