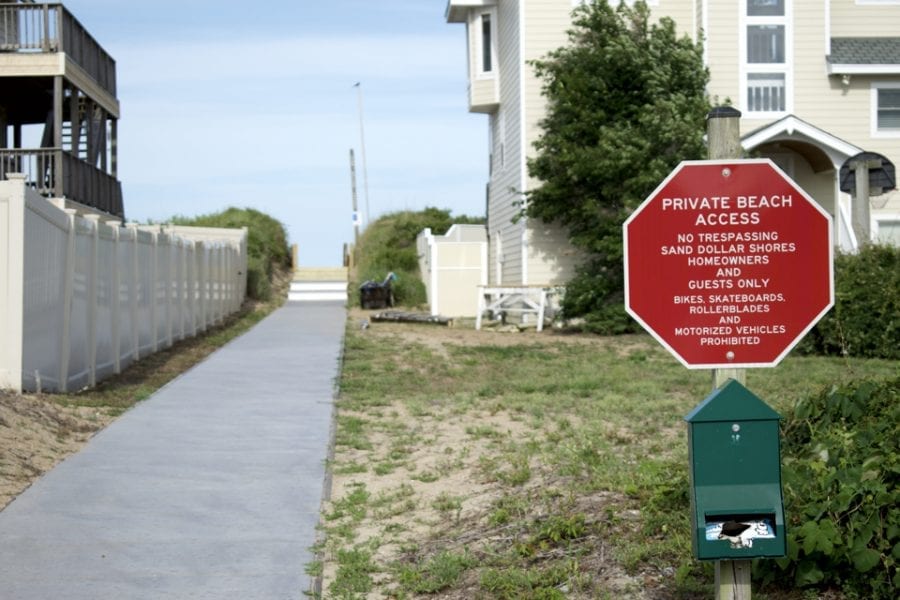 Reprinted from OBX Today
A walkway to the Atlantic Ocean in Duck isn't open to the public after all, according to a ruling issued this week by the North Carolina Court of Appeals.
Bob Hovey, a Duck business owner and surfer, filed suit in 2019 arguing the access at Sea Breeze Drive is a dedicated public easement, as Hovey has argued for years.
In May 2019, Hovey was arrested for trespassing at the access following a confrontation with property owners. Hovey recorded the interactions and posted them on Facebook, creating a huge social media backlash.
The towns of Duck and Southern Shores have said they have no public beach access points, all are privately owned and maintained. But Hovey has for years rallied against the legality of those private accesses, saying the Sand Dollar Shores access in particular has a dedicated public easement.
Sand Dollar Shores homeowners association, however, contended that the access is private property "legally established within the public record," and appealed the ruling. The higher court agreed.
"The Town has not sought to establish a public beach access and generally maintains that all of the beach access locations within the town limits of Duck are located on private property," the court wrote in its opinion. "This Court must uphold these private property rights under the law. Though we hold their suit must be dismissed, Plaintiffs are not barred from the beach. They may, as suggested by counsel, negotiate for access with Defendant or, failing that, drive to nearby municipalities or any unincorporated areas in the county to the north and south that maintain public beach accesses."
OBX Today is the community website of JAM Media Solutions' Outer Banks radio stations: Beach 104, 94.5 WCMS, 99.1 The Sound and Classic Rock 92.3. The website is managed by local newsman Sam Walker and journalist Kari Pugh. Coastal Review Online is partnering with OBX Today to provide our readers with more environmental and lifestyle stories of interest about our coast.