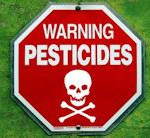 North Carolina Cooperative Extension centers in three coastal counties are set to host events in April where residents may dispose of pesticides or hazardous household waste.
Collection events are scheduled in Currituck, Carteret and Pamlico counties.
Household hazardous waste such as pool chemicals, fertilizers, pesticides or household batteries are to be collected for safe disposal from 10 a.m. until 2 p.m. April 2 at the Currituck Judicial Center at 2801 Caratoke Highway in Currituck.
The collection is part of a day of activities and resources to maintain a healthy environment offered by the Currituck Cooperative Extension Center and the Currituck County Public Works Department. County residents may also take advantage of free document shredding 10 a.m.-1 p.m.
The rain-or-shine event is to include food trucks and interactive booths where attendees can learn about and participate in environmentally friendly activities. Booths are to include rain barrels, kitchen scrap gardening, native plants, seed bombs and vermicomposting. The public works department is to hold a free raffle for a chance to win a backyard composter.
Corolla residents can take their household hazardous waste to the Southern OBX water plant 10 a.m.-12 p.m. and receive informational packets on a variety of environmental topics provided by Cooperative Extension. For more information on what types of household hazardous waste are accepted and more, view the video from Currituck Agriculture Agent, Adam Formella at https://go.ncsu.edu/householdhazardous.
For more information contact Cooperative Extension at 252-232-2261 or the Public Works Department at 252-232-2504. For accommodations for persons with disabilities contact Cameron Lowe at cameron_lowe@ncsu.edu, or call the Currituck Extension Center at 252-232-2261 no later than 10 business days before the event.
The North Carolina Department of Agriculture and Consumer Services and Cooperative Extension offices in Carteret and Pamlico counties are hosting pesticide collection events April 5 for residents in their surrounding areas.
The extension offices said nearly all pesticide products will be accepted. For liquid pesticide containers larger than 5 gallons or for unlabeled pesticides, residents should contact the Cooperative Extension Office for information before bringing to the collection event. No gas cylinders are accepted but assistance information can be provided.
Collections in both Carteret and Pamlico counties are set for 10 a.m.-2 p.m.
In Carteret County, the collection point is to be at the North Carolina State University Center for Marine Sciences and Technology, or CMAST, parking lot, 303 College Circle in Morehead City.
In Pamlico County, the collection point is to be at the Pamlico County Heritage Center, 10642 N.C. 55, Grantsboro.
For more information contact Shawn Banks at the Carteret County Extension Center, 252-222-6352, or Daniel Simpson at the Pamlico County Extension Center, 252-745-4121.