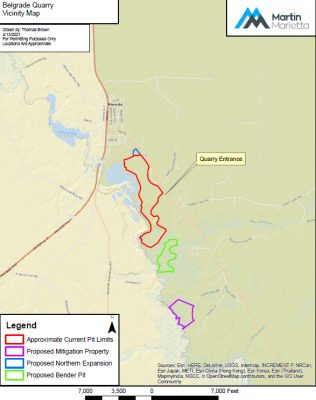 The Army Corps of Engineers on Thursday issued a public notice on a proposed expansion of Belgrade Quarry in Jones County, work that would include moving a previously modified stream, adding two new road crossings, expanding an existing road crossing and mining within wetlands.
Located in Maysville, the 1,605-acre Belgrade Quarry is within the White Oak River Basin. The quarry first opened in 1938 under the name of Superior Stone, a predecessor to Martin Marietta.
The quarry operation has been active as currently configured since 1988 after a bridge was built over the White Oak River. The area of the proposed mine expansion is an around 8-acre site north of the existing mine pit and an approximately 92-acre area south of the existing mine pit.
The proposed North Pit site is cleared and was previously agricultural land.
The proposed Bender Pit is south of the existing pit on the east side of the White Oak River and is separated from the current pit and plant area by wetlands that encircle the proposed pit. The Bender Pit area is currently farm fields and mixed pine forestland with some hardwoods.
Martin Marietta proposes to mitigate for impacts to 8.96 acres of wetland at a 11.6:1 ratio by preserving about 94 acres of wetland and 10 acres of nonwetland floodplain within the 104-acre property the company owns adjacent to the Croatan National Forest. That site is riverine swamp forest wetland and is in the floodplain of the White Oak River, just downstream of the proposed Bender Pit.
The Corps is accepting written comments pertinent to the proposed work until 5 p.m, March 26. Comments should be submitted to Emily Thompson, Washington Regulatory Field Office, 2407 W. Fifth St., Washington, NC 27889, or via email to emily.b.thompson@usace.army.mil.