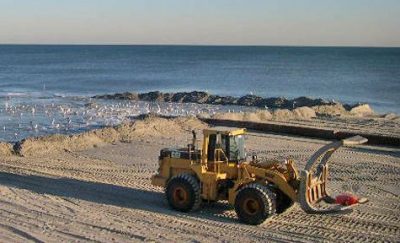 The Carteret County Beach Commission is expected to elect a new chairman and vice chairman when it meets Monday in Emerald Isle.
The meeting is set for 2 p.m. in the town board room at 7500 Emerald Drive. The meeting agenda was posted Wednesday on the county government website.
Last month, previous Chair Jim Normile of Emerald Isle, a former town commissioner who was also the town's nominee for reappointment, was passed over by Carteret County commissioners in favor of Emerald Isle businessman Ronnie Watson, whose application for the position arrived via email after the commissioners' January meeting agenda packet had been released to the public, the Carteret County News-Times reported.
Normille had served on the Beach Commission since 2016 and as chair since February 2021.
County commissioners appointed Watson, Mike Fiorini of Salter Path and Atlantic Beach Councilman Austin Waters to three-year terms on the 11-member Beach Commission, which is responsible for beach nourishment and maintenance using a portion of proceeds from county occupancy tax collections as well as federal, state and other local funding.
The board is composed of two individuals who reside in Atlantic Beach, two from Pine Knoll Shores, two from Emerald Isle, one who resides in Indian Beach, one who resides on Bogue Banks, one who resides anywhere in Carteret County, one county commissioner and a member of the Carteret County Tourism Development Authority, which receives the remaining share of occupancy revenues to use for tourism promotion.