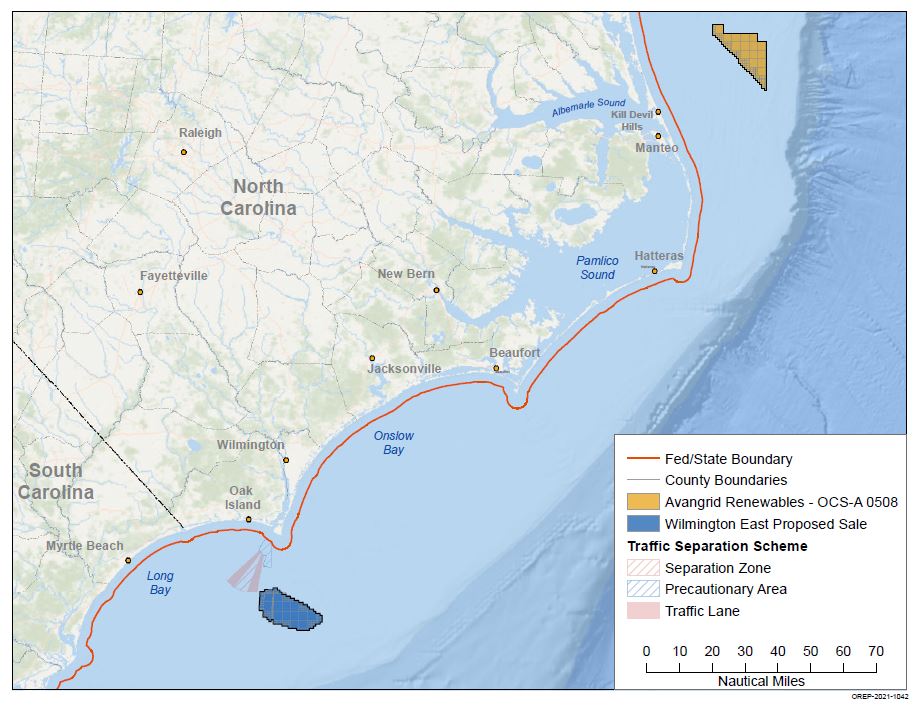 SOUTHPORT — Offshore Wind for North Carolina is providing an opportunity next week for stakeholder groups to view projected images of the Wilmington East offshore wind plan and discuss the visual impacts.
Bureau of Ocean Energy Management is proposing a lease sale for the Wilmington East Wind Energy Area, or WEA, in the Carolina Long Bay Area offshore of North Carolina. The area proposed for the lease sale is about 127,865 acres and includes most of the Wilmington East WEA, which has the potential to unlock over 1.5 GW of offshore wind energy and power more than 500,000 homes, according to BOEM. The area is about 15 nautical miles from Bald Head Island and extends southeast 18 nautical miles.
The visualizations, which were commissioned by the Southeastern Wind Coalition, will be on display from 9 a.m. to 1 p.m. Friday, Jan. 28, in the great hall of the Southport Community Building, 223 E Bay St., Southport. Members of the coalition will be on hand to answer questions and receive feedback during the open house.
Organizers ask that those interested in attending to register online by Jan. 26. The Southport Community Building requires masks for all guests. Do not attend this event if you have been exposed to or are displaying symptoms of COVID-19.
Offshore Wind for North Carolina is a coalition of organizations working to position the state as a "national leader for responsible offshore wind by advocating for policies and regulations necessary to achieve a just and equitable adoption of North Carolina's offshore wind energy targets of 2.8GW by 2030 and 8.0GW by 2040," per the organization.
The Southeastern Wind Coalition is a nonprofit organization that works to advance the land-based and offshore wind industry in the Southeast, according to the website.