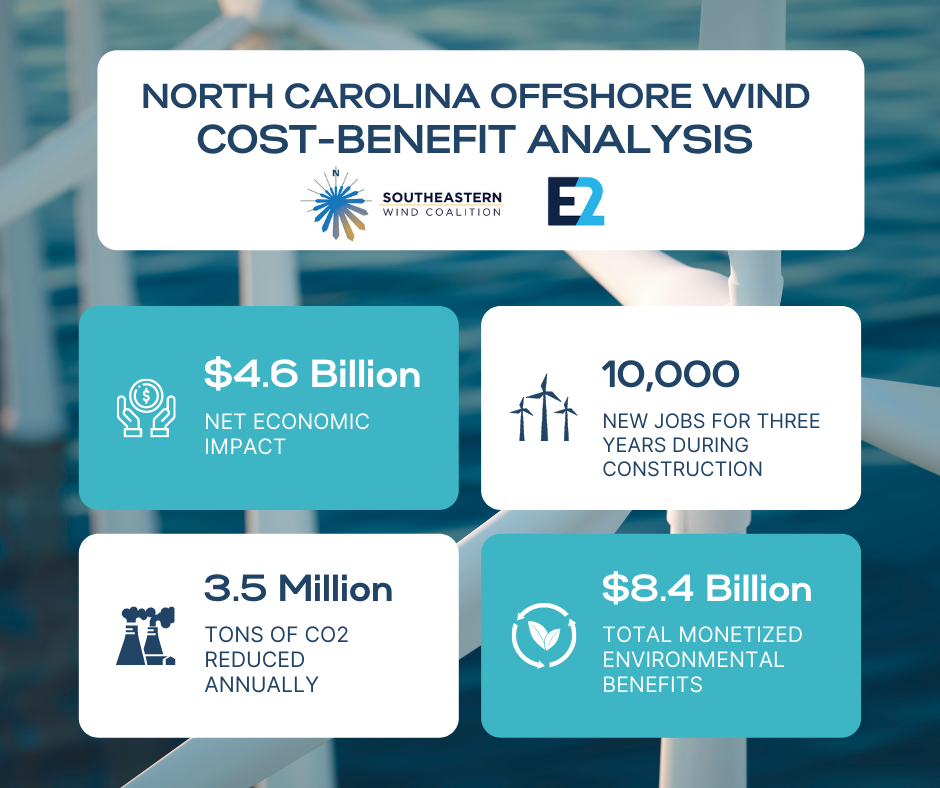 A new report states that if North Carolina achieves the goal set in June 2021 by Gov. Roy Cooper to develop a 2.8-gigawatt offshore wind energy project by 2030, the state economy could benefit up to $4.6 billion.
The 42-page report, North Carolina Offshore Wind Cost-Benefit Analysis, was released Wednesday by the Southeastern Wind Coalition and Environmental Entrepreneurs and was "conducted to support the consideration of offshore wind's ability to cost-effectively contribute to reaching North Carolina's carbon-reduction goals," according to the analysis.
The Southeastern Wind Coalition is a nonprofit working to advance the wind industry in the Southeast. Environmental Entrepreneurs, or E2, is a national, nonpartisan group advocating for smart policies good for the economy and the environment, according to the release.
"This analysis determines both the costs and benefits of a theoretical 2.8-gigawatt (GW) offshore wind project developed off the coast of North Carolina in operation by 2030 using industry-standard practices, data, and modeling tools. The costs and benefits are measured against one another to determine the net economic impact," the report states.
The study was informed by peer-reviewed literature, reports and public data addressing different elements of offshore wind development, according to the coalition. These findings were combined with a Jobs and Economic Development Impact, or JEDI, modeling tool to create a comprehensive analysis of the net economic benefits of offshore wind for the state.
"Offshore wind is a necessary component to achieving carbon neutrality and provides a once-in-a-generation economic opportunity for the U.S," said Zach Amittay, E2's southeast advocate, in a statement. "The industry's manufacturing supply chain is still in its infancy, and North Carolina has the opportunity to capture part of the estimated $109B economic opportunity and the jobs that will come with it."
The analysis determined that there is the potential for up to 31,000 full-time equivalent positions during the construction phase, and more than 900 ongoing jobs during the single project's operational lifetime.
The analysis also looked at how the federal clean energy investment tax credit extension and reduced carbon emissions benefits could be an additional $2.1 billion and $8.4 billion, respectively.
Southeastern Wind Coalition President Katharine Kollins explained that the analysis provides critical insight into how and why offshore wind makes sense for the state.
"Cost is of utmost importance when utilities consider their generating mix, but without information on the jobs and manufacturing investments to be located in a state, we don't have an understanding of the full picture," Kollins continued, adding that $4.6 billion in economic output "shows us that we can have in-state clean energy generation at scale, in a way that is a huge boost for our economy as well."
Southeastern Wind Coalition Program Manager Jaime Simmons said "the economic opportunity is massive, but North Carolina needs to solidify its commitment to offshore wind in order to capture the greatest benefit possible."
Southeastern Wind Coalition provided statements about the new study from business and organization representatives.
Jennifer Mundt, assistant secretary for clean energy economic development at the state Department of Commerce, said the new report confirms earlier findings that the state is positioned to create jobs and attract major investments from the offshore wind energy industry.
David Hardy, CEO of Ørsted Offshore North America, said the company has seen how this new industry is creating good-paying jobs across communities. "With a skilled workforce and valuable port infrastructure, North Carolina is well-positioned to attract suppliers and partners. Tech centers, industrial hubs, coastal communities and inland towns across all of North Carolina will benefit from this new industry that will usher in a new era of U.S. manufacturing, while delivering clean energy."
Senior manager for international business development with the Economic Development Partnership of North Carolina, Colin Kiser, said the new economic impact study plainly states what industry insiders have known for years: "offshore wind is here, and those who react and prepare will reap transformational benefits for their communities, both now and in future generations," he said, adding "North Carolina has the perfect ecosystem and natural assets to capitalize on this once-in-a-lifetime opportunity."
Conservatives for Clean Energy executive director Laurie Barnhardt said that the state is fortunate to have strong bipartisan support for offshore wind.
"At Conservatives for Clean Energy, we support the tremendous economic development opportunities and the new manufacturing jobs in the supply chain created by the offshore wind industry both along the coast and throughout the state."