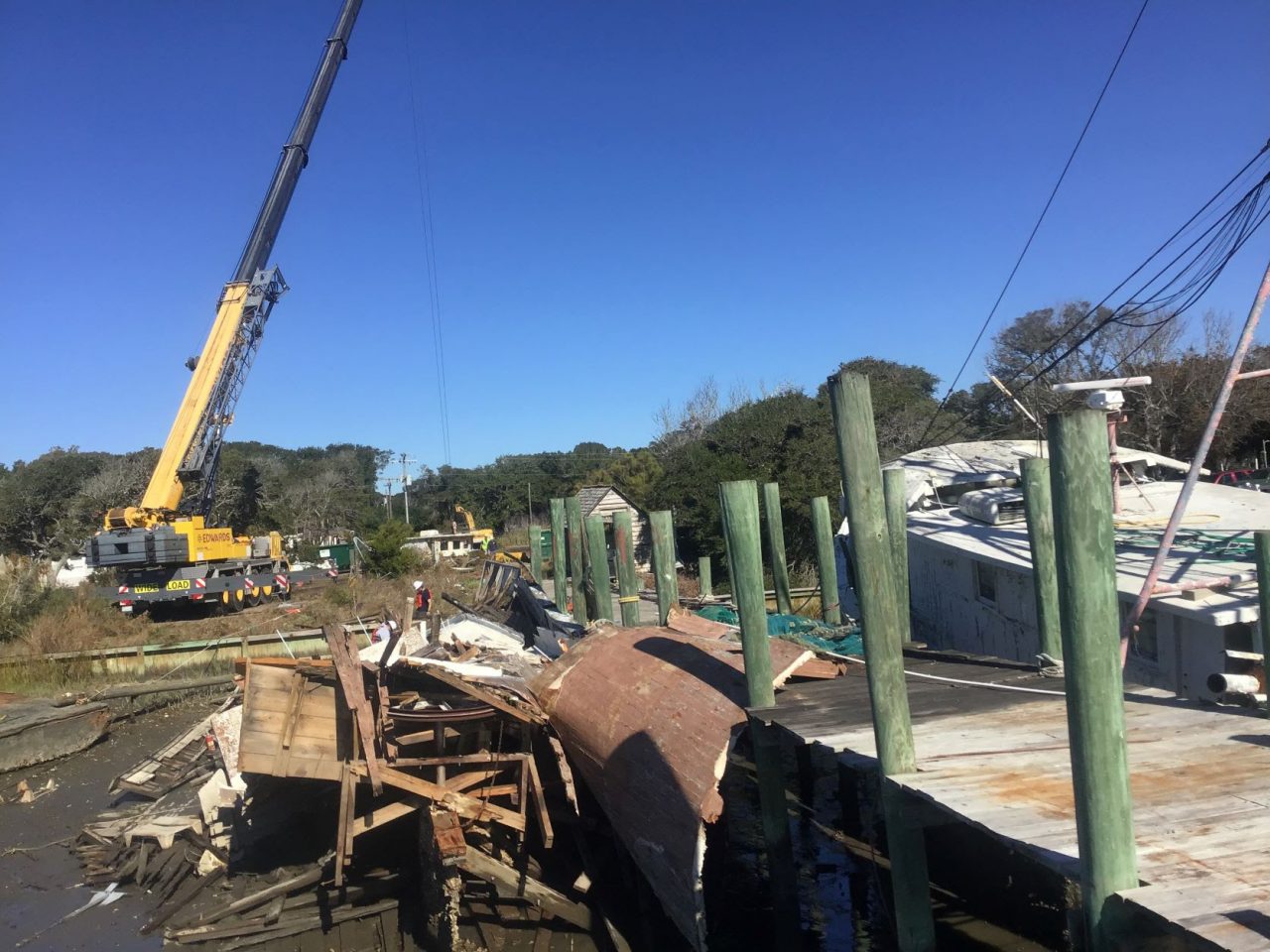 Two abandoned commercial shrimping trawlers submerged in the Intracoastal Waterway in Holden Beach are in the process of being removed this week, an effort to clean up harmful marine debris.
Brunswick County and North Carolina Coastal Federation, which publishes Coastal Review, teamed up to remove the two abandoned and derelict vessels, the 65-foot-long Miss Evans and the Capt. Jeff. Both trawlers are beyond repair or salvage. The owners have granted permission for the trawlers to be removed and properly disposed of.
The federation is organizing the removal with contractor, Mainstream Commercial Divers with offices in Charleston, South Carolina, and Kentucky. Mainstream's team will coordinate the environmental protection aspect of the removal through the use of debris and oil booms, removal of all hazardous materials from the vessels and onsite monitoring. A land-based crane will remove and dismantle the trawlers.
The debris will be placed into dumpsters and taken to the landfill for disposal.
The Brunswick County Board of Commissioners approved a landfill fee waiver for the disposal of these two derelict vessels during their Nov. 15 regular meeting. The estimated landfill disposal fees of $8,000 to $10,000 can now be used to remove more vessels.
The site of the removal operations and waters surrounding the trawlers are closed to the public during the removal operations. The National Fish and Wildlife Foundation and National Oceanic and Atmospheric Administration Marine Debris Program Emergency Hurricane Funding supported the project through the federation. 
The removals currently underway close out a yearlong effort to remove abandoned and derelict vessels and large-scale hurricane marine debris from Brunswick County, the federation said.
The state first granted Brunswick County the authority to address abandoned vessels in 2013. The county adopted an ordinance in 2017 to manage abandoned and derelict vessels. The Brunswick County Sheriff's Office marine patrol monitors boats that are discovered at anchor to avoid further abandonment.