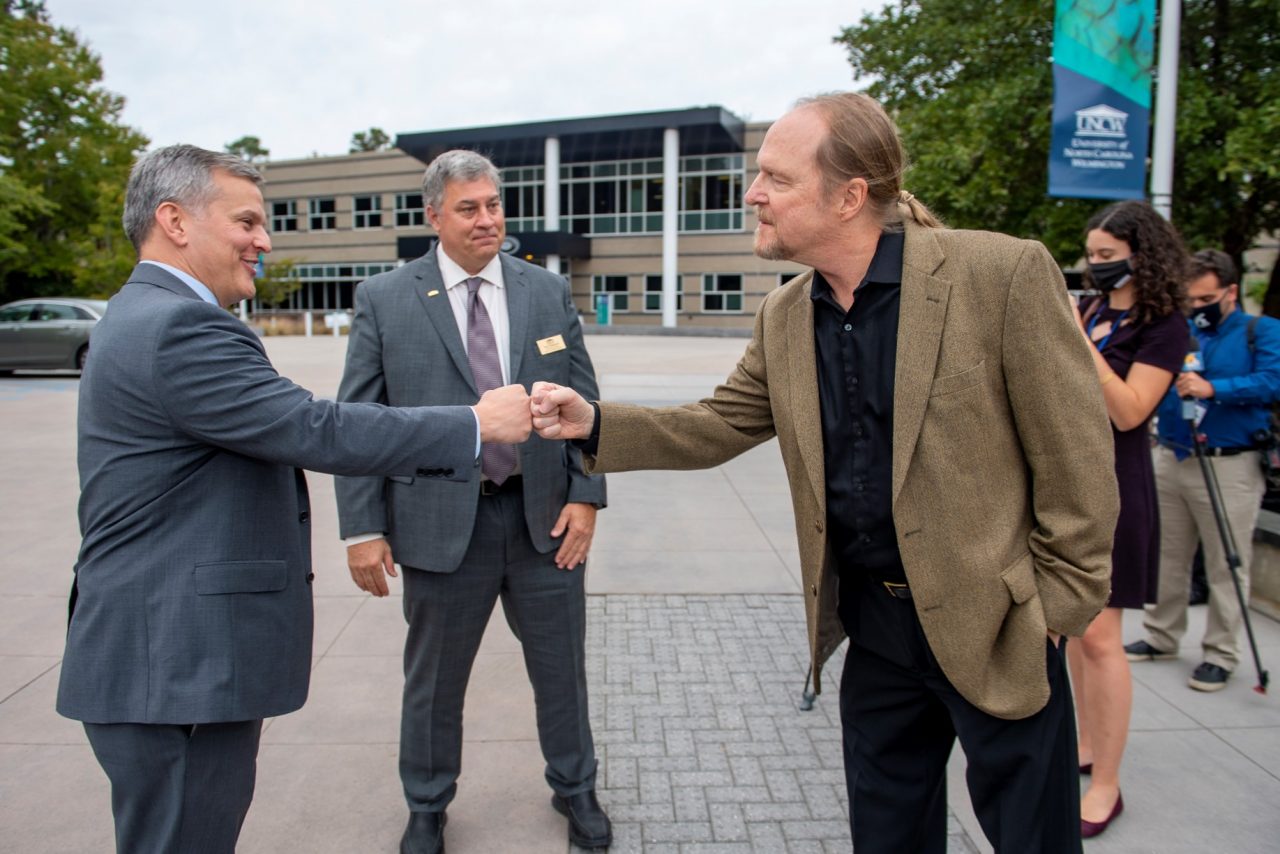 University of North Carolina Wilmington and the Coastal Land Trust are among the more than two dozen recipients of this year's Environmental Enhancement Grants from the North Carolina Department of Justice.
UNCW faculty members Michael Mallin and Lawrence Cahoon were awarded $92,192 to study the water safety of wet detention ponds, Attorney General Josh Stein announced Thursday during a visit to UNCW's Center for Marine Science.
The grants, given annually, are to preserve and enhance the environment. Across the state this year, nearly $3 million in grants will be awarded to 27 recipients. Since the program began in 2002, almost $34 million has been awarded to more than 150 projects, the Department of Justice website states.
"Your work to study these issues along North Carolina's beautiful but at-risk coast is critically important," Stein said during his visit Thursday, according to a news release from the university.
"At this center, researchers and educators are fighting the threats of climate change on two fronts: you're conducting research that will help us address some of the problems, and you're educating and training the next generation of experts who will continue and grow that work," he continued.

Mallin and Cahoon, faculty in the Department of Biology and Marine Biology, are tp sample pond water for algal blooms and toxins, fecal bacteria and other water quality measures, and sample sediments for toxic chemicals, heavy metals, nitrogen and phosphorus.

Mallin said ponds are ubiquitous throughout the urban and suburban landscape, and they receive polluted stormwater runoff from all kinds of land uses.
"Such stormwater treatment systems are everywhere in the urban and suburban landscape and easily accessible to adults, children and pets, and no comprehensive analysis of their potential biological and chemical dangers has been accomplished," he said. "The data should be valuable throughout the North Carolina coast and elsewhere in the state and out of state." 

The researchers' data will be statistically compared with pond physical characteristics and drainage area factors to see what physical and land-use factors most impact pollutant loads, said Mallin. The research will take place in New Hanover County, primarily in the summers of 2022 and 2023. Using the collected data, researchers can then determine which ponds are most unsafe and why.
 
"We will work with and inform our long-term collaborators in the City of Wilmington Stormwater Services and their public outreach program," Mallin added.

Mallin's laboratory is based in UNCW's Center for Marine Science. CMS has been associated with local water quality analyses and issues for the past 25 years. 

"CMS-affiliated faculty and students work around the globe, from the Arctic to the Antarctic, from the deep sea to the Appalachians," said Chancellor Jose V. Sartarelli, in a statement. "The center has garnered more than $25 million in external funding to address local, state, national and global issues across biological, chemical, physical, health and engineering disciplines."  

Water is a critical aspect of our environment that is often overlooked, said Ken Halanych, executive director of UNCW's Center for Marine Science.  

"This research allows us to use and enjoy resources, such as local ponds and waterways, more fully," he said. "The grant represents a key partnership between the state and CMS researchers to assess and maintain safe ecosystems to the betterment of our community." 
Coastal Land Trust to get $50,000
The North Carolina Coastal Land Trust is another recipient of the grant. The Land Trust will receive $50,000 for the Hoggard's Millpond Conservation Project, which will help the trust acquire 348 acres of Hoggard's Millpond Tract and transfer it to the town of Windsor to create a new public park, Stein said in a release.
"Public parks make our communities stronger and happier," said Stein. "I'm pleased to distribute these funds to help the town of Windsor create a new public park that the community can enjoy for decades to come."
"Coastal Land Trust is ever appreciative of this recently approved EEG grant for our Hoggard's Millpond Conservation Project which represents a unique community conservation partnership to protect a site with significant wildlife, historic, water quality, and recreational resources," said Janice Allen, director of land protection, in a statement. "Our primary partner, the Town of Windsor, is one step closer to having a new nature/historic park for its residents, and visitors, to enjoy."
The Coastal Land Trust will also receive $50,000 for the Cape Fear River Conservation Partnership to acquire a 272-acre parcel along Cape Fear River. The land will be transferred to the state of North Carolina to be managed by the North Carolina Wildlife Resource Commission as either game lands or a state conservation area.
"Conserving this area along the Cape Fear River will allow generations of North Carolinians to enjoy it in the future," Stein said, adding that he is glad that this grant will help preserve North Carolina's environment.
"The recently approved EEG grant for the Coastal Land Trust's Cape Fear River Conservation Partnership will greatly assist us with our efforts to acquire an additional 272-acres of land along this iconic river," Allen said. "The Cape Fear River property is a special place on our coast with old growth cypress-tupelo swamp forest important to rare fish and wildlife including the federally threatened Wood Stork and state significantly rare Swallow-tailed Kite."
Statewide winners
Pembroke will receive $62,000 to create a stormwater utility program with community input meetings, a management plan, an operations and maintenance plan and stormwater ordinances.
The Winyah Rivers Alliance will receive $172,420 to create a water-quality monitoring program in the Lumber River Watershed that will be supported by the local community and the University of North Carolina at Pembroke.
North Carolina A&T State University will receive $133,000 to research how dissolved organic nutrition from landfills impacts the environment in eastern North Carolina water bodies and determine effective treatment strategies.
Wake Forest University will receive $250,000 to develop a low-cost lake water quality monitoring system using drones and satellite data in conjunction with North Carolina Central and North Carolina A&T State Universities.
The Southwest Renewal Foundation of High Point will receive $87,000 to help fund the creation of 2.15 acres of a public botanic garden at the headwaters of Richland Watershed in High Point.
RiverLink will receive $150,000 for the Southside Community Stormwater Project. The project will fund a restored wetland and measures to capture and filter polluted stormwater runoff and prevent flooding at the Erskine Apartments, a historically Black neighborhood in Asheville.
The Foothills Conservancy of North Carolina will receive $100,000 to help acquire 2,681 acres on Pinnacle Mountain, including areas with public access to a 12-mile segment of North Carolina State Parks' Wilderness Gateway State Trail.
The Blue Ridge Resource Conservation and Development Council will receive $100,000 to restore and repair a stream bank along Bledsoe Creek and prevent further sedimentation and erosion.